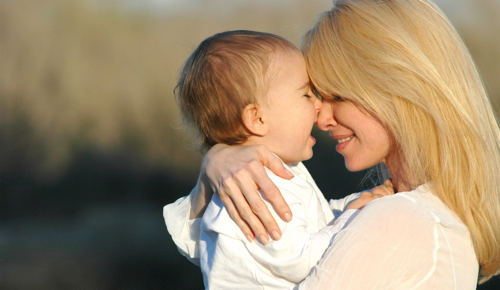 "Love, love changes everything; Hands and faces, earth and sky. Love, love changes everything; How you live and how you die." – Andrew Lloyd Webber/Don Black
Think about love for a moment. Love has the power to change lives in incredible ways. It causes grown men to buy flowers and teddy bears on February 14th. It causes women to give up the power of the remote control. It causes parents to drive to the pharmacy for children's cough syrup at two in the morning.
When love gets a hold of us, we become different people almost overnight – no convincing required. Our lives change just because we have fallen under the control and influence of love.
But love is such a powerful emotion that it even begins to change the person who is loved – because to be loved is to be changed. And that's why, to the best of my knowledge, I tell my children every single night that I love them. It begins to change who they are, what they know, and who they will become.
1. It gives them someone to trust. When kids know they are loved, they know they have someone to trust. Oh sure, not every piece of advice we'll give them throughout life is going to the best advice. But they can rest confident knowing that we will always give it our best shot with their best interests in mind.
2. It tells them they are valuable. When children know they are loved because of who they are – not because of what they have done – they begin to realize the true value of their lives. And people who fully realize the inherent value of life are more likely to make the most of it.
3. It gives them a fan in the seats. Children who are loved know that they will always have somebody on their side cheering for them. And while the cheering may be epitomized in the bleachers at a 5-year old's tee-ball game, it is far bigger than that. They also know they have somebody cheering for them in the game of life.
4. It gives them courage. A loving parent becomes a strong foundation that can never be shaken. When a son or daughter knows that their foundation is strong and stable, courage begins to be added and risks begin to be taken.
5. It gives them time to grow. Love is patient. Love bears through the good and the bad. It grants children time to gain wisdom, discretion, and understanding. And luckily so, because none of us have all this stuff figured out yet.
6. It allows them to make mistakes. A natural outflowing of love is forgiveness – when we love somebody, we forgive their wrongs. Children who know they are loved know they will be forgiven even after making the inevitable mistakes that we all make. But just to be clear – if you think this truth gives children freedom to do anything and everything they want, keep reading.
7. It provides correction. Love always seeks the best of another. It always desires the best possible outcome in the life of another person. As a result, love must provide correction. And while this may sometimes look like punishment, it may also look like steady encouragement. But it always seeks the best of another. And discipline is far easier to receive when the motives are not self-seeking.
8. It produces joy. Whether 5-years old or 90-years old, a message of being loved brings a smile to our face and joy to our soul. It warms the heart, lifts the spirit, and results in joy. It has the opportunity to change the course of an entire day or the course of an entire lifetime.
9. It gives hope. Love produces hope in our lives. It gives a sense that we are valuable, likable, and worthy. And in a young children's life, that results in great hope for the future.
10. It takes away fear. Because protection is always available, love casts out fear. Whether it be a barking dog, a college application, a job interview, or the beginning of a new family, those who are loved are better equipped to handle life's scariest – and most unsure – moments.
11. It makes them part of something bigger than themselves. To be loved is to be accepted as part of something bigger than ourselves. A child who is loved has an identity in something greater than their own personal world. And the sense that we are part of something bigger produces responsibility, commitment, and ethic. It is something that our world needs more of today…
12. It gives them confidence that they are always welcome. Loving arms are always open. And that becomes a powerful, life-changing truth when we find ourselves a long ways from them.
13. It means anothers' life is being lived for theirs. The single greatest act of love is to give your life for someone else. And while that could appear in the literal act of dying to save someone else's life, it more frequently appears in our daily choices of living selfless lives.
14. It provides motivation to love others. When our lives have been changed by love, we are far more likely to extend love to others. In so doing, we reproduce each of these life-enhancing qualities in the life of another. And the world continues to smile.
15. It will always remain. Love perseveres, stays true, and never fades. It always remains. To know that you are loved at the age of 36 with the same intensity that you were loved at the age of 6 produces the exact same results. And that brings a smile to my face.
…With love, dedicated to my mom and dad. Thanks for the great love you have shown me in the past, in the present, and in the future. Know that I am trying hard to offer the same to my children.