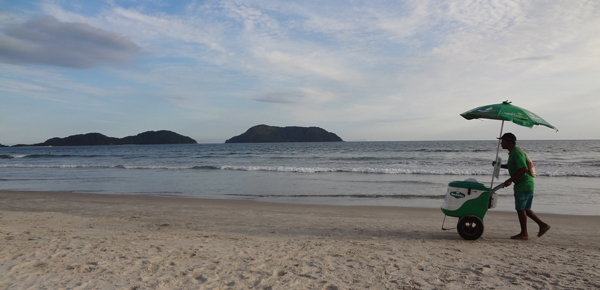 Every Tuesday after school, my 9-year old daughter asks me for money. I should be prepared, but it surprises me every time. Probably because I never know what day of the week it is.
But the scenario is always the same. After she walks home from school and sets her backpack down by the closet, she'll ask me for a couple dollars.
"What do you need the money for?" I'll ask.
And she'll respond, "Dad, it's Tuesday. The ice cream truck is coming today."
One of the benefits of being a kid in Phoenix is that the ice cream truck is available all year long. For our street, it's Tuesdays. And apparently, when you are 9-years old, the appeal of the ice cream truck is too much to ignore.
I mean, it's ice cream, in a truck, who could possibly resist?
The first time I ever considered the relationship between accessibility and consumerism was during a panel discussion with Graham Hill and Halina Brown on HuffPost Live. It was a simple connection—one I probably should have made earlier, but I hadn't.
One of the reasons for rampant consumerism in our society is low prices (fast fashion, for example). But another, equally important reason for the steady rise in consumer purchasing is accessibility.
As more and more retail stores appear on more and more street corners, consumerist habits become more difficult to overcome.
My daughter would eat less ice cream if the truck didn't visit our street each week. My son would make fewer trips to the convenience store if it wasn't within a bike ride of our house. And we'd all shop at Target less if it wasn't so easy to get to.
Some companies have built an entire business model on accessibility. Walgreens comes to mind. So does Starbucks. As does Amazon.
Amazon, actually, is a perfect example of how accessibility impacts consumption.
The New York Times once wrote, "Jeffrey P. Bezos, Amazon's founder, 'has been on a mission to eradicate every conceivable obstacle to shopping online since the 1990s when he patented Internet ordering with a single mouse click'."
And now, with the invention of the Amazon Dash Button, they have made shopping even more accessible. Without leaving your pantry or laundry room, you can place your order for consumer products with the press of a button… like an ice cream truck permanently placed inside your home.
Accessibility drives consumption. At least in these cases (and many more).
It is important for us to notice how accessibility impacts our behavior. Because the principle extends beyond shopping.
In life, whatever is accessible, gets utilized.
Unhealthy accessibility shapes unhealthy habits in our lives:
Keeping sweets in the home makes us more likely to eat them.
Having televisions conveniently located throughout a home results in more watching.
Placing your cell phone on your nightstand encourages late night browsing, early morning email, and even sleep texting.
But equally powerful, accessibility has opportunity to spur healthy habits as well:
Keeping fresh fruit and vegetables in your home makes healthy snacking more likely.
Having educational toys available for your children spurs learning.
Spending more time together as a family encourages conversation.
Removing vices from your immediate surroundings (tobacco, sugar, alcohol, television) is the first step in overcoming them.
What healthy habits are you trying to develop in your life? What unhealthy habits are you hoping to break? And how is accessibility influencing your behavior?