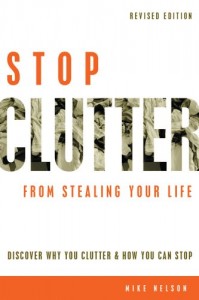 mike nelson has authored three books on cluttering and describes himself as a reformed clutterer. he founded clutterless recovery groups, a nonprofit organization designed to give support to people who need help to stop the behavior that causes them to clutter. he has been featured on cnn, the dr. laura schlessinger show, and in the la times. 
he self-proclaimed his latest book as the "meat and potatoes of decluttering, not just the angel food cake of most get-organized book."  and i completely agree!
in Stop Clutter From Stealing Your Life
, mike realizes that decluttering is not just about the "practical how-to's," but it is also about the "emotional why-do's."  then, he faithfully delivers in adequately helping his readers understand both.
in Stop Clutter From Stealing Your Life
, he writes that decluttering can be successfully accomplished only by using both a practical approach and an emotional approach. the practical approach concerns how to declutter. the emotional aspect concerns the behavior that causes us to clutter.
concerning the practical, chapter 4 offers 40 (yes, 40!) ways to leave your clutter.  from simple ideas like #2 (take digital pictures. keeping track of your progress is the best way to keep from getting discouraged) to thought-provoking inspiration like #5 (clutter is an excess of abundance. celebrate your abundance and share it), mike offers a new idea no matter where you put yourself in the decluttering spectrum.
concerning the emotional, Stop Clutter From Stealing Your Life
 states that clutter is just the symptom of cluttering behavior and helps its reader understand the root causes of his/her behavior.  the book even offers several practical "magazine-style" quizzes to help the reader diagnosis the root cause for his/her behavior (one brilliant example is how mike relates our paper-clutter to our individual learning style).
this book fits the description of "meat and potatoes" while still offering easy-to-follow practical advice to help address a wide-range of decluttering topics (paper clutter, dealing with uncooperative family members, offices, and decluttering after somebody's death, just to name a few).
i recommend this book to you…  as i was finishing the book, i thought to myself, "how did i ever begin this journey toward minimalism without reading this book?"  and then it dawned on me, "oh yeah, i just started removing things from my house and life. that's how i did it. i didn't need a book to help me do that." 
so, why would i recommend this book?  because this book has helped me in two very specific ways:
1) it has helped further declutter my life.  it has caused me to recognize some deeper reasons for the clutter that remains (the physical paper on my desk, for example) and given me some new practical advice to help me make progress. i think there is something for everyone in this book… especially if you have tried to declutter but have been unsuccessful.
2) it has helped educate me to help others with their decluttering.  the simple, but in-depth explanation of people's cluttering behavior characteristics makes me feel like a trained psychologist.  i don't plan to enter the "organization industry" just yet, but if i ever do this is one book i would keep as a valuable resource.
i give Stop Clutter From Stealing Your Life: Discover Why You Clutter and How You Can Stop
 4.5 out of 5 stars.
related posts: