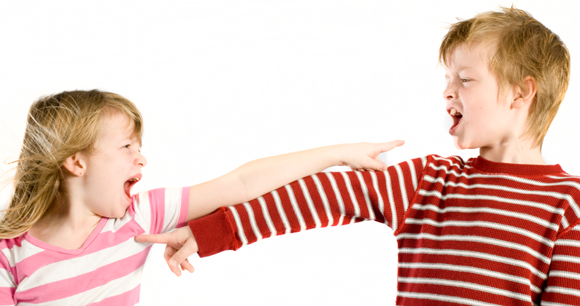 "Everyone is responsible and no one is to blame." – Will Schutz
Recently, we started a "blame jar" in our home. It's kinda like a "swear jar," only it's not for swearing. It's for blaming.
And it's kind of a big deal for us. We don't typically use a lot of the little parenting tricks and gimmicks – chore charts, allowances, prizes – that I see so often. Instead, we choose to set lofty expectations, intentionally communicate those expectations, offer praise when they meet them, discipline when they do not, and remain consistent to a fault. It works for us… although I'll be the first to admit we have been blessed with some pretty compliant kids.
But recently, blaming has become a problem in our home. It almost always occurs the exact same way: My wife or I will notice one of our kids misbehaving. We'll take the opportunity to point out the unhealthy action or attitude. And the response will sound something like this, "But, mom, she was the one who <insert blame here>." As if, somehow, the unhealthy action or attitude was not actually chosen by the child being corrected but is somehow the fault of another.
I fully realize, of course, this blame game is not a new one. It is not unique to my children. Regardless of our age or family of origin, we are all guilty of using it far too often. It is a defense mechanism as old as wrong itself. Literally… in the story of Adam and Eve when they are questioned about eating the apple, Adam immediately blames Eve and Eve turns to blame the serpent. But just because it is common, does not mean it is okay or healthy.
In fact, blaming others for our own faults is always a losing proposition. It is annoying. It is dishonest – other people don't cause your actions or attitudes, they just provide the opportunity. It causes people to not like you – nobody wants to be called the reason for your problems.
But the worst consequence of blame – and the reason we began the blame jar in our home – is that assigning blame is a very real obstacle to change. After all, if I can successfully shift the responsibility for my shortcomings to another person or external factor, I can eliminate the need (and the motivation) to change. I can live my life as a victim trapped in the cell that somebody else built for me. And I do not want my children to fall into that trap.
Blame is far too prevalent in our world. We blame our parents, our spouses, our employers, our teachers, our government, our upbringing, our environment, our financial condition, just to name a few. We blame others for our faults and our unhappiness. And every time we do, we lose. The decision to blame others for our shortcomings will always keep us up from making the changes in our lives that are so desperately needed. And in the long run, it keeps our dreams just out of reach.
So grab a roll of quarters. Toss one in a jar every time you hear yourself blaming someone else. And take control of your life today.