Editor's note: This is a guest post by Joel Zaslofsky of Value of Simple.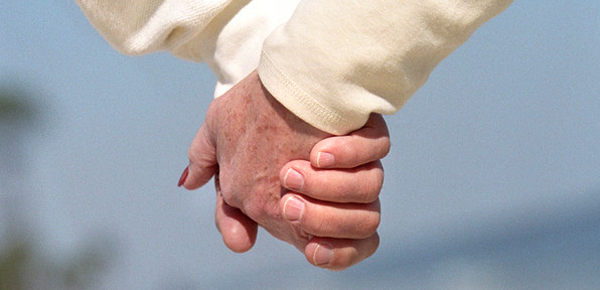 "Life is less a quest than a quilt. We find meaning, love, and prosperity through the process of stitching together our bold attempts to help others find their own way in their lives. The relationships we weave become an exquisite and endless pattern." – Keith Ferrazzi
Many people are convinced the best way to show love or appreciation is to buy someone a gift on specifically-marked days. In fact, I was one of them for three decades until a personal renaissance showed me a better way.
Where I used to buy the newest electronic gadget, I now show love with sincere words and handmade cards. Where I used to get a gift card with a surplus of credit and a deficit of thoughtfulness, I now intentionally display affection all year long to avoid focusing it on a day someone else defines as important.
Living an intentional life was something I learned the hard way and with too much resistance. But it doesn't have to be that way. Recently, I've battled through the emotional struggle of how best to express my feelings for the people I care for and who care for me. This is a tribute to them.
Through it all, I've developed "How I'll Express Feelings" and "How I Won't Express Feelings" lists. They are a stripped down version of what a true gift looks like to me. I encourage you to create your own lists. I've even included resources at the end to help.
How I'll Express Feelings
These are some of the beliefs, actions, and tokens of appreciation I'll provide to those I value most:
I will affirm your importance and the value of our relationship with a call, text, or in-person visit on your birthday (which combination may be a surprise).
I will make you a handmade card that's clever, thoughtful, and will be remembered far longer than anything I could purchase.
I will take you out to dinner on a random day instead of one our culture tries to convince me I should.
I will freely give out hugs and high fives.
I will always be emotionally and mentally available when you need to talk, make tough decisions, or are having a crisis.
I will never expect you to buy me gifts on days of significance… regardless of how important society claims they are.
I will keep my Personal User Guide current so you have a window into what makes me tick and how we can have fun together.
How I Won't Express Feelings
I won't simply put a check in a birthday/holiday card for you. How could I quantify how much a relationship is worth anyway?
I won't take the easy road and get you a gift on a day you expect one. Wouldn't you rather get to hear the word "Surprise!" and see a bright smile when you don't expect it?
I won't sit down with you over a few beers and complain about life. Maybe you'd rather take a walk, get some exercise, or enjoy the beauty of the world with me?
Free Classes in Expression of Love
Sometimes you need more inspiration, motivation, or action steps than one person can provide. To more fully understand how to express your feelings in other ways than a default gift, here are some wonderful – yet simple – resources:
The Commodification of Love by The Minimalists (a.k.a. my original inspiration for this article). It's so true that there's always another holiday around the corner and that social norms push us to buy the new, shiny thing. My favorite part was Joshua's statement that, "gift-giving is a vapid, pernicious cultural imperative in our society, and we've bought it (literally) hook, line, and sinker. We've become consumers of love."
35 Gifts Your Children Will Never Forget from the Becoming Minimalist archives. No recap necessary as this is short and powerful.
The Case Against Buying Christmas Presents by Leo Babauta. He might be saying "Bah! Humbug!" to most people, but to me, Leo's saying, "Please consider a different path than an unfulfilling and wasteful gift-giving one."
Voting for Poverty by Raam Dev. This essay was like a bucket of water splashed on my face. He's learning on the fly how to live a drastically different lifestyle; one in which he casts no votes for poverty with his spending decisions. Unless you're Bill Gates, money spent in one place (gifts) is money not spent in other, perhaps better, places.
Getting Rid of Gifts by The Minimalists. The motivation for these heartfelt words starts and ends with them. With their influence, I now give experiences and positive feelings to people instead of presents. Would you rather get a gadget and new clothing or a home-cooked meal and the gift of undivided attention?
So if you accept my "How I Won't Express Feelings" list and incorporate some of the lessons above, I promise the "How I'll Express Feelings" list will always be much longer and filled with more happiness… all year long. Deal?
***
Joel Zaslofsky writes at Value of Simple and is the architect of the free Personal User Guide allowing you to celebrate and share what makes you tick. You will also enjoy following him on Twitter.
Image: Spirit-Fire