Editor's Note: This is a guest post from Jillian Johnsrud.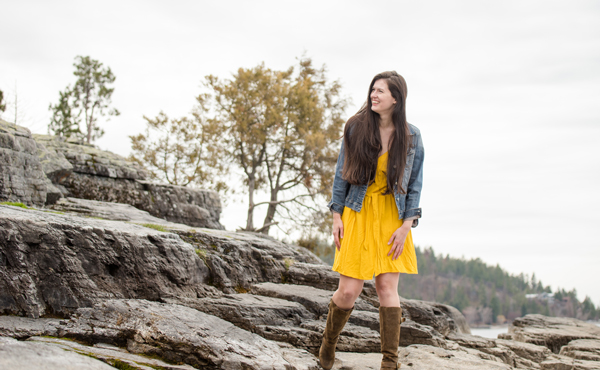 I grew up in a small town in Montana tucked close to the Canadian border, it was a place with vast wheat fields and cattle herds. While there were sweet parts of my childhood, it was often tumultuous. As a result, from even a young age, I started dreaming of life being able to look different.
Starting at age 12, I took on part-time jobs and stocked piled my modest savings. I left high school with $8000 in my bank account and one burning desire: Freedom. I wanted safety, opportunity, and choice.
So I took six years of savings and bought a very used, and very 80's camper. I attended Bible college in Idaho and that camper was my student housing. More importantly, it was mine. A safe place.

This was the start of my journey with minimalism and financial independence. Those two concepts have been intertwined my entire journey.

The term financial independence refers to the point that your investments can cover all your expenses. At 18, that seemed like a pipe dream. But I understood that money could buy you choices.
At 12, I had begged my mom to move us out of a challenging and scary situation. She looked at me with her steady and matter of fact brown eyes and said, "There is no way I can raise three kids on my own. Jillian, we just don't have the money for that."

I cried hot tears in my bed that night. Then started saving that $8000, $5 at a time. Like a kid building rockets in the basement, I was scheming for a different life—a life with more financial freedom. I didn't have the audacity to hope for financial independence. But I never wanted to be in that same dilemma again, where money gets to decide your basic well-being.
So into the camper I moved. $8000 was a lot of money at 18. I could have rented an apartment. A nice one, in fact. But that would have used up my financial freedom instead of creating it.

During the Spring of my freshman year, I met my husband. He was leading a youth group in the coffee shop where I worked and the high school kids had put him up to give me his phone number.
Later that week, we talked and talked. About my desire to adopt, his foster brother, my dream of travel, his love of the mountains. After we married, we moved back into a camper. 31 feet of housing bliss.
This was 17 years ago. Tiny homes weren't a thing. Van life wasn't on Instagram. Heck, phones didn't have the internet. They could barely text.
That first year of marriage, I was blissfully happy. Deeply in love and with our whole lives stretched out in front of us. People often ask, with some disdain, how we could have made such a huge sacrifice living in an old camper. The camper taught me an important lesson about minimalism.

It had room for everything we needed and used, but nothing else.

It's a radical idea really. All those things I didn't need or use weren't the underpinning of my happiness. That we can be truly happy, blissfully happy without the stuff we never use. It's still a radical idea.

Armed with my half-finished degree, Adam's (my husband) degree in social services, and $55k in debt, he enlisted in the military.
Growing our financial freedom was a top priority. Without high earning jobs, it made our path with minimalism that much more clearer.
We simply didn't have the income to buy or rent more space than we needed and fill it with stuff we wouldn't use. Not if we wanted to grow our financial freedom.

I could look rich, or I could actually grow wealth, but I couldn't afford to do both. (tweet that)
We had to choose.

To look rich, with all the square footage, clothes closet bursting at the seams, and every gadget, there would be a real trade-off.

Plus, I still wanted to adopt children. When I was 17, I got to know one of my coworkers who was a foster parent. It touched my heart. Then at college, my pastor and his wife had adopted two teenagers from foster care.
The idea of having two loving, supportive, caring parents is the greatest gift one person could give another. If there was any way I could give that gift to someone, I wanted to try.
And I still wanted to see the world. I loved the small town I grew up in, but I longed to see how big this world was.

So we saved half our income. From that first year of marriage in the camper, we committed to saving half of everything we earned—a fill 50%, no exceptions.
Some years that meant renting places smaller than ideal. It meant driving older cars and packing lunches. For three years we had a roommate, even while we had our first two kids.

The idea of financial independence can seem daunting. That might mean a million dollars in net worth.

At each step, we celebrated.
Between the Army student loan repayment program, a sign on bonus and living in my parent's basement while Adam was at basic training, we had paid off the $55,000 in debt by our second year of marriage.

I'll never forget the moment we were debt free and saved our first $10,000. I was depositing a paycheck in our local bank. It was the procedure for the teller to print the deposit receipt, circle the balance in red and then slide the paper across the counter. In this military bank, the teller was a 60-year-old Korean woman. I saw her eyes grow wide when we saw our balance. Trying to hide her excitement, she mouthed the words, "You have $10,000!!!" I wanted to burst into tears. For the first time in our marriage, we were debt free with ten grand in the bank. I just kept nodding my head mouthing the words, "I know! I know!"

It wasn't financial independence, but to be debt free and have $10,000 cash in the bank felt like Ed McMahon just showed up to our front door with a larger than life Publisher's Clearing House check.

We adopted our first child, Micah, while we were at our first duty station in Washington DC. He had been in foster care most of his life and at 11, the odds of him finding a forever home were getting slim. Actually, the caseworker told me rather bluntly, "Either you can adopt him, or he'll be put in a group home until he ages out of foster care. Because I've asked every potential family, and they all said no." Totally unprepared, and in over my head, I became a mom to Micah when I was 22.

After DC, we were stationed in Germany, which gave us four amazing years to explore Europe from a home base. We slow traveled through 25 countries while we were there.
At 29, my biggest financial goal came true. Ten years after starting my journey with Adam, and after ten years of renting, we paid cash for our first home. We had to gut the whole thing to remove the mold that was rapidly spreading. It was a lot of painting and learning to lay floors after my nine-hour work days. But we had a home. One that was ours. A home with four bedrooms that would welcome a foster sibling group of three just two years later.
In one year, we went from one child at home to four. With these three kiddos came twelve weekly appointments, visits with birth parents, case workers, court dates and crushing uncertainty for all of us.

Minimalism spread to all areas of my life by necessity. I spent most of that year feeling like I was on the verge of drowning, every inch of margin was a lifeline. We applied minimalism to our schedule, our meal planning, our relationships.
We only had space for the necessary and needed, for the life-giving, for the best things.

Everything else had to fall away or I feared it would pull me under. My number one job was to stay afloat for these kids.

I dubbed it The Year of Easier, Not Harder.
Minimalism and frugality are two sides of the same coin. It's taking an honest look at your budget, schedule, relationships, habits, self-care, mindset, and possessions. What is truly adding value? What is helping you move closer to your core values, best work, lasting impact, and biggest life?

Between a military pension, rental properties, and investments, we became financially independent at 32—just a year before we were able to adopt those three kiddos. It was perfect timing really. Because the next year, four kids at home became five kids when we found out we were expecting another baby.
Three and a half years ago, we stepped away from our 9-5 jobs. We have traveled all over the Midwest and West Coast with our kids. We've seen a dozen National Parks. Hiked in the mountains, swam in the ocean, and slept by Joshua trees.
I've done my best to fulfill that dream I had 17 years ago on a first date with Adam. Give kids who have had a rough go of it two loving, supportive and caring parents. Parents that have the health, emotional energy, and ability to show up for them, every single day.
If you haven't heard the term FIRE, it stands for Financial Independence Retire Early. This idea that we can create enough income from investments like stocks or rentals to never have to create earned income again to cover our bills.
For me, FIRE was never meant to be an opting out but a leaning in. It's like minimalism and frugality. It's focusing all our energy, time and resources toward building our best life and biggest impact. Letting the rest fall away. The 100 stuffed animals, overpacked closets, or extra box of Christmas decor. It's trading the good for the great.

Now that we don't have to work to cover our bills, we can choose our very best work. Work we love, that creates change in the world and that gives us the flexibility to be the very best parents we can be. That's my why for FI.

This winter I could tell that my kids were getting worn down. A few of them struggle in the school setting and part way through the year it starts to show. Montana, where we live, was having a cold, hard January. It was taking a toll on all of us. So we decided last minute to take a break. With the support of the teachers, who could see how tired our kids were getting, we took off for three weeks.
We spent some time in sunny Vegas. We went to the beach in LA. Did a few days at Disney. Stayed on the water in San Diego and spend a few days at the zoos. We all came back full of rest, some sunshine and ready to tackle the rest of the winter.

I learned at 12 that money gives you options. Options to take care of yourself and your family. Both in dire situations, and when everyone just needs a vacation. Financial independence and minimalism gave me those options.
***
Jillian Johnsrud helps people custom build a lifestyle that perfectly reflects their values, passion, and purpose.