Editor's Note: This is a guest post from Lama Farran, a Certified Money Coach at MaxWorth.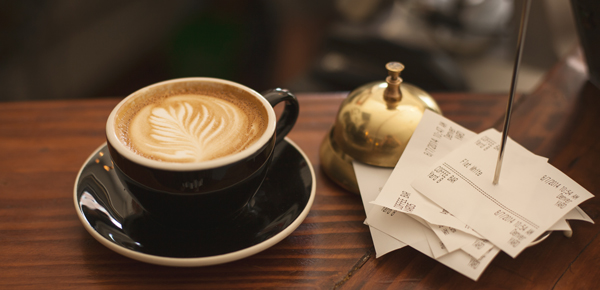 Maybe the biggest misconception about building wealth is that it is a function of our income. In reality, it is much more a function of our spending habits.
But most people are simply unaware of how much money they spend—not so much in the large purchases, but in the small things we spend money on every day.
David Bach, a financial author, assigns a memorable phrase to this phenomenon. He describes the small amounts we spend here and there as the Latte Factor®. It comes from the notion that if we added up the cost of our daily lattes and saved it or invested it, we could build up wealth significantly faster.
As a certified money coach, I encourage my clients to build up a "rainy day" fund for events they could not have planned for: a car accident, a water leak, or even a sudden job loss. The most common objection I hear is, "Where will I find the money to save for this emergency fund?"
I always introduce them to the Latte Factor®. I challenge them to track every expenditure for one month. I can almost guarantee that those who complete the challenge will be surprised to discover where their money has been disappearing to.
I have used this tracking experiment with hundreds of people from all different socio-economic backgrounds.
Here are the 8 most common money leaks I have witnessed:
1. Eating out. Americans go out for lunch on average twice a week and eat 18.2 meals per month outside the home—this averages to spending $232 each month eating meals prepared outside the home. At first glance, this may sound high—surely we don't spend as much as the average.
But we tend to disregard how quickly it adds up: quick lunches at the office cafeteria, business lunches with associates, little snacks from the vending machine, a bag of chips before we hop on the train, pizza takeout on the way home, a weekend date, or a night out with friends. We never make all these purchases in the same day, but over the course of 30 days, they definitely begin to add up.
2. Coffee. There is no question that coffee plays an important role in workplaces across the United States—even the Latte Factor® draws its name from the beverage. But rarely do we realize how much money we actually spend on it. The average American spends almost $15 a week on coffee or $1,100 annually.
This may seem like a significant amount of money to some or not much to others. But either way, it is money that could be directed toward paying down credit card debt, a student loan, or a burdensome car payment.
3. Books and magazines. Reading is important. I encourage people to do more of it. But if you are a prolific (or even regular) reader, you may not realize how much of your money is being spent on books and magazines. Book purchases are often small in nature, but if consistent, they add up. Frequently, readers who complete this tracking exercise are surprised how much of their income is spent there.
We are fortunate to live in a country where almost all communities have their own public libraries. Why not use them as much as possible? Another solution is to find a group of friends or family who regularly exchange and borrow books with one another.
4. Unused utility services. Paying our utility bills blindly often leads to overpaying for services. Are you watching all the cable channels you are currently paying for? When was the last time you used the 3-way calling or the call-forwarding options on your home phone? Taking a few minutes to review your bills and asking yourself if you really need these services could save you money every single month.
Call your service provider and ask what specials they currently have or what they can do to help decrease your bill. You may be pleasantly surprised how much a 10-minute phone call will save you.
5. Extra banking fees. When we don't take the time to review our monthly bank statements, we often fall into the trap of blindly paying banking fees we could easily avoid—especially if you swipe your debit card more than your plan covers. Overdraft fees are another way your bank account gets hit or withdrawing cash from an ATM that is not associated with your bank.
You can quickly rack up $20 or more of additional fees each month if your banking plan is not the right fit, or if you consistently avoid walking one more block to withdraw money from your own bank's ATM. Take the time to review your bank statement each month looking for inconsistencies. When you do, make a special note of Bank Charge line items.
6. iTunes. These days, most of us own a smartphone where our credit card is automatically linked to an online store. As might be expected, this arrangement makes it easy for us to press the "Buy it Now" button. One day, it's a cool ringtone that "you really really want"; the next day, it's a newly released single from your favorite artist; the day after, it's a new app that seems so useful or entertaining.
And the cost is not just financial. While smartphone users spend $25 billion on mobile apps, we also spend over 2 hours every day using them.
7. Lottery tickets. When we are struggling financially, buying a lottery ticket becomes our glimpse of hope. For a few moments, when we are checking the numbers, we feel as if our life worries will suddenly vanish and our dream of living a debt-free life will finally come true. Through this small ticket, we see the light at the end of the tunnel.
But the truth is, it is simply an illusion. Hopes of a better life cannot be bought with $2 or $5. It's something you consciously work towards, every day.
8. Amazon purchases. I spoke recently with a friend who ran his Amazon account history and was shocked to discover he had spent $11,000 over the past 4 years on Amazon. He noted that his history included one large purchase over $1,000 (a new laptop) and a few more items over $500. But the vast majority of his total bill had been spent purchasing items in the $10-$20 range.
These online purchases seemed small and insignificant individually. But over time, these impulse buys added up to a very significant number—the very definition of the Latter Factor®.
Some of the areas above are certainly more relevant to you than others. They merely represent the 8 most common money leaks I have witnessed.
The most effective way to discover our specific Latte Factor® is to track your spending. Try for 1 month, but 3 months is even better. It will then be much easier to pinpoint your weak areas and adjust your spending accordingly.
Paying attention to the small money leaks, while they are still leaks, will prevent them from becoming floods. More importantly, it will allow you to build your safety cushion to fall on when life happens.
***
Lama Farran is a passionate Certified Money Coach, living a debt-free life in Montreal-Canada. She is on a mission to increase people's financial awareness. She helps families take control of their finances and budgets, without selling any financial products. You can find out more at MaxWorth.