This article is an excerpt from The Minimalist Home: A Room-by-Room Guide to a Decluttered, Refocused Life.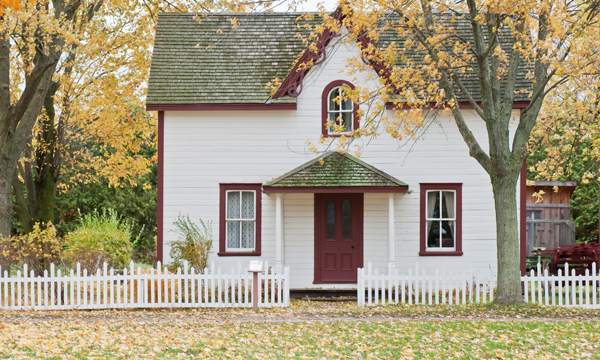 I shake my head at those home makeover shows that are so popular on TV.
You know, a couple who are discontented with their home invite a design expert to come in and evaluate the situation. The couple nervously agree to stretch their budget as far as possible to make as much of a change as they can. Then a renovation team takes over, carrying out repairs and upgrades (there's always an obstacle that arises and creates drama), and after that the designer stages the house with new furniture, store-bought decorations, and this year's color scheme. Finally the homeowners come back for the big reveal and get teary-eyed at their house's new look.
I shake my head because, even though their house may look nicer, the homeowners typically wind up with just as much stuff as they had before, maybe even more. That's all stuff that may be getting in the way of how they want to spend their days more than it's contributing to the pursuit of their goals.
I wonder, after the initial dopamine zap from the redecoration, are their lives really any different?
Is their home more personal and life giving to them now, or is it just more pleasing to the eye?
Or worse, will their renovated home require more time and money and energy for upkeep than it did in its previous form?
Very few of us get picked to be on TV's home makeover shows, yet most of us who have a house or apartment go through something similar with our own homes. We're disappointed in our living space. We've spent a lot of money buying stuff for our home—and a lot of time organizing, cleaning, and maintaining that stuff. And nevertheless, in the rare times we have left to simply enjoy the home, it doesn't feel like the place we really want to live in. What do we do then?
If we don't just give up hope, we most likely double down, continuing to look in all the wrong places for help. We pay attention to commercials and visit showrooms and scroll through shopping sites online, and we decide that we need more stuff or better stuff, with a different organizing and decorating plan. And when we take our best shot at making our living space better, it's…well, it's somewhat better in some ways, but it still doesn't give fundamental satisfaction or kick off any lasting life change.
What if the problem isn't that we don't own enough stuff or aren't managing our stuff well enough?
What if the problem is that we're living in the homes that advertisers and retailers want us to have instead of the homes that deep down we really want and need?
I'd like to suggest that what the huge majority of people in my own country—the United States—and other countries need if we are going to be content with our homes and start living more fulfilled lives is a minimalist makeover of our homes.
Are you willing to explore that idea for your home—that there is more joy to be found in owning less than we can ever find in accumulating more?
I know from years of experience that by getting rid of the excess stuff in every room, you can transform your home so that you feel not only free from the stress of so much clutter around you, but also free to live a life focused on what you want to do with your limited years on this planet.
Consider the benefits of a minimalist home:
1) A minimized home is a better place to come home to. Without all the clutter, you'll find that your home is more relaxing and less stressful. With fewer things competing for your attention, you'll appreciate more and make better use of what you have. You'll be able to focus more on the people and activities in the home that bring you joy. I know some people fear that minimizing their home will make it feel cold and impersonal, but I assure you, through minimizing, you'll feel more at home than ever. It will be a place you anticipate returning to at the end of every day or relaxing in for a weekend.
2) A minimized home is a better place to go out from. After you minimize, you'll be buying less stuff and spending less on repairs and maintenance, leaving you with more cash in your bank account—what I call a "minimalism dividend"—that you can use for other purposes. Even more important, because you'll be spending less time and energy cleaning, organizing, and taking care of your possessions, you'll have more time and energy left over for dreaming and planning for the future. With these extra resources, you'll be better prepared to go out into the world, whether it's for a day's work, an evening's entertainment, or a life-changing adventure.

By doing a minimalist makeover of your home, you can set out on a new course toward better fulfilling your purpose and potential in life.
—
This article is an excerpt from The Minimalist Home: A Room-by-Room Guide to a Decluttered, Refocused Life.