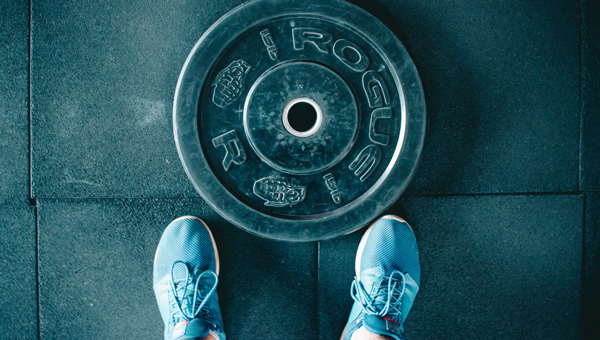 I'm sitting down to write these words on a Monday morning after a great workout at my local Planet Fitness. A great workout that I will credit almost fully to a conversation from yesterday. More on that in a moment.
I've just completed the manuscript for a new book, The Minimalist Home: A Room-by-Room Guide to a Decluttered, Refocused Life.
I share this next fact with friends, but haven't really shared it publicly. Writing books is difficult for me. Granted, the books turn out great because of fantastic editors and collaborators. But personally, it's really hard. In fact, every time I've written a book, I've gained 15 lbs. during the process. I sit too much, snack too often, and eat too unhealthily (the stress isn't helpful either).
Since finishing the book a month ago (it releases in December), I've been concentrating on my physical health—eating better and exercising more.
Yesterday (Sunday morning), I spoke at a church here in Phoenix, AZ on the connection between minimalism and self-control. You can watch it here. I spoke several times and the day was long. As a result, I didn't necessarily want to get up early on Monday to hit the gym… except something that a friend said to me at church kept ringing in my mind.
"Wow, you're looking fit," was his comment to me almost in passing.
It was a short sentence. And I quickly changed the subject. But still, he said it. He noticed that I've been working on my physical health. And I noticed that he noticed. A bit later he added more context to his statement, "I just saw you like three weeks ago—whatever you're doing must be working."
I didn't think too much of his compliment at the time.
In fact, it wasn't until the next morning that I began to feel its full impact.
You see, this morning when I arrived at the gym for my usual workout, I felt physically tired from the weekend. But I was mentally motivated by my friend's kind words. In fact, every time I wanted to cheat on an exercise or cut a corner, the words of my friend came back to mind.
"You're looking fit. Whatever you're doing must be working."
His words motivated me—almost 24 hours after he first uttered them. I kept thinking, "This is worth it. My hard work is paying off… don't quit now. Keep pushing (and pulling and lifting and stretching). Don't cut this corner. Work hard. You can do it."
And I did. Because of four words from a friend.
Please don't forget today that a kind word can speak power into someone's life. It can inspire. It can motivate. And it can provide strength to someone who can't find it within themselves.