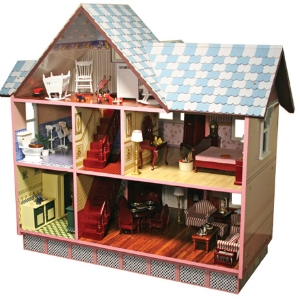 an interesting conversation occurred with my wife last night when she informed that a good family friend of ours had offered to give our 2-year old daughter a large box of hand-me-down toys that her daughter had outgrown.  included in the collection is a large-wooden dollhouse.  my wife was interested to see how i would respond based on our decision to become minimalist.
as i began to think through what it would mean to bring in a large number of toys, i had a number of questions for my wife.
are the toys something that our daughter will enjoy playing?  easy answer – yes.  she absolutely loves dolls!  that's her thing – playing with dolls.  i can picture the joy on her face already of having a dollhouse to put them in.  shame on me if my quest to become minimalist would rob her of that joy.
are the toys something that the other family wants to use to bless our family or just get out of their own house?  we all know the family that graciously offers to give you their old treadmill or foosball table – not for the sake of blessing, but for the sake of removing the clutter from their own house.  my wife assured me that they were genuinely hoping to bless our family – even to the point that the daughter ran up to her excitedly to tell about the toys that she had picked out for us.
do we have toys that we can remove from our daughter's current collection to make room for the new ones?  absolutely!  there are many toys in the toy room that my little girl has outgrown or no longer has an interest in.  we will sort out some of those toys and remove them to make room for the new ones.
i can't wait to see the joy on my daughter's face when the new dollhouse appears in our toyroom!  and i am very grateful for the wonderful family whose generosity will bring her that joy.  thank you.
related posts: