"He who does not expect a million readers should not write a line." – Johann Wolfgang Von Goethe.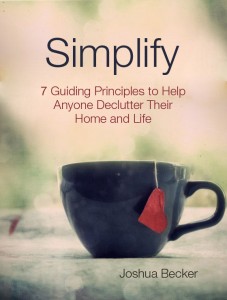 In February, 2010, we released a book, Simplify: 7 Guiding Principles to Help Anyone Declutter Their Home and Life. In some ways, it recounted our story. In other ways, it provided the inspiration and practical help to encourage others to simplify their home and minimize their possessions. Ultimately, it argues that you'll find more life when you intentionally choose to reduce your possessions. You'll find more time, energy, and finances to pursue your greatest passions. And love the freedom that comes from owning less.
It was immediately met with great acceptance around the Internet. Leo Babauta called it "a must-read." Naomi Seldin at The Times Union in Albany, NY said, "If you're looking for specific advice on how to live well with less, this book is worth a look." Tanna Clark, a professional organizer in Tennessee wrote, "I absolutely love Simplify! It is a simple, straightforward guide to simplifying your life and brings new light to the term minimalist." Courtney Carver at Be More with Less listed it among her favorite books on the topic. Eventually, 300 other bloggers began promoting our book to their readers and followers. Over the past 20 months, it has sold over 3,500 copies.
And today, for the first time, it has finally become available on Amazon. To celebrate its long-awaited arrival, we've priced the book at only $0.99 for the next ten days.
This is a win-win situation. It allows you to own the book for the cheapest price it has ever been offered. And it helps us generate interest, sales, and reviews. In other words, it helps launch the book properly. It's a win-win proposition. But after ten days, the price will increase.
I hope you'll consider purchasing a copy today. If you are among the 3,000+ that have already read it, we encourage you to leave a review on Amazon – these will be helpful to future buyers. Thanks in advance.
Where to find Simplify: Amazon (Kindle), Barnes and Noble (Nook), and Smashwords (other devices).
** UPDATE: Simplify is currently ranked in the Top Ten Best Selling Self-Help books on Amazon for the 21st straight day! It also peaked as #13 among all Nonfiction Kindle Books. I'm so grateful for all your support. Thanks again. **
___
Six months later, in August of 2010, we released our second book, Inside-Out Simplicity. If Simplify was written to provide the practical help and inspiration to encourage others to journey down the road of living with less, Inside-Out Simplicity represents the accompanying journey inward. It is a book that dares to tackle the weightiest topics of life. It offers its readers an inside-out approach to the simplified life. It recognizes the fact that simplicity is a state of the heart. And it provides the practical advice to find it there.
Again, it has become beloved among simplicity and minimalist bloggers around the Internet. It's been called, "the best e-book I've ever read," "excellent," "and "not just an endless list of external to-dos. Rather, it explores and uncovers what it takes to transform our very being—the essence of who we are on the inside."
It is to be digested slowly – even revisited. It promotes generosity, honesty, forgiveness, and contentment. It provides the blueprint for a life lived with no regrets. And it offers practical encouragement to realize it fully in your life.
And again, for the first time, it makes its debut today on Amazon. Inside-Out Simplicity has always been priced higher than Simplify – not just because the book is longer, but because of its content. Although it has been purchased over 1,500 times, it was never written to be sold to the masses. Instead, it was written for those who value the journey within and are willing to make the necessary investment. However, for the same reasons listed above – and for the next ten days only – it will also be offered for only $0.99. After ten days, the price will increase.
Where to find Inside-Out Simplicity: Amazon (Kindle), Barnes and Noble (Nook), and Smashwords (other devices).
For those of you who don't own a Kindle, you can still read Kindle books using the free Kindle Reader App on your Mac, PC, iPad, iPhone, Android, Blackberry, or other device.
___
This is an exciting week for us at Becoming Minimalist. Up until today, these books have been sold exclusively on this site. But we look forward to introducing them to a whole new audience of people. You can help us by purchasing a book, writing a review, or sharing these titles via Facebook, Twitter, or Google+.
Thank you so much. You've made this crazy ride incredibly enjoyable.
___
Special thanks to Chris and Deb for helping make it possible.