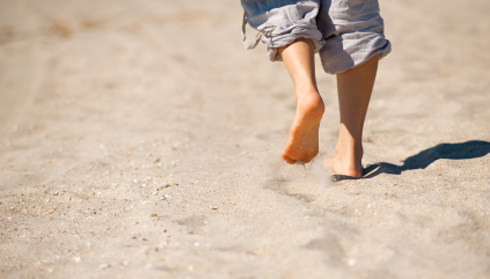 Your first step in the right direction doesn't have to be a big one.
There may be a number of factors that keep us from making the positive changes we desire in our lives. There is fear, complacency, laziness, distractions, negative peer pressure, addiction… there could be much written about each.
But for most of us, the inability to change the course of our lives boils down to one simple problem: The change seems too difficult. And as a result, we simply don't know where to start.
We understand the importance of healthy, life-giving habits. We've seen their positive influence on the lives of others. We envy the life they live. We desire it, but the road looks far too long from our Point A to their Point B. And we give up the pursuit before we even start.
I've seen this countless times in my conversations with others (both formally and informally) concerning the importance of decluttering our homes and lives. I'll mention the countless benefits we have discovered by purposefully living with fewer possessions. The message will be well-received… even desired. But almost immediately, the pursuit of this specific positive life-change will be countered by the most difficult of objections.
They usually sound something like this, "But what will I do with my book collection?" "I'm a sentimentalist. I could never get rid of this or that. There's too much emotional attachment." or "I'll never get my husband/wife to go along with it."
And my response is always the same: Just start small. You don't have to start with a big step.
You don't have to have everything figured out before you start. Just one small step down the right path is all you need to start heading in the right direction.
This truth applies to every positive life change we desire to embrace with our lives.
The journey anywhere almost always starts with one small step. As I look back over the past four years of my life, I see this theme recurring over and over again:
The journey of removing most of our worldly possessions began by simply removing the clutter from our cars.
The accomplishment of running my first marathon started by waking up one day and running one mile.
The journey of establishing this blog and inspiring others began with one simple post.
The goal of becoming a life-long reader started by picking up one book on January 1st.
When my wife wanted to learn how to sew, she accompanied her friends to a sewing class at a local church.
Interestingly enough, I am not alone. In fact, this is a theme I see recurring in all sorts of pursuits and personalities. Each of them successful in their field, each offering the same advice: Start small. For example…
Chris Guillebeau recounts that his success started when he simply decided to start writing twice/week.
Leo Babauta has written for years the key to changing any life habit is to start as easy as possible.
Dave Ramsey tells those in debt to get out by paying off their smallest debts first.
Lori Deschene began building her powerful online community by posting one inspirational quote each day.
When I asked Brad Lomenick for advice on taking my message to a larger audience, he replied, "Just keep showing up."
Benny Lewis says the first step in learning a new language is to simply embrace an optimistic attitude (and a simple phrase book).
Jeff Goins claims his writing career took off when he intentionally began telling himself, "I am a writer."
When it comes to embracing positive life change (whatever that may be in our unique lives), the road may indeed be long from Point A to Point B. But it always starts with one step.
So go ahead, take one small step in the right direction. And then, take another one tomorrow. Before you know it, you'll be further down the road than you ever expected.