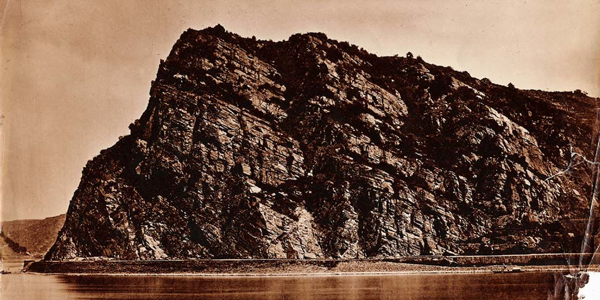 "Do not let your eye be drawn by the false beacon lamps of wealth, or position, or fame, or possessions. Be vigilant over your will and desires, for these are the corrupt forces that dwell within, and keep you from living free." – John of the Cross
A short time ago, I met a woman named Loralai (pronounced: "Laura-Lie"). We had a most wonderful conversation. While we were talking, I happened to comment on the beautiful sound of her name and asked about its origin. She proceeded to tell me it meant "River of Doom." Intrigued by such a unique meaning, I asked her to continue.
She began telling me of the Rhine River and Loreley Rock which marks one of its most well-known and dangerous sections. As legend tells the story, a mermaid once lived on the very top of the rock. Through the fog, her seductive song would lure sailors to abandon ship in search of her… always resulting in their doom. Even those sailors who remained with the ship would become so enchanted with her song, they would often lose sight of the water and be washed ashore upon the rocks.
Loralai ended the conversation by saying, "And that's why you just don't hear the name very often." But the legend of the Lorelei had me hooked. The metaphor for life was so apparent I could not shake it from my mind. I meditated on the story for the rest of our time together and on into the evening… little did I know the most well-known poem about the Lorelei begins with a similar thought about its seductive nature, "The legend haunts me and will not depart."
Here is the full English translation of the German poem by Heinrich Heine, 1824.
The Lorelei
Translated by A.Z. Foreman
I know not if there is a reason
Why I am so sad at heart.
A legend of bygone ages
Haunts me and will not depart.
The air is cool under nightfall.
The calm Rhine courses its way.
The peak of the mountain is sparkling
With evening's final ray.
The fairest of maidens is sitting
Unwittingly wondrous up there,
Her golden jewels are shining,
She's combing her golden hair.
The comb she holds is golden,
She sings a song as well
Whose melody binds an enthralling
And overpowering spell.
In his little boat, the boatman
Is seized with a savage woe,
He'd rather look up at the mountain
Than down at the rocks below.
I think that the waves will devour
The boatman and boat as one;
And this by her song's sheer power
Fair Lorelei has done.
To me, this poem serves as a metaphor and an enchanting reminder of the trappings of this world. This world can indeed be very seductive. And many have been caught up in its offerings, its temptations, and its passions for power. The world, its riches, and its fleeting pleasures call for our attention from mountaintops all around us. And often times in our zeal to achieve them, we lose sight of the very hazards before us.
We were designed to live for far greater pursuits than the passions of this world. And with that as the metaphor, may the legend of the Lorelei always haunt our affections.
***
It's been a busy several months here at Becoming Minimalist.
If you missed any of our newly released endeavors, take a minute to check them out. We're very excited about the future of Becoming Minimalist. And we look forward to having you on-board with us.
Image: Cat Sidh