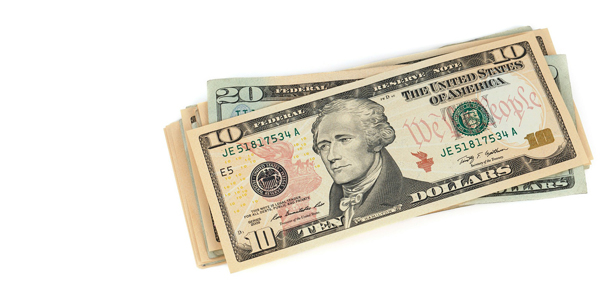 "We must consult our means rather than our wishes." —George Washington
While I don't mention it often, I have an Undergraduate Degree in Banking and Finance from the University of Nebraska Omaha. I also have a Master's Degree in Theological Studies, but this is a post about money so I'll return to my undergraduate experience.
I pursued Banking because my dad works in the industry and because finance had always been an interest of mine. I did well in school graduating with honors. Yet, despite all my training, personal budgeting was a life habit that always eluded me.
I knew the importance of having a personal budget and holding to it, but the discipline was never a priority in my life. Of course, I was not alone. Gallup reports less than 1 in 3 Americans keep a personal, household budget.
But everything changed when I was first introduced to the idea of creating a "spending plan" rather than a "budget." In fact, I have used this spending plan system with great success over the past several years after being introduced to it. And if it works for me, maybe it'll work for you also.
The idea that distinguishes this specific spending plan from a typical budget is the understanding that while a budget dictates to you what you can spend, where, and when ("We can only spend $300 on groceries this month,"); a spending plan allows you the control of your money every single month. Also, it realizes that your purchases change and expenses vary from month to month and that a one-size-fits-all monthly budget doesn't truly fit anything.
***
Using the spending plan model is quite simple, although it does require some effort on the front end and throughout the month (just like any personal financial system).
To get started, determine your monthly take-home pay (not your gross income before taxes, but your net income—the actual amount on your check or direct deposit).
Second, sit down and determine your fixed monthly costs. These are the expenses you currently have in your life that require some of your income every month—no questions asked. The actual monthly expense may vary (within reason) from month to month, but you know it is going to be there. It is fixed. For my family, we include the following list:
Charity
Mortgage
Groceries
Auto Fuel/Maintenance
Savings/Retirement
Utilities: Gas, Electricity, Water, Garbage
Auto insurance
Health Insurance
College loan repayment
Home Internet
Cell phone
Home Owner fees
Kids' School/Activities
After you have determined your monthly income and your monthly fixed costs, you can easily recognize your monthly discretionary income (the money that you have left over to spend as you desire). Simply subtract your monthly fixed costs (Step 2) from your monthly net income (Step 1). For example, if you have $500 per month left over after paying your fixed costs, you have $500 in discretionary income. The spending plan now allows you the opportunity to spend that $500 as you desire: golf clubs, cinnamon rolls, travel, entertainment, extra savings, or an 8.0 MP Underwater Video Camera. The choice is yours.
I have seen wonderful benefits to this personal spending plan:
1. The plan helps sort needs from wants as our fixed costs are initially calculated. We begin to quickly realize which expenses are truly fixed and which are not.
2. The initial realization of your discretionary income gives a healthy framework to determine how much money you actually have to spend each month. Years ago, the first time we tried this exercise, we were surprised to discover how little discretionary income we actually had each month. And we immediately recognized why we were never able to get ahead.
3. The plan allows you to see how life patterns affect others. For example, if you lay out your plan and realize that you need more discretionary income, you have a list of fixed costs that could possibly be cut or reduced. Maybe you don't really need cable tv if it means you could spend more on a vacation.
4. You will be able to easily recognize how economics should be influencing your spending. If auto fuel goes up $1.00/gallon, you can quickly recalculate your fixed costs and determine how much discretionary income has taken a hit. Conversely, if fuel goes down, you'll have a little extra that you can spend or save that month.
5. The plan does not require meticulous tracking. Most of our fixed costs are fixed. They do not vary much from month-to-month. Rather than having to track individual expenses each day of the month, we are mostly concerned with only tracking the amount of our discretionary income spent and remaining for the month.
Even if you don't hold yourself to consistent tracking of expenses throughout each month, I do recommend going through the initial layout just to get a sense of your "actual discretionary income." It can probably be completed in less than an hour. It will result in new discoveries about the state of your personal finances. And it may also be the right first step in finally finding a spending plan for your household that actually works.