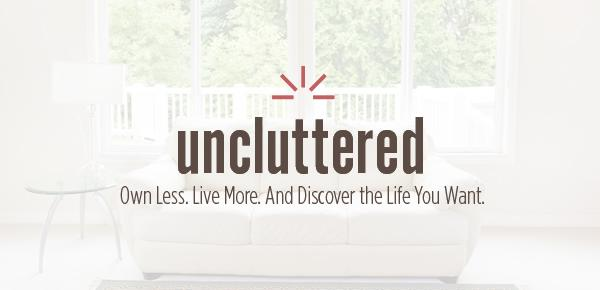 "I have significantly less stress in my life and more self-control. Most importantly, I'm becoming more like the mom and wife I want to be." — Caryn Seney
Uncluttered
Uncluttered is a 12-week online course designed intentionally to help you own less, live more, and discover the life you've always wanted.
We offer the course only three times each year. And today, we are launching the January Edition.
If you want 2018 to be the year you declutter your home, own less, and get ahead financially, registration is only open for the next 9 days—ending January 7.
The program includes videos, interviews, live webinars, live Q&A's, helpful articles, weekly challenges, accountability, and a super-engaged community.
If you are drawn to the idea of owning less, but need some extra help getting there, this course is perfect for you. Uncluttered will provide just the extra motivation you need to declutter your home and start living a better life. By the end, you will have decluttered every major living area in your home and begun changing your spending habits.
Every Monday, you will receive a video from me, an exclusive interview with one of the brightest minds in the simplicity movement, and/or written content prepared exclusively for the course. You will receive a weekly challenge to complete. And opportunities to engage with the community in a private Facebook group and with me during live webinars and live question and answer opportunities each month.
The course offers everything a book or blog post cannot: community, accountability, and opportunity to ask questions.
The Uncluttered plan will help you celebrate your progress as it provides helpful answers on where to start and how to stay motivated.
To find more information about the content and the subjects covered, click here.
New, Expanded Material for Families
I am also excited to announce that we have added new material to the course for 2018!
Because of the high number of people with families who register for the course, we have added a special family-specific section with tips and strategies for getting your family and kids onboard with the process. The new section includes a family-specific webinar to answer your questions, a free Children's ebook to read with your kids, and a Couple's Discussion Guide to spark conversation with your spouse or partner.
We want you to find the most success during the 12-week course and we are confident these resources will help you do that.
The Results
Over 15,000 people have gone through the course. Here are just a few of the responses:
The term life-changing gets thrown around a lot, but this course really is. I went into it with a lot of shame and anxiety. Joshua gently guided us in a way that made lasting change seem possible. My home is much improved, but my mindset is also clearer. —Kathryn Wagner, Los Angeles, CA

The power of this shared experience is hard to explain to people, it is so overwhelmingly positive. It not only provides the incentive to keep going, but reminds you there are good people out there. You find yourself rooting for complete strangers. Together, there is a momentum that drives you through the course. It was completely unexpected and so overwhelmingly helpful. —Tanya S, Webster, NY

I am a better mother, a better wife, a better housekeeper, a better budgeter, a better teacher, a better neighbor and a better friend. I'm still a work in progress, but it feels good to be where I am at. —Pam L.

My credit card statement came today. $1,000.00 under my typical monthly balance! Thank you Uncluttered community. I've been at this for years; however, it's clear I truly needed this group to get to that next level. —Cheyanne Morris, St. Paul, MN
The Details
We offer the course three times each year.
The New Year's Edition begins on Tuesday, January 9. Registration is open now, ending on Sunday, January 07—so don't wait if you want to join us.
The cost is $89. But you can find a 25% off discount code in the back of The More of Less: Finding the Life You Want Under Everything You Own. The book is not required—but the course is based on it. And it's cheaper to buy the book and use the discount code than it is to pay full price—the option is yours.
I am personally involved in every aspect of the course. Helping people live more by owning less is what I am passionate about. I created the videos and the content. I host the webinars. I answer questions in the Facebook group. And I host live video chats over the course of the 12 weeks. My goal is to help and cheer you along. I have come to understand how essential community, accountability, and ongoing encouragement is for people. And I work hard to craft that culture for the Uncluttered Course. 
Participants receive lifetime access. And they can take it as many times as they want (or need) for free. I know life can be busy and the unexpected can happen at any time. But we're here to help you succeed. And if taking the course more than once is required, it's our pleasure to have you join us as many times as you want.
—
Uncluttered is a 12-week online program with videos, interviews, webinars, articles, weekly challenges, accountability, and community. It is strategically packaged for one purpose: To help you unclutter your home, own less stuff, and find space to live the life you want.
Visit My Becoming Minimalist to register.
Make 2018 the year you rediscover the home and life you've always wanted.