***
If you're interested in hiring Joshua for your event, fill out the Speaker Request Form here.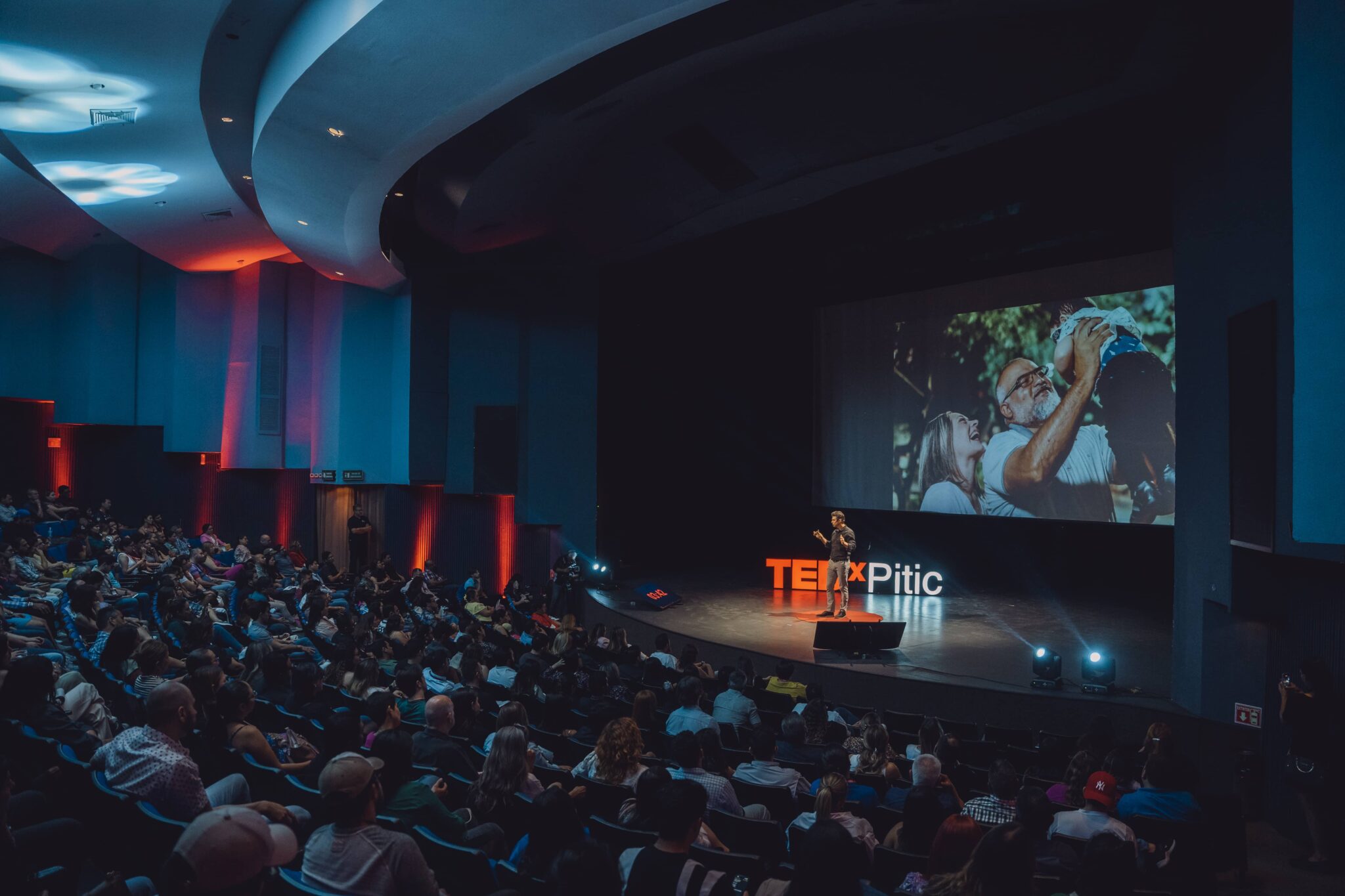 Below you will find a list of Joshua's impactful speaking topics, built from his journey and research towards a minimalist lifestyle. Each presentation is a deep-dive into shedding distractions and focusing on what truly matters.
From creating better habits, decluttering life, or strengthening faith, these talks inspire and ignite change. Discover the simplicity that can transform lives.
1. Overcoming Distraction to Live a More Meaningful Life
Bestselling author and speaker Joshua Becker's keynote presentation offers invaluable tools to navigate distractions and hone in on what's important. Drawing from his book, Things That Matter, Joshua invites attendees to align actions with values, critically assess external influences, and harness their passions.
He shifts traditional perceptions of wealth and possessions, advocating a balanced lifestyle for greater fulfillment. This keynote also dovetails with corporate wellness programs, emphasizing life balance and productivity to boost employee satisfaction and wellbeing. No matter the event size, Becker's powerful talk guarantees an unforgettable, transformative experience.
2. The Profit of Kindness: How Ethical Business Boosts Your Bottom Line
As a #1 Wall Street Journal Bestselling Author and founder of Becoming Minimalist, Joshua brings a wealth of entrepreneurial experience to his compelling keynote. Perfect for business leadership events, Joshua uses his success story to highlight how ethical business practices lead to profitability.
He explores the role of kindness in creating rewarding client relationships and space for growth. This talk provides a fresh perspective on combining purposeful work with financial success and building authentic connections.
Choosing Becker ensures a transformative experience. Attendees will leave motivated to adopt compassionate business practices, creating their own success stories around the good they wish to bring into the world. His keynote is ideal for fostering innovative leadership.
3. Owning Less to Live More
Experience the transformative journey of "Owning Less to Live More," a keynote that explores the power of decluttering and minimalism for enhanced wellness and personal development. With practical steps and compelling insights, audiences are guided on a life-giving path to simplicity and intentionality.
This session, led by minimalist pioneer Joshua Becker, not only illuminates the process of decluttering but also highlights its profound wellness implications. Through his enlightening discourse, you will understand the tangible impact of reduced stress and an enhanced life-focus achieved through adopting a minimalist approach.
Perfect for corporate wellness programs or teams aiming for personal growth, Joshua's presentation offers a fresh, engaging perspective on how decluttering fosters a happier, more productive environment.
4. Work that Matters
"Work that Matters" inspires teams to unearth profound meaning in their work. Perfect for boosting morale and cultivating purpose, Joshua reframes work from a burdensome necessity to an enriching life aspect.
He highlights the value of our work beyond the paycheck, underscoring the pursuit of passion and commitment, and its importance to societal contribution and personal growth.
In this talk, attendees will view work as a rewarding endeavor for the common good, fostering improved job satisfaction and motivation. This keynote isn't merely about shifting perceptions; it's about instilling a fresh appreciation for work as part of a meaningful life. Use "Work that Matters" to energize your organization with a transformative perspective about the work they do.
5. How to Build a Life of Better Habits
Embark on a transformative journey as Joshua unveils his 10-step method for creating better habits. Joshua combines personal experiences with the latest research to guide participants from Step 1: Choosing a habit to Step 10: Celebrating success.
He explores strategies such as making habits easy and specific, leveraging positive self-talk, and using social connections for support. He emphasizes the role of cue-based triggers, the importance of celebrating small victories, and cultivating self-compassion during setbacks.
With insights drawn from real-life success stories of his own habit formation, this talk goes beyond theory, offering practical tools for attendees to apply in their own lives. Attendees will leave with a clear understanding of effective habit formation and a toolkit of strategies for personal growth and overall well-being. This is more than a talk; it's a step towards a more balanced life enriched by positive habits.
6. Revolutionize Your Routine: The Power of Simplicity
In the presentation, "Revolutionize Your Routine: The Power of Simplicity," Joshua shares how simplicity supercharged his success. By focusing on the essentials, he enhanced productivity and satisfaction while minimizing stress and distractions.
Through this presentation, he illustrates how refining daily routines can lead to marked improvements in focus and overall satisfaction. Offering practical tips backed by real-life examples, he guides attendees on how to streamline and bring purpose into their routines.
If your audience is grappling with an overwhelming task list or seeking to lighten their day-to-day load, this presentation delivers. It extends beyond decluttering – it's a pathway to reclaiming time, boosting productivity, and restoring peace of mind. Attendees of this presentation will depart equipped to craft a simpler, more effective daily routine.
7. The Art of Prioritization: Learning from a Minimalist Lifestyle
In "The Art of Prioritization: Learning from a Minimalist Lifestyle," Joshua presents the powerful impact of mastering prioritization. Drawing from his minimalist lifestyle, he illustrates how focusing on what truly matters can streamline tasks and amplify productivity.
Joshua delves into his personal journey, sharing lessons about discerning essential elements and shedding the extraneous. He introduces practical strategies for daily life, from decluttering spaces to effectively organizing time, linking minimalist principles to improved productivity and lower stress levels.
This presentation is both inspiring and instructive, emphasizing the profound effects of effective prioritization. Audiences will leave not just inspired, but armed with actionable steps to implement immediate change, making this an excellent choice for leaders seeking to enhance their organization's productivity and balance.
8. Personal Transformation: The Journey from Materialism to Minimalism
"Personal Transformation: The Journey from Materialism to Minimalism" reveals the profound impact of shedding material excess for a simpler, more meaningful lifestyle. Drawing from his own experience and 15 years of writing on the topic, Joshua explores how embracing minimalism can enrich our lives.
Through relatable anecdotes, Joshua illustrates how transitioning from materialism unlocks a more fulfilling existence. He emphasizes that decluttering frees up our energy for what truly matters.
More than an inspiring narrative, this presentation outlines practical steps towards minimalism, guiding attendees in letting go of the unnecessary and embracing the joy of owning less.
Whether attendees are minimalist beginners or seeking fresh insights, this presentation offers a unique perspective, sparking a personal transformation towards a simplified, more purposeful life.
---
9. Christ-Centered Simplicity
"Christ-Centered Simplicity" is a transformative journey toward a meaningful, distraction-free life centered around faith and impact. In a world buzzing with countless distractions and the constant tug of materialism, Becker invites audiences to clear the distractions and focus on what truly matters—our relationship with God.
Drawing from his personal experience, Joshua shares how clearing life's excesses has opened up space for more profound connection with God and a life of greater purpose. He weaves in Biblical teachings that underscore the keys to keeping our lives focused on Christ and not on worldly desires.
This talk is a road map towards a Christ-centered life, helping audiences identify and discard distractions that block their spiritual growth and impact. Attendees will leave with a renewed understanding of how to lead a fulfilled life free from unnecessary distractions. "Christ-Centered Simplicity" is an uplifting, motivational invitation to lead a life that's rich in faith and meaningful experiences, offering more than just teachings – it provides a pathway towards a deeper spiritual journey.
10. Time, Talent, Treasure: Simplifying for Effective Impact
Time, Talent, Treasure: Simplifying for Effective Impact is a transformative presentation by a thought-leader and philanthropist who is renowned for inspiring millions to live more by owning less. Becker shares how focusing on the essential can help us optimize our resources: time, talent, and treasure, to make a meaningful difference in our personal and professional lives.
He advocates for intentional stewardship of these key resources, which are often consumed by our modern-day culture of excess. Becker expertly intertwines personal anecdotes, practical strategies, and compelling insights into a presentation that redefines how we perceive and utilize our resources.
With an emphasis on purposeful living, Joshua inspires his audience to sift through the distractions of modern life, prioritizing their time, honing their talents, and investing their resources wisely. The ultimate aim is a simplified, fulfilling life that enables us to contribute meaningfully to our world. It's a blueprint for effective stewardship, highlighting the transformative power of simplicity on our paths to personal and professional success.
Attendees will leave with not just inspiration, but practical tools and insights to navigate their life journey with a focus on making a genuine, lasting impact.