The Becoming Minimalist Newsletter recruits, mobilizes, and equips those committed to the intentional promotion of simple living. It is more than information. It is a movement.
Each newsletter contains inspiration to foster influence and intentionally provide quality resources to spread the message of simplicity.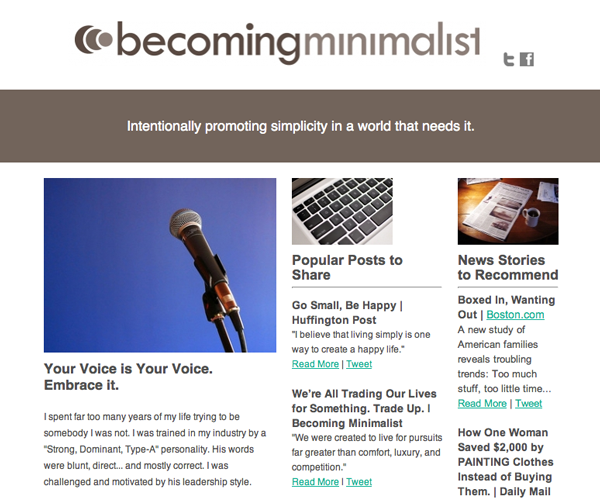 The Becoming Minimalist newsletter provides a far more personal opportunity for communication than the blog allows. Because of its nature, we have greater freedom to share intimate details of the intentional spread of the minimalist message.
The newsletter is delivered every two weeks and contains links to popular, shareable posts from this website and others. We encourage our readers to share these stories and posts via e-mail, Facebook, Twitter, Pinterest, and heartfelt conversations over a cup of coffee. The newsletter also provides practical opportunities to support Becoming Minimalist and others in minimalist-specific ventures (book launches, speaking engagements, interviews, presentations, tours).
In short, the newsletter will serve as direct communication for those committed to promoting the minimalist message. And together, we can make a big difference!
I encourage you to sign-up. At this point, it's the most important first step. By subscribing, you will get exclusive content, specific opportunities to promote minimalism, and advance notice on new projects. (FYI: This e-mail list will not receive blog post updates individually. But will instead receive bi-weekly round-up reports of popular posts from this site and others).
Enter your email address below to join more than 15,000 others on this exciting team committed to the intentional promotion of minimalism:
And thank you so much for being part of a more intentional Becoming Minimalist.