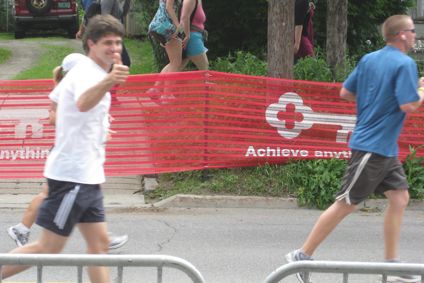 "We are different, in essence, from other men. If you want to win something, run 100 meters. If you want to experience something, run a marathon." – Emil Zatopek
Yesterday, I ran the Vermont City Marathon. It took me 4 hours and 31 minutes. My decision to run the marathon was based entirely on my lifelong dream of accomplishing such a feat. It was about realizing a dream and proving to myself that I could do it. However, along the way, I realized numerous other benefits. I got into the best shape of my life. I made some new friends. I found countless hours to reflect on my life. And I learned some valuable lessons.
Here then, are the 12 Most Important Lessons for Life I Learned During My First Marathon.
Dreams are not meant to be wasted. We all dream of things that we want to accomplish in life. And they all have the same thing in common: They begin by taking one small step. For me, the first step was to read a book about running a marathon. That's it. From there, I put the book into practice and began working hard to fulfill my dream. It became completely within reach by simply taking one small step at a time. Whether your dream is to write a book, start a business, travel to Europe, or make things right with your children, they all begin with taking one small step. Don't waste any more time. Your dreams can be accomplished – one small step at a time.
Fuel properly. You can't complete a marathon without fueling your body correctly. Remember, your body is your home base for life. So fuel it properly by eating healthy. You only get one life and one body to live it in – take good care of it.
Compete Less. Encourage More. Marathon runners are notorious for offering encouragement to one another. They understand an important race principle: there is room at the finish line for all of us. It isn't all about winning or losing, it's about the experience and being in it together. As a result, the entire 26.2 mile race was filled with encouragement from bystanders and competitors committed to helping the other guy finish strong. Our world could learn a lot from marathon runners. Imagine how much better this world would be for everybody if we learned to encourage more and compete less.
Drive slower. Roads are shared by bicyclers, runners, and walkers. Therefore, drive slower and more courteous… someone's life may just depend on it.
Shed the excess. When I started training, I ran with an ipod, headphones, a cell phone, and a small snack. But I learned a valuable lesson about half-way through my training. Shed the excess. Possess less and carry as little as possible. I began running with nothing in my pockets and enjoyed the runs infinitely more – there were less things weighing me down. The same holds true with life. Shed your excess possessions. Get rid of any possessions in your home/life that are not necessary. They are weighing you down more than you think. You will enjoy life infinitely more by carrying as little as possible.
I enjoy silence. Some marathoners like to run listening to music. I thought I did too – until the first time I ran without it. I soon began to love the quietness. I was able to listen to my body and focus on the run. In addition, my mind was freed up to think about my life and evaluate it. Some people enjoy running with noise. But I have grown to love the silence. You just may learn to love silence too if you give it a shot… And I'm not just talking about running.
If you want to make new friends, get a new hobby. Hobbies give us things in common with others. They help form the foundation for new conversations and relationships. If you are looking for new friends, I recommend jumping into a new hobby: learn bridge, join a tennis league, pick up quilting, volunteer, or give spirituality a shot. You will be pleasantly surprised at the new people you will meet.
Run with your head up. Not just as an instruction for proper running technique, but as a metaphor for life. Stay positive and confident. Look where you are going. And soak in as much of life as possible.
If you are running uphill, there is a downhill right around the corner. Downhill runs are easy because everything is on your side – your stride lengthens, you pick up speed, and exert less energy. On the other hand, uphills are tough. Everything is working against you – your stride shortens, your breathing gets heavier, and every step feels like it could be your last. If you feel like your life is running uphill right now, fight through. A downhill is coming right around the corner.
If you want to go fast, go alone. If you want to go far, go together. The old African proverb contains enormous amounts of truth. At the beginning of the race when I wanted to pick up speed, I ran by myself passing countless runners in the process. But during miles 20-26, when I just wanted to finish the race, I found the necessary encouragement in a small pack of runners. At that point, I didn't dare leave them. I needed their presence, their pace, and their encouragement too much. The marathon distance would not have been possible without them.
There are plenty of good people left in this world. From the thousands who volunteered at the event to the countless neighbors cheering from their yards offering water, oranges or a sprinkler, the day was filled with good people. They were there with no agenda or anything to be gained personally from their service. They were just there to help and cheer us on. I thank them for pushing us through. But more importantly, I thank for reminding me that there are plenty of good people still living life to the fullest.
Move to the side and allow others to pass. There is no reason to stand in the way of someone preparing to pass you. You need to be courteous, notice those around you, and get to the side so that they can pass and run their most successful marathon possible. Our lives should look the same. Don't stand in the way of someone who is gifted and hungry enough to pass you – even if you are older or have more tenure. They are just trying to live their most successful life possible… just like you. Let them pass. And cheer for them when they do. Life is far more enjoyable that way!
Your dreams are far too valuable to be wasted. If you've got one, start realizing it today. You have no idea how it may change your life for the better.