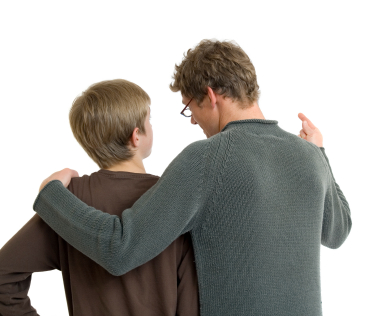 "I can live for two months on a good compliment." – Mark Twain
Words are powerful. They can create or they can destroy. They have the power to chart new direction in someone's life. The words that you speak today can offer encouragement and positive thoughts to another human being. Or your words can send them further into despair. So choose them carefully.
Encouraging words build up the lives around us. And as you affirm others you will benefit. People who express heartfelt encouragement to others find it easier to express gratitude, feel joy and achieve success themselves. Today, go out of your way to positively affirm these three people:
A family member. Words spoken by those who know us best and love us the most are the most powerful. They have the greatest potential for good or harm. If you want your child to turn out well, pull them aside, compliment them, and tell them why they make you proud. A short conversation now can have unbelievable, long-range benefits in the future. But our need to hear affirming words doesn't end when we turn 18. So remind your spouse why you love him/her. Or tell your parents how much you appreciate them. Make the call today.
A co-worker. Many of our co-workers live tragic lives at home. They smile on the outside, but only to hide the pain on the inside. Build them up. Be liberal with your praise. Send an e-mail. Write a short note. Offer an unsolicited compliment. Speak health and well-being into another's life. You may have no idea how desperately it needed to be heard…
Yourself. Don't forget yourself. We need to hear powerful words of affirmation as much as anybody else. Remember that you have the power over your own thoughts – choose to make them positive. Speak kind words to yourself today and build up your own being and spirit. You may just begin charting a brand new path.
I am a fan of simplicity. I encourage others to eliminate the unneeded things from their lives… but positive words cannot be on that list. Too many people are counting on you.