Editor's note: This is a guest post from Robyn Devine.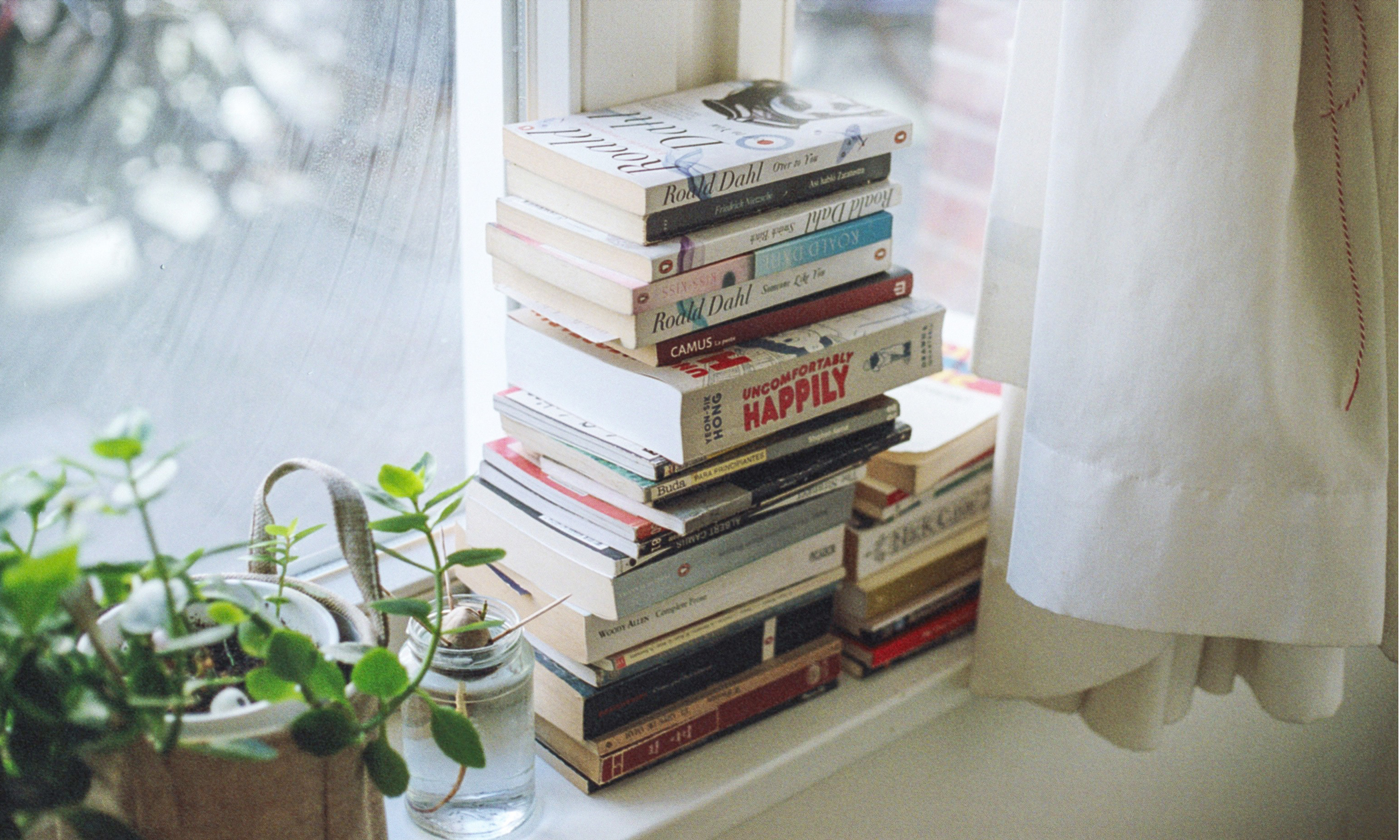 It is unmistakably comforting to curl up in a thick chair with a tattered copy of a book you love, listening to the rain while you let yourself get carried away by the words on the page. I know – I used to hoard books. Don't let the title "minimalist" scare you off – I have a love of books that dates back to my years toddling around with Dr. Seuss, a love that was handed down from my mother.
Until just a few years ago, books were stacked everywhere in my home. My two huge book cases were double-stacked with volumes ranging from children's fiction to college text books, and piles had formed next to couches and the bed, not to mention on any available surface. I could not imagine my life without these friends surrounding me – the very thought of letting go of just one was enough to send me hurling at my shelves, attempting to wrap my arms around every book I owned in protection.
Today, I am the proud owner of approximately 20 books – six of which are craft books. To move from one extreme to the other took some serious work, and was not an overnight process. It started with the realization that I was not so much attached to the stories and words themselves, but the physical books sitting on the shelves. Once I had that realization, I began to let go of some of my books, and moved slowly towards a more minimalist reading collection.
The best way for any book-collector to tackle their bookshelves is by looking at one book at a time. When we look at the whole expanse of our book collection, it can be hard to imagine ever letting a single book go, but in reality there are volumes hiding on those shelves that we truly don't need or want. Taking time to pull a book down off the shelf and truly look at it as an individual item will help you decide for that book alone if staying on your shelves is the best option.
Here are a few suggestions to help even the biggest bibliophile relieve your sagging shelves of stress:
1. Write It Down.
Sometimes, it's the way a book made us feel, our connection to the story or a character that keeps us from letting go of the book itself. Take some time to write down those feelings, those connections. Maybe you'll keep these notes on your computer or in a notebook, or maybe you'll begin a blog for them. Once you get those emotions and thoughts out, it can be easier to pass the book on to someone else who you think would love the story as much as you did.
Tiny Action: Grab a notebook and start writing down your thoughts about each book as you take it off your shelves. If you can't think of anything to say, you probably won't miss the book if it weren't there anymore.
2. Divide. Get ruthless with your "yet to read" pile.
My rule of thumb is simple: If it hasn't been read in six months, it probably won't ever be read. I went so far as to test this theory myself as I found books on my shelves I hadn't yet read, but couldn't yet bear to let go. I dedicated a shelf to "need to read" books, and noted the date. Any books that started out on that shelf on that date but were still there six months later I purged – I had discovered I truly had no desire to read them!
Tiny Action: Let go of any book you haven't read yet that has been on your shelves for more than six months. Afraid you'll want to read it someday? Make a note of it in your notebook – title, author, ISBN number even – so you can find it at the library if you truly want to read it later.
3. One of the best ways to make use of your book collection is to share it with others!
As you look at books, anytime you find yourself thinking "So and so would LOVE this book!" write that name down on a sticky note, stick it on the front cover, and set the book aside. After you've got 20 or so books in a pile, begin handing them out – drive to friends' houses and drop them off, or put them in the mail (book rate shipping is SUPER cheap).
Tiny Action: Pick five books off your shelves that you'd love to share with someone else, and then send them off to their new homes. Today.
4. Set aside one shelf of your book case as your "desert island" shelf.
Most book lovers have books they know they will never let go of, no matter what. I call these "desert island" books – they are the books I'd want with me if I were stranded on a desert island, that I could read over and over again for the rest of my life. As you come across these books in your collection, add them to your shelf. Not only is it comforting to see those books being saved as you pare down others, you now have a physical boundary – you can have no more "desert island" books than will fit in this one space, so you are forced to think analytically about your collection.
Tiny Action: Clear off one shelf to keep as your "desert island" shelf. It can only hold one row of books – no double stacks or piles!
5. Organize your non-fiction books by topic.
I found when I began to organize my non-fiction books by topic, I had overlaps in some subjects. For me, the largest overlaps came in religious studies (my major in college). As I saw where I'd doubled up on topic, it was easier to let go of a few books.
Tiny Action: Organize your books by topic and author. Begin to pare down where you see overlaps.
6. Look for multiple copies, and get rid of them.
You may laugh, thinking you would NEVER buy a multiple of a book, but trust me when I say I've found multiple copies of books on the shelves of almost every sentimental bibliophile I've met. Once you have more than a shelf or two of books (not a book CASE or two, a SHELF or two!), the chances of your remembering what books you own dwindles. Even if you love the book, there is never a need to own more than one copy of it!
Tiny Action: Every time you notice a multiple of a book, immediately give one copy away.
While going through this process, here are a few tips to keep in mind:
Take breaks. When I first began paring down my books, I would get dizzy after 15 minutes!
Take five minutes to step away anytime you begin to feel overwhelmed – this is a new experience for your body, and it takes some getting used to!
Stay hydrated. I found I would get drained and tired as I went through my books – keeping a glass of water next to me helped keep me alert and focused.
Set a timer. Sort through your books for no more than 30 minutes the first go-round or you will find yourself getting frustrated and overwhelmed.
Honor your emotions. Your sentimental attachment to your books is not something to feel ashamed of or sad about. Acknowledging your emotions as you sort through your books can be the first step in helping you move past that attachment and towards a more minimalist reading habit.
And above all, remember this: you did not acquire those books overnight, so you will not release your attachment to them quickly either. By spending a few minutes a week and by letting go of a few books at a time, you will find your feelings shifting towards the stories and the moment rather than the books themselves.
***
Wondering how to get rid of books? Consider donating them. Here's a list of 20 places you can donate your books.
For more help with decluttering, see our list of 10 creative decluttering tips.