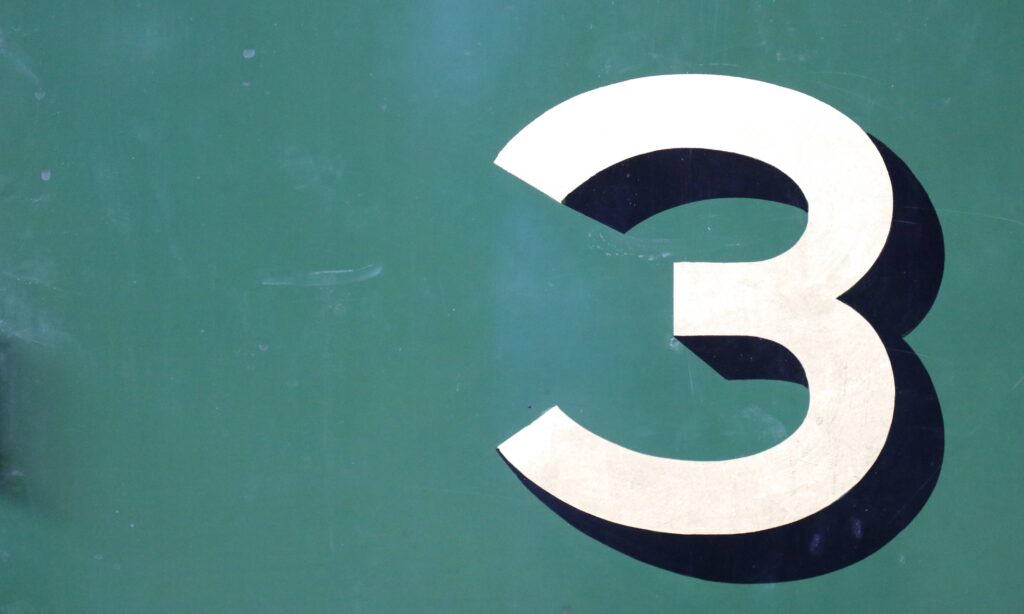 There are countless healthy habits that improve our lives. But I have found that when I practice just three effectively, most of the others take care of themselves.
I consider them the three most important habits in my life.
Now, if we were to sit down and create a list of habits we think essential for success in life, there's no doubt we could create a lengthy list without much thought:
Healthy Diet
Reading
Exercising
Planning
Budgeting
Meditating
Arriving on Time
Setting goals
Evaluating the Day
As a matter of fact, the longer we think about healthy habits, the more we'd add. Our list would grow and grow:
Avoiding addiction
Sleeping well
Valuing relationships
Smiling
Avoiding distractions
Quitting smoking
Saying "I love you"
And each of those habits are, indeed, healthy. I would never discourage anyone from pursuing any of them.
But I have found, surprisingly enough, that when I intentionally practice just three from the list above, other habits begin to fall into place—almost naturally.
Conversely, when I let any of these three drop in importance, everything else suffers.
That's why I call them essential.
The three most essential habits in my life for living well:
1. Exercise.
Our physical bodies are the instruments through which we make a difference in the world. And taking care of them lays the foundation for all other pursuits in life.
When I make a commitment to exercise regularly (4 or more times/week), I feel better about myself, I experience more energy and motivation in my day, and I feel a sense of control over my life that spills into other areas.
There is not one specific practice of exercise that must be practiced by all. I have friends who get their exercise by hiking regularly, running often, playing tennis, attending a fitness class, or lifting weights at the gym. I also have older friends who simply make a commitment to walk 30 minutes each day.
But each of them, to the extent they are able, practice regular physical exercise.
Personally, I spend one hour each weekday morning lifting weights.
And when I'm doing that consistently, the second essential habit comes easier:
2. Healthy Diet.
If our physical bodies are the instruments through which we make a difference in the world, our diet is the fuel for them.
It has been said that 46% of Americans have a poor-quality diet—which means that almost half of us are not properly fueling ourselves for our best lives.
But the research gets even worse. Not only are we not properly preparing ourselves for optimal living, our diet may actually be cutting our lives short. According to the same study, "suboptimal diet is among the leading causes of poor health, particularly obesity, diabetes, cardiovascular diseases, and diet-related cancers."
Bringing greater intentionality to the food we eat is a habit that pays off immediately in the short-term (more energy) and in the long-term (better health).
I'm not a nutritionist and each of us are unique, so I'm not here to offer prescriptive steps on this habit.
But for me personally, I have found the following steps to be most helpful in creating a more healthy diet: Remove processed sugar*, limit carbohydrates, eliminate alcohol, and increase my daily intake of vegetables.
There is a lot of wiggle-room in that diet for me to practice it effectively, but those are the four guardrails I've found most helpful.
*Eliminating processed sugar is by far the hardest for me to follow and when I begin to fall into bad habits around diet, this is always the first place I slip up. I have learned that I do best eliminating it entirely—rather than limiting consumption.
3. Solitude/Meditation/Prayer.
Each of the first two essential habits in my life deal with the physical body, but life is more than skin and bones.
A healthy life also concerns itself with matters of the heart and soul. In order for me to be living my best, I must make time for solitude, meditation, and/or prayer.
Our world is noisy and constantly clamoring for our attention. Not because it is out for our good—sometimes it is just trying to bend our will toward the cultural pursuit of the day or direct our passion towards whatever it is hoping to sell us.
The only way to listen to our heart and center ourselves around more important pursuits is to withdraw from the world in stillness, solitude, or meditation.
I believe that Blaise Pascal was right when he said, "All of humanity's problems stem from man's inability to sit quietly in a room alone."
We can embrace every positive habit change in the world, but if our heart and soul is not centered on worthy pursuits, we will end up wasting the one life we've been given effectively chasing all the wrong things.
The practice of meditation and/or solitude is practiced by people of every faith and nonfaith background, so it is not difficult to find different ways to embrace this habit in your life. I'm not necessarily here to prescribe that for you.
But personally, I spend 30 minutes every day in quietness, contemplation, faith-based reading (Bible), and prayer. Without it, I too quickly lose my way.
There are other healthy habits that I am intentional about pursuing in my life, my marriage, my family, and my work.
But when I am doing well with these three habits, all the others become easier and easier.