The following is a guest post from Joshua Millburn & Ryan Nicodemus of The Minimalists.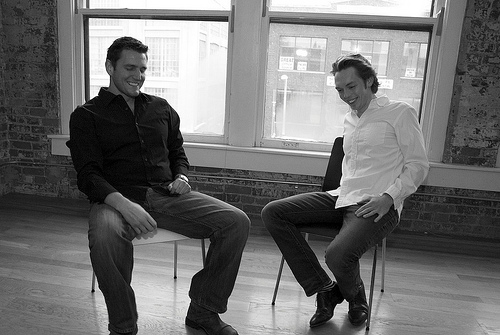 "In a world where high-tech and high-pace too often replace self-reflection and mindful evaluation, it is our privilege to kick off a three-part series on consciousness, freedom, and the value of the totally obvious. "Conscious Freedom" was written to call us to a deeper understanding of ourselves and the world around us. In total, it contains three parts on three unique blogs… and we think you are going to enjoy it." – Joshua
Note: This is the first essay in a three part series called CONSCIOUS FREEDOM written by Joshua Millburn & Ryan Nicodemus from The Minimalists, featured on Becoming Minimalist (part one), Exile Lifestyle (part two), and Castles In The Air (part three). Scroll to the bottom to find links to the rest of the series.
"In the day-to-day trenches of adult life, there is actually no such thing as atheism. There is no such thing as not worshipping. Everybody worships. The only choice we get is what to worship. And the compelling reason for maybe choosing some sort of God or spiritual-type thing is that pretty much anything else you worship will eat you alive. If you worship money and things, if they are where you tap real meaning in life, then you will never feel you have enough. Worship your body and beauty and sexual allure and you will always feel ugly, and when time and age start showing, you will die a million deaths before they finally grieve you. Worship power, you will end up feeling weak and afraid, and you will need ever more power over others to numb you to your own fear. Worship your intellect, you will end up feeling like a fraud, always on the verge of being found out." —David Foster Wallace, 2005, This Is Water
This is Not a Sermon.
If you are worried that this is some sort of preachy, didactic sermon about why you should worship God or why you shouldn't or what you should worship at all, don't be. Whatever you believe spiritually, we have nothing to offer you with respect to spiritual guidance.
Rather, this essay is about our unconscious obsession with things. And not just physical things, but our overwhelming obsession with all of life's misguided devotions. This essay is about how to deal with that unconscious obsession.
What's Important In Your Life?
What is important to you? Do you know? Have you made an important things list for your life? If you did, it would probably include things like:
Family
Friends
Relationships
Personal health
Contributing to others in meaningful ways
Personal growth
Personal goals
Spirituality
Et cetera
These are the things that are usually most important to people. But if we were to walk around your home, would we be able to tell what's important to you? Would the things in your home coincide with your important things list?
If you are like we were before our journey into minimalism, then the answer is undoubtably no. Not even close. If you were to visit either of our homes back then, you would have thought our important things list contained things like DVDs and neckties and consumer electronics and shoes and hall closets stuffed with coats and junk drawers brimming with junk.
Sure we had pictures of family members strewn throughout our places, and we even had some seldom used exercise equipment that was supposed to aid us in our physical health. So, yes, the important things were there, but they were hard to notice because they were hidden amongst the clutter, camouflaged by superfluous excess.
It's not that that excess stuff is immoral or evil, nor is our love for those things. The insidious thing about our love for things is that it's unconscious. We often worship the things in our life without knowing that we worship them at all. We place value and meaning in things, things that don't mean anything to us really. And over time this worship—this misplaced value—can be pernicious and ultimately self-destructive.
Say It Out Loud
One thing that helps us these days is to say something out loud. There is an unavoidable ridiculousness factor to certain incongruent statements when we say them out loud. Go on, give it a try. Let's start with the easy ones, the ones that won't sound ridiculous. Let's start with the important things in your life. Say these things out loud. Heck, shout them if you feel like it:
My family is incredibly important to me.
It is immensely important for me to contribute to other people in a meaningful way.
I don't know where I would be without my close friends, they are so important to me.
It is extremely important for me to live a healthy life.
It is important for me to [blank]…
Did you say them out loud? Really? See, none of those things sound ridiculous. That's because they are congruent with your beliefs, they coincide with the tone, passion, and conviction of the statements themselves.
But try these on for size. Try to say these things out loud with the same conviction and passion and feel the difference. Come on, no one's looking:
This T-shirt is incredibly important to me.
It is immensely important for me to go to the mall and shop today.
I don't know where I would be without my khaki pants, they are so important to me.
It is extremely important for me to eat that extra piece of pie.
You get the point. Ridiculous, right? They are ridiculous even though they are the same sentences structurally. You just replaced a few words when you said them out loud.
Again, none of these things are wrong or evil. It's OK to wear khakis and to eat pie and to have material possessions. But of course we all know that none of these things are really important to us either. We know that they have no real meaning in our lives. And yet we often act as if the stuff in our lives is just as important—or worse, more important —than the things that actually matter to us, things like our relationships, our health, our freedom.
Intellect vs. Emotion
You know these things already though. We aren't telling you anything new. You know that your blue jeans are not more important than your family, that your car is not more important than your health, that your designer cosmetics are not more important than contributing to other people who need your help. You know these things.
The problem is that you know these things intellectually but not emotionally. In other words, you don't feel it in your gut. Instead your emotional connection is often with the stuff in your life. You feel this connection to material items deep down, in your gut, and you don't even have to think about it intellectually.
And it's easy to do this, it's easy to feel connected to your possessions. You never have to worry if your things will love you back, you never have to worry about them dying or losing interest in you or leaving you for someone else. And it feels good because there are not immediate consequences for loving stuff, there's even a cheap sort of instant gratification in doing so.
The events of our lives have conditioned us to feel this way, and thus we are hardwired to feel an emotional connection to stuff. Unfortunately, this is our default setting. There are many reasons we have this kind of hardwired default setting, some of which are inherently cultural, some of which have to do with inimically slick marketing, some of which have to do with our own belief templates that we've been molding ever since we've had the ability to piece together a solitary thought.
The reasons are irrelevant though.
Adjusting Your Default Setting
What is relevant is that it's not your fault. Or at least it's not your fault that your default setting is one in which you have an emotional connection to stuff. Just like it's not your fault that you speak whatever language you speak as your first language. Sure, you learned the language over time, and, sure, you could choose to never speak another word of your native tongue, but you were raised to speak that language, and thus you will always have a connection to it, it will always be your default language. Similarly, your connection to stuff is your default connection, it's your default setting, but that doesn't mean that you should be ashamed by it, just aware of it.
And so it may not be your fault, but it is your responsibility to adjust your default setting to one with real meaning, to become "well adjusted," which—as Wallace suggests in his above quoted essay—is not a coincidental term.
People who are "well adjusted" have a belief template in which their intellectual beliefs coincide with their emotional beliefs. And a vast majority of the time this kind of self- adjustment is not accidental. It is utterly intentional. Aligning our intellectual and emotional beliefs is a conscious choice, and it is not an easy choice. It is also not a choice that we make one time and then our personal beliefs are aligned forever.
It's like exercising. We don't go to the gym one day, workout really hard for a few hours, and then expect to be in great shape for the rest of our lives. It doesn't work that way. Sometimes it's incredibly difficult. Sometimes we feel like we can't do it. And sometimes after a long hard day we just don't want to do it at all.
Similarly, sometimes it feels easier to let our emotions take control of our beliefs. It's easy to whip out our American Express cards and buy that $200 dress at the mall. It's easy to pacify our kids with a Happy Meal. It's easy to set on the back-burner what's important to us, to put it off until tomorrow. But if we do this too often, if we continue to put off everything until tomorrow, tomorrow never comes.
And we do it even now, even after embracing a lifestyle of simplicity and minimalism and freedom of choice, we still do it. We fall back to our default setting. The key is to catch ourselves when we fall, to be conscious of our decisions and make quick adjustments to avoid our default setting. The key is to live a conscious life, one that is full of real meaning and happiness and fulfillment and freedom.
We wish you the best in your life. It's not always easy, but you deserve to live a conscious life, a life focused on what's important. After all, you only live one life.
***
Joshua Millburn & Ryan Nicodemus created theminimalists.com where they documented their journey into minimalism and they donate their time to help other people become minimalists. You can also follow them on Twitter or Facebook.
***
The Conscious Freedom Blog Series
Part 1: Everybody Worships Something (featured on Becoming Minimalist).
Part 2: I Am Not the Center of the Universe (featured on Exile Lifestyle).
Part 3: Awareness: The Most Precious Kind of Freedom (featured on The Minimalists).
Some of the concepts in this essay are based on David Foster Wallace's 2005 Essay, This Is Water (quoted above).