Editor's Note: This is a guest post from Allison Niebes-Davis, PhD of Dr. Allison Answers.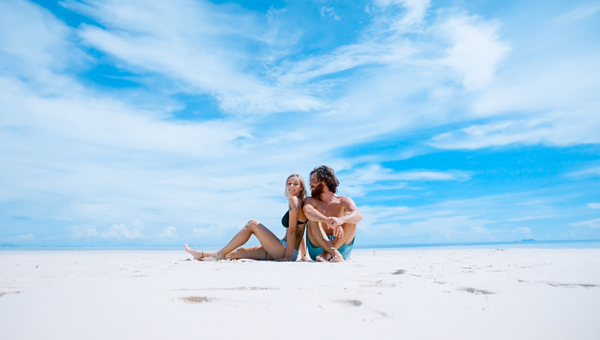 Two years ago, I sat on the beach in Hawaii with my husband. It was one of the first trips we'd taken together since getting married that didn't involve traveling to see family, standing up in a wedding, or meeting a friend's new baby. This vacation was the result of some serious saving, and I wanted to make the most of it.
As we sat on the beach together, I looked out at the water and the bright blue sky. The horizon seemed endless, and the moment felt perfect. I wished I could freeze time. I longed to bottle up the magic of that moment.
I knew this moment was special, and I was committed to soaking it up and making it last. So I did what my training as a psychologist taught me to do. I practiced mindfulness.
I looked out at the water and took in a deep breath. I smelled the salty air and felt the breeze on my skin. I paused, listening to the waves rolling in. I heard the birds overhead. I felt each ray of sunshine touching my shoulders and each grain of sand moving beneath my feet. I slowly exhaled, taking in the shape of the clouds and the color of the water. I softly whispered, "I am here, and this is magical."
That intentionality and commitment to being in the moment allowed me to soak up every single ounce of goodness from that beach. It was almost as if I bottled up that moment, tucking it into my back pocket, available to access at any moment. That is the magic of mindfulness. It asks that we bring all our attention and all our awareness to the present moment. We engage our five senses in a heightened way, capturing details we might otherwise miss.
Mindfulness allows us to bottle up a moment, making its magic last long after the moment has ended.
That moment two years ago changed my life. It set me on a path towards minimalism in a way I never expected. That moment was so magical, and it didn't involve an ounce of stuff. No thing or possession made that moment possible or better or richer. And in a moment of quiet honesty, I realized that my connection to stuff probably kept me from having those moments more often.
I left Hawaii vowing to have more of those moments. I prioritized moments over stuff and things. When I felt rushed or hurried, I opened that bottle from the beach and re-experienced that moment. When I felt uninspired, I revisited that day on the beach, so beautifully captured by mindfulness. When I felt tempted to shop or spend, I asked myself what I wanted more, that dress or handbag or another moment on the beach.
Making good moments last isn't all that difficult, but it does involve some intentionality. Here are five simple steps to help you practice mindfulness in the most magical of moments, bottling them up for anytime access.
Start with a mindful breath. Take a slow deep breath in through your nose, gently pause for a few moments, and then slowly exhale through your mouth. This reduces tension and increases your focus, preparing your body and your brain to truly be present in the moment.
Set an intention. Use a simple phrase, such as "I am here" or "I want to remember this moment" as a way to bring your attention to the present moment. This verbal cue directs your attention to the here and now.
Use your five senses. One of the simplest hacks for practicing mindfulness in any moment is to use your senses. What do you see; what do you hear? Notice any subtle scents that are present. If taste is involved, challenge yourself to notice flavors and layers. Use your sense of touch to feel your feet planted on the ground or your hands in the grass. Feel the sun on your skin or the breeze on your face. Really challenge yourself to notice and take in as many things as possible. This is what helps you create a true impression of the moment.
Capture your emotions. Acknowledge how you feel in the moment. This helps you bottle up not just the tangible parts of the moment, but also your emotional experience. Do you feel grateful, at peace, or joyful? Do you feel relaxed, energized, or connected? Naming your emotions, with as much detail as possible, allows you to experience the moment at a deeper level, accessing that feeling long after it's over.
Remind yourself that you can come back. As a good moment is ending or closing, remind yourself that you can come back to this moment at any time. Because you practiced mindfulness, this moment is imprinted on both your head and heart, and you can access it when you're back at home, at work, or on the road. You can access the magic of the moment, even when the moment has ended.
It's much easier to live with less when you're intentional about being present in life's magical moments. It's easier to say no to stuff when you have amazing moments, bottled up in your back pocket, reminding you of what's important. You have the power to make good moments last longer. Be intentional, practice mindfulness, and take the magic with you.
***
Allison Niebes-Davis, PhD is a practicing psychologist in the Chicago area, working with adults, teenagers, and families. Her blog, Dr. Allison Answers, helps people better incorporate mindfulness, balance, intentionality, courage, and authenticity into their daily lives. You can find her on Facebook here.