Note: This is a guest post from Jennifer Burger of Simply + Fiercely.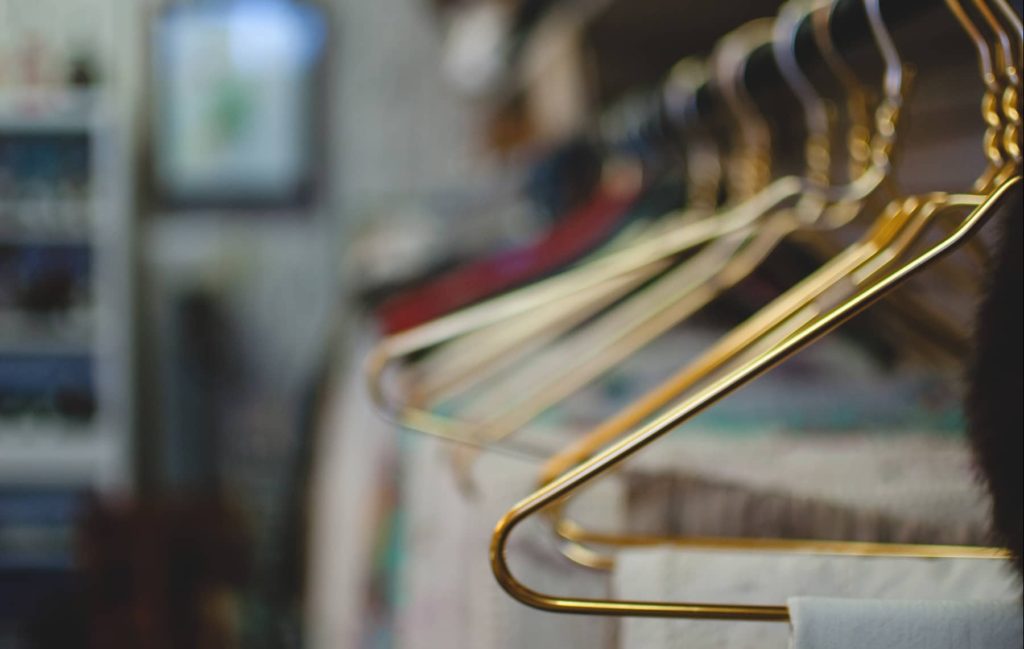 There are many wonderful reasons for decluttering your life, but one that's very rarely mentioned is healing a broken heart.
My name is Jennifer, and I've been a minimalist for nearly a decade. But before that, my life looked very different. I was a workaholic and shopaholic, and it was stressful and exhausting.
There were so many things that I wanted to do and be, and it came from a place of deep longing. As a little girl, I never felt like I fit in. I was a first-generation American, and I felt most comfortable in our family restaurant, curled up next to my grandmother, packing fortune cookies into tiny wax bags.
But at school, things were different. My round face and thick, dark hair set me apart, and I quickly learned to feel uncomfortable in my own skin. Most days, I longed to be anyone other than who I saw in the mirror.
Then one day, I realized something exciting. With the right shoes and the latest jeans, I could fit in with everyone else. I begged my mom to take me to the Gap, and a new habit was formed. 
Throughout my teens and twenties, I shopped compulsively. My clothes were like a suit of armor; with stiletto heels and designer dresses to protect me, no one had to see the shy, insecure girl hiding behind a very expensive closet. 
Things only escalated from there. As I got older, I used owning and doing more to hide from all the pain in my life: my failing marriage, my dead-end career, and the loss of my younger brother.
I learned that the more I worked and the more I shopped, the less I had to feel.
But in the end, it wasn't sustainable. I was exhausted and trapped in the gilded cage that I'd built for myself. I knew deep in my heart that something had to change, and somewhat surprisingly, it all started with decluttering my life.
How to Declutter Your Life
When I first discovered minimalism, I hoped for a functional wardrobe and an easy to clean home. I thought decluttering would be quick and easy and that nothing fundamental would change about my life.
Before long, I learned that this couldn't be further from the truth. I quickly realized that decluttering is about so much more than letting go of old stuff. 
Instead, it's a profound act of introspection. For every old handbag or never worn sweater that goes out the door, there are thoughts and beliefs that need to be released as well.
This mindful approach is both the secret to effective decluttering and the unspoken benefit. Here's are some tips to help you get started: 
1. Get Clear About What Matters Most to You
My life was cluttered and overwhelming because I was trying to do everything and please everyone. Deep down, I was still that little girl who felt like she didn't fit in, and I was desperate to prove everyone wrong.
I worked late, wore the most expensive shoes, and decorated my house like the stylish magazines that covered my bedside table. I thought that if I kept playing by the "rules," I'd eventually feel better about myself. 
But you know what? I don't know who wrote those rules, but it sure wasn't me. I was never going to feel successful or good enough by chasing other people's dreams. Instead, I had to get clear on my values and priorities—and if you want to declutter your life, you need to do the same.
This step is an often-overlooked part of decluttering, but it's essential.
Get out a pen and paper, tune out the noise, and decide what you believe. What are your values, and what kind of life do you want for yourself? This clarity will become the compass that will guide you through the decluttering process.  
2. Evaluate Your Stuff Against Your Goals
The beauty of defining what matters in life is that it helps you see what doesn't.
Slowly and systematically, I began to work through everything, from my closet to my to-do list. I questioned everything from this new perspective—what would help me create the life I truly wanted? And what was simply weighing me down?
3. Understand The "Why" Behind What You Own and Do
Once you've identified the non-essential, the next step is to let go—and this part can be challenging to explain. Even when we know that something isn't adding value to our lives, it can be hard to let go.
I can't tell you how many times I cried over something seemingly insignificant, like an old textbook or a silk blouse. I felt so silly— until I eventually realized that my tears weren't for my physical possessions. Instead, I mourned for the hopes and dreams that my stuff represented. 
I couldn't let go of that old physics book because it was proof that I was once smart—and if I was smart, then I mattered. But without the evidence, who was I? A college dropout who never lived up to her full potential.
Decluttering my life meant facing stories like this time and time again. It wasn't easy or comfortable, but I soon discovered that overcoming my limiting beliefs was the key to letting go.
The more I understood my relationship with my stuff, the more empowered I felt. I began to declutter with confidence, and something inside me started to change.
As I cleared the excess that had weighed me down for decades, I began to feel more like myself. And perhaps more significantly, I began to mend my long-broken heart. 
I've been writing about minimalism for over five years because I know that decluttering your life is about more than letting go of old sweatshirts.
Instead, it's about bridging the gap between who we are and who we think we have to be. It's life-affirming, and I'm grateful to share this story with you. 
***
As a shopaholic turned minimalist, Jennifer Burger is passionate about helping overloaded women clear their clutter and create space for joy. She blogs at Simply + Fiercely and is the author of Mindful Decluttering, a free decluttering guide that will help you clear your clutter.