Editor's Note: This is a guest post from Nia Shanks of Lift Like a Girl.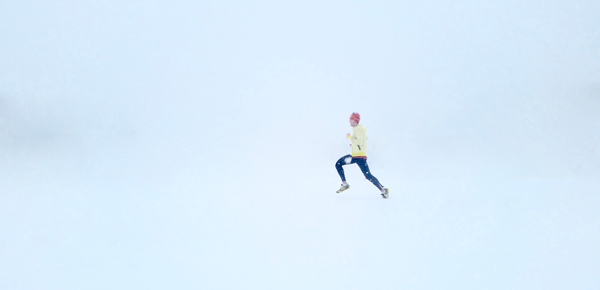 Minimalism provides myriad benefits. Less stress. More time. A greater appreciation for the people and events that truly matter in your life.
These same benefits can be experienced when harnessing a minimalist approach to health and fitness.
Today's society has developed an unhealthy obsession with health and fitness. It's a billion dollar per year industry and people spend tremendous amounts of money and time on fad diets, gym memberships, and dangerous supplements because media and marketers attempt to persuade us to believe these items are mandatory. We're told we can't figure out how to improve our health on our own and that getting healthy is a complicated process.
But it's not. You can improve your health and quality of life, the minimalist way.
As we approach the new year you'll undoubtedly be bombarded with messages about cleanses, quick fixes, and gimmicks. Avoid them at all costs and choose instead to embrace the minimalist method for better health.
The Minimalist Guide to Health and Fitness
Follow these bare essentials to improve your health while saving precious time, and even money.
Move your body in a way you enjoy. Traditional "exercise" is not mandatory. Sure, you can join a gym if you'd like but it's not necessary. You can perform bodyweight workouts at home or use free weights if you'd like to engage in resistance training.
Take advantage of local parks and go hiking, ride a bike, or anything else available in your area. Trying a new hobby is a terrific way to discover new passions and appreciate your body for the wonderful things it can do. You can also perform these activities with the family so everyone can improve their health and spend quality time with each other.
What you do isn't near as important as doing something consistently. Aim to move your body on a near daily basis for at least 20-30 minutes. Remember the possibilities are endless ranging from bodyweight workouts at home to exploring local parks.
Search your local area and see what you can find to explore.
Eat well, simply. Nutrition can seem complicated as a result of fad diets that come and go every few months, but it needn't be. Research has proven what matters most: make sure your diet consists mostly of real, minimally processed foods. Eat a variety of fruits, vegetables, nuts and seeds, beans and legumes, dairy, eggs, fish and seafood, and meat and poultry. (You can omit the animal products if you're vegan or vegetarian).
A few other key guidelines are beneficial: make eating fruits and vegetables a high priority, stop eating once you're satisfied but not stuffed, enjoy your favorite not-super-healthy foods on occasion. This way you can still enjoy events like birthdays, anniversaries, holidays, and other occasions that include your favorite foods without unnecessary guilt.
Focus on the lifestyle, not the goals. One of my favorite sayings is the journey is the destination. Even if you have excess weight to lose don't focus exclusively on that goal. Instead concentrate on the daily journey. Enjoying delicious, satisfying meals with your family and moving your body in an enjoyable way. Do those things consistently and the additional benefits, such as weight loss, will be a tremendous side effect.
Strive to make eating well and moving your body in an enjoyable way part of your daily life. Enjoy the journey and additional results will follow.
Do these things for the right reasons. Most images and messages for health and fitness revolve around aesthetics: all for the sake of improving how you look. But don't get caught up in that propaganda. Eat well and move your body to discover the amazing things it can do. Getting and staying strong and agile will help ensure you avoid injury, age gracefully, and allow you to continue doing the activities you enjoy, as well as trying new ones.
Losing excess weight can certainly be a benefit to improving your health and fitness habits, but don't lose sight of the other, perhaps better, benefits you can reap from moving and eating well daily.
Focus on applying those few tips consistently—move your body frequently in ways enjoyable to you, eat well in a simple way, enjoy the journey, and do these things for the right reasons—and you'll improve your health, fitness, and quality of life, the minimalist way.
***
Nia Shanks blogs at Lift Like a Girl where she helps others become the most awesome and strongest version of themselves—no overblown promises or any of that mess, just information you can use to build the body you want. You may also enjoy her health and fitness podcast.