Editor's Note: This is a guest post from Courtney Carver of Be More with Less.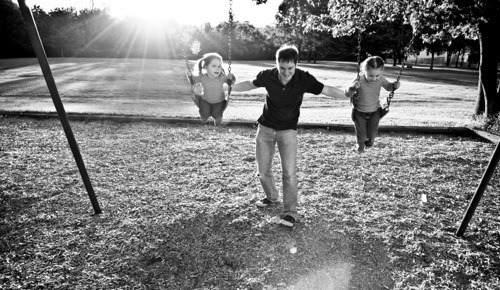 "I have memories – but only a fool stores his past in the future." – David Gerrold
As you simplify, you will notice that the most important stuff is left. This applies to kitchenware, toy boxes, closets and even to your sentimental treasures. Often times, the most difficult stuff to get rid of, is the stuff soaked in memories. We become attached to things that remind us of our past, and our loved ones. Your great grandfather's pocket watch, your first pair of roller skates, or your son's artwork from kindergarten, all transport you to another time, and usually fill you with lovely memories. Unfortunately, because you don't want to clutter your home with stuff, these treasures are buried in boxes in the garage or attic, only to be rediscovered during a move, or a trip down memory lane.
I must admit, I am a sap and a sentimental fool. I get teary driving past a wedding, hearing stories about my grandparents or cooking one of my favorite dishes from childhood. In my life, I have saved notes from the 4th grade, albums from my first rock star crush, my daughter's first bathing suit, heart shaped rocks from hiking with my husband and jackets my dad gave me that never fit, but were so cool, because they were his.
How do you get rid of the stuff that means so much, and evokes so much emotion, in the name of minimalism and simplicity? There are several ways to simplify the sentimental. Each concept includes focusing on what is most important and honoring your history.
Share the love. Unless you are on a mission to live with less than a certain number of things, why not display some of your sentimental items? Less does not mean none. Paring down your objects of memory does not necessarily mean ridding yourself of them all. Instead, paring down your sentimental items allows you to focus on the most meaningful. Chances are, the things with all the memories are in a box in the garage or attic. Sort through those boxes and choose the things that mean most to you and your family and display them. Sometimes we hold onto things to hold onto people that have left our lives. Honor the ones you love by sharing what was theirs.
After all, a box full of memories stashed in the basement is far less meaningful than 3-4 specific items displayed proudly in your home. So go through that box of mother's things in the basement, select the 3 that most represented her life and the influence that she had, display them proudly, and remove the rest.
Make it useful. Did you save the china that your parents received on their wedding day or a special necklace that was passed down to you? Why not use it? Donate your everyday plates and eat off the dishes that mean so much. Wear the memorable piece of jewelry every day instead of waiting for a special occasion, or forgetting about it completely. You may come across things that you can't use and don't want to keep, but someone else will find your sentimental items to be quite useful. Use them or pass them on.
Put it in the cloud. If you have been saving printed photographs, documents, receipts and other paperwork for years, it might be time to digitize your docs. Sort through it all and toss the trash. Scan the rest or hire someone to do it for you, and organize in folders. From there, back it up through Dropbox.
Shoot your stuff. When you are uncluttering, save the things that mean the most to you, and take a picture before letting them go. Preserve the memories inspired by stuff through photography. Group items creatively or take pictures using the things. For instance, if you saved a baseball hat from your childhood little league team, take a picture of your child wearing it. Create a digital photo book with images and descriptive text, so you can enjoy your memories without the clutter. A book like this makes a beautiful gift to someone else in the family who wants to enjoy the memories without the clutter.
Tell your story. The most powerful thing we can offer is our story. As you simplify your life, you will come to the realization that the most sentimental things aren't things at all, but stories of the people and places we love, and how we spend our time. Write about the things you love, instead of holding onto them. Start a family blog or keep a personal journal. Your words may start out describing your mother's watch, but turn into a beautiful story about an afternoon the two of you spent together.
Approach each area or section of your life the same when it comes to letting go, and revel in what unfolds. Not only do you make room for the good stuff, but you can clearly identify what is most meaningful to you. Instead of filling boxes with the things that define your life, spend more time creating your life, giving to others and sharing your story with actions, thoughts and gratitude.
What other ideas do you have for shedding sentimental stuff?
***
Courtney is a writer and fine art photographer. She writes about simplifying and living life on purpose at Be More with Less. You can also follow her on Twitter.