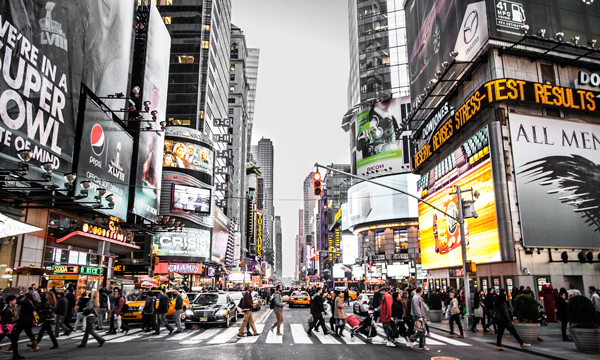 I am struck by the timelessness of simplicity and minimalism. It is not a new practice. Rejecting the empty promise of excess material possessions has been practiced (and promoted) by countless religious and thought leaders for centuries and centuries.
Many of whom communicated the danger and foolishness of excess physical possessions far better than me.
Recently, I found this quote from John Berger. It was originally recorded in 1972 on the show, "Ways of Seeing." But I wanted to share it here.
First of all, I wanted to share it here because he describes the impact that advertising has on us in such brilliant terms, his argument equips us to better confront societal pressure and marketing. But secondly, because his warning was first issued 50 years ago, we are reminded that this temptation is not unique to us.
Note: He uses the word "publicity" in the original broadcast. I have changed the word to "advertising" to help it read in a more modern vernacular.
John Berger, 1972:
In the cities in which we live, all of us see hundreds of advertising images every day of our lives. No other kind of image confronts us so frequently. In no other form of society in history has there been such a concentration of images, such a density of visual messages.
 
One may remember or forget these messages but briefly one takes them in, and for a moment they stimulate the imagination by way of either memory or expectation. The advertising image belongs to the moment. We see it as we turn a page, as we turn a corner, as a vehicle passes us. Or we see it on a television screen while waiting for the commercial break to end. Advertising images also belong to the moment in the sense that they must be continually renewed and made up-to-date. Yet they never speak of the present. Often they refer to the past and always they speak of the future.
 
We are now so accustomed to being addressed by these images that we scarcely notice their total impact. […]
 
Within advertising, choices are offered between this cream and that cream, that car and this car, but advertising as a system only makes a single proposal.
 
Advertising proposes to each of us in a consumer society that we change ourselves or our lives by buying something more. This more, it proposes, will make us in some way richer, even though we will be poorer by having spent our money.
 
Advertising persuades us of this transformation by showing us people who have apparently been transformed and are, as a result, enviable. This state of being envied is what constitutes glamour, so advertising is the process of manufacturing glamour.
 
Advertising appeals to a way of life we aspire to, or think we aspire to, but have not yet achieved.

An advertising picture suggests that if we buy what it is offering, our life will be different from what it is. Scene after scene shows you this different life. Not only will our home be different, but all our relationships will become radiant because of our new possessions.

But we can only achieve such radiance if we have money. And so, advertising also works on our anxieties about money, urging each of us to scramble competitively to get more, making money appear as if it were itself magical.
 
Advertising works on the imagination but it does something else too. Because advertising pretends to interpret the world around us and to explain everything in its own terms, advertising adds up to a kind of philosophical system. The things which advertising sells are in themselves neutral, just objects and so they have to be made glamorous by being inserted into contexts which are exotic enough to be arresting but not close enough to us to offer a threat. Revolution can be wrapped around anything. In this way, advertising abuses the realities of public figures and events and struggles in other parts of the world. […]

Advertising is effective precisely because it feeds upon the real. Clothes, food, cars, cosmetics, baths, sunshine are real things to be enjoyed in themselves. Advertising begins by working on a natural appetite for pleasure. But it cannot offer the real object of pleasure and there is no convincing substitute for a pleasure in that pleasure's own terms.

The more convincingly advertising conveys the pleasure of bathing in a warm, distant sea, the more the spectator-buyer will become aware that he is hundreds of miles away from that sea and the more remote the chance of bathing in it will seem to him. This is why advertising can never really afford to be about the product or opportunity it is proposing to the buyer who is not yet enjoying it. Advertising is never a celebration of a pleasure-in-itself. Advertising is always about the future buyer. It offers him an image of himself made glamorous by the product or opportunity it is trying to sell. The image then makes him envious of himself as he might be.
 
The words and pictures appear to be real and all belong to the same language. The text, the photographs, the editing, the layout, the printing. All are elements of the same culture, our culture. On pages like these, reality itself becomes unrecognizable.
—John Berger, Ways of Seeing Episode 4