In July, my family embarked on a 1,600 mile trek from Burlington, VT to Miami, FL to celebrate the December release of The Minimalist Home.
Along the 16 day journey, I held book signings in six cities and spoke at two conferences—with my wife and kids next to me the entire time.
It was a pleasure to share the story and passion behind my new book. But it was even more wonderful to meet so many of you. Your words and stories are inspiring and encouraging to me. It was a beautiful reminder of why I do what I do.
Unfortunately, not everyone was able to make it to the East Coast for the book tour. If you weren't able to join us live in person, here is a quick recap.
Essex, VT, July 1.
My journey into minimalism began in Essex and I couldn't think of a better place to begin the tour. We even stopped at my former neighbor's house who first introduced me to minimalism and got to spend time catching up.
Special thanks to Essex Alliance Church for hosting our event with over 300 in attendance.
Boston, MA, July 3.
Boston is one of my favorite places in the country. It was a thrill to present minimalism to a packed house on our second night of the tour.
Thank you to Brookline Booksmith for hosting the 115 in attendance. Both the store and the neighborhood were entirely amazing.
New York City, NY, July 5.
When I told my publisher I wanted to hold an event in New York City on Friday of July 4th weekend, they told me I was crazy. But the schedule allowed for only one free night in New York.
I am forever grateful that the iconic Strand Books in Manhattan offered to host the event. With 50 in attendance, it was definitely the most intimate evening of the tour and I loved the vibe.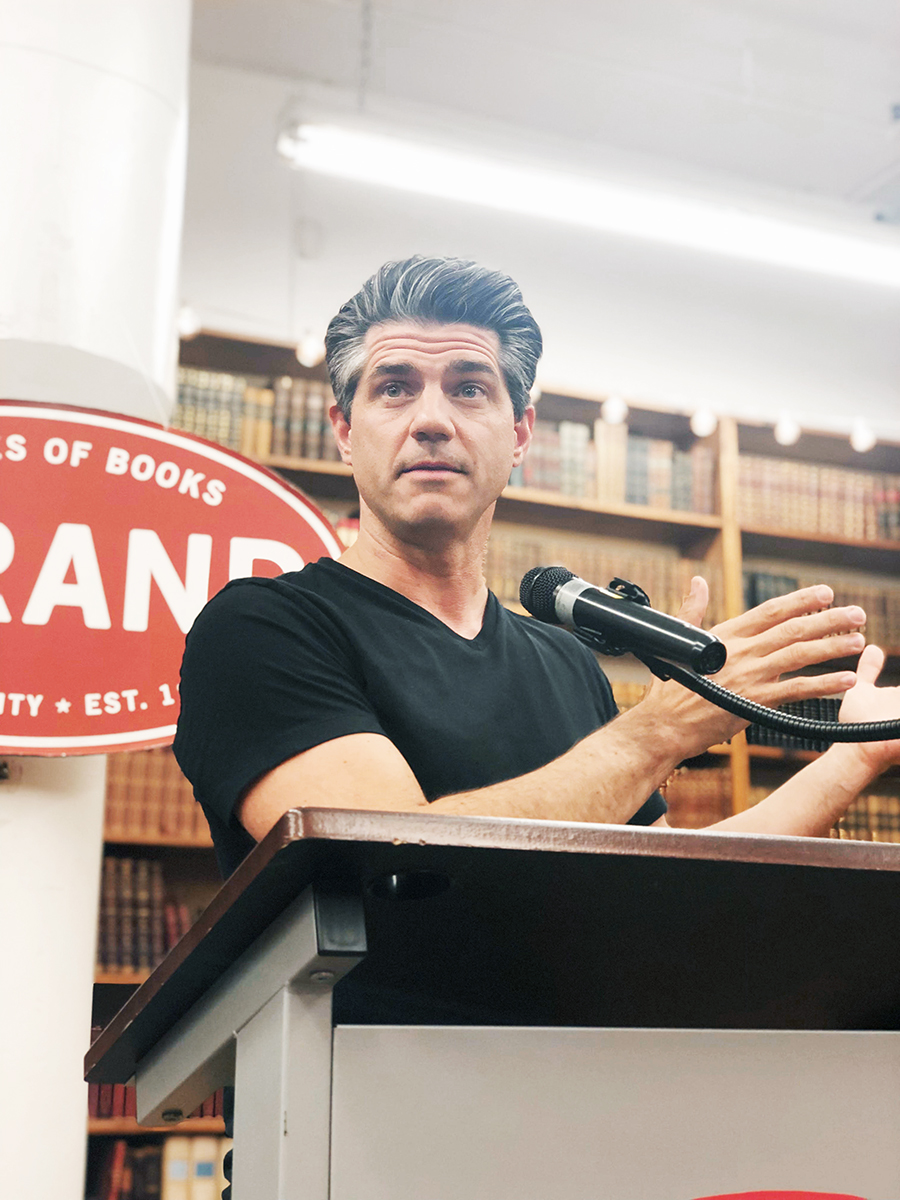 Charlotte, NC, July 8.
Our Charlotte event kept outgrowing venues. We had to change locations twice as the response to the event continued to gain momentum.
Thank you to Laurie Martin and Simplicity Organizers in Charlotte for partnering with me on the event. And thank you to Sardis Presbyterian Church for offering your sanctuary to fit all 400 of us—the biggest night of the tour.
Charleston, SC, July 9.
Charleston is a beautiful city you could walk for days and not see everything. Rich in history, character, and architecture, to say we enjoyed our time there would be an understatement.
Blue Bicycle Books hosted us for the evening in the picturesque courtyard next to their store. The rain held off and the crowd overflowed up the stairs of adjacent buildings and in every direction. Thank you to everyone who made it possible!
LIFE 2019, July 12.
In Orlando, I presented minimalism to 6,000 high school students as part of the LIFE Conference. Owning less is an important message regardless of age and I'm thankful the organizers invited me back. It was my third time speaking at the conference.
Miami, FL, July 15.
Our tour ended in fabulous Miami. I have spoken there before, but it was the first time for my family to experience the city and unique culture. We enjoyed the food and the beach—but enjoyed the people even more.
One of the finest independent bookstores in the country, Books and Books in Coral Gables, hosted our event. The standing-room only crowd of 175 filled the venue and spilled out into the courtyard. They also laughed the hardest at my jokes—so that was kinda nice.
From my family to yours, whether you were able to make it out for the tour or not, thank you for the support. I get to do what I do because you make it possible.
You can find all of my upcoming speaking engagements, or invite me to speak at your next event, here on My Speaking page.
Speaking of upcoming events, I will be leading a weekend retreat at 1440 Multiversity (outside San Jose, CA) this coming October on Minimalism, Alignment, and Living an Intentional Life. Join us—it is an intimate and intensive retreat. Find the details here.