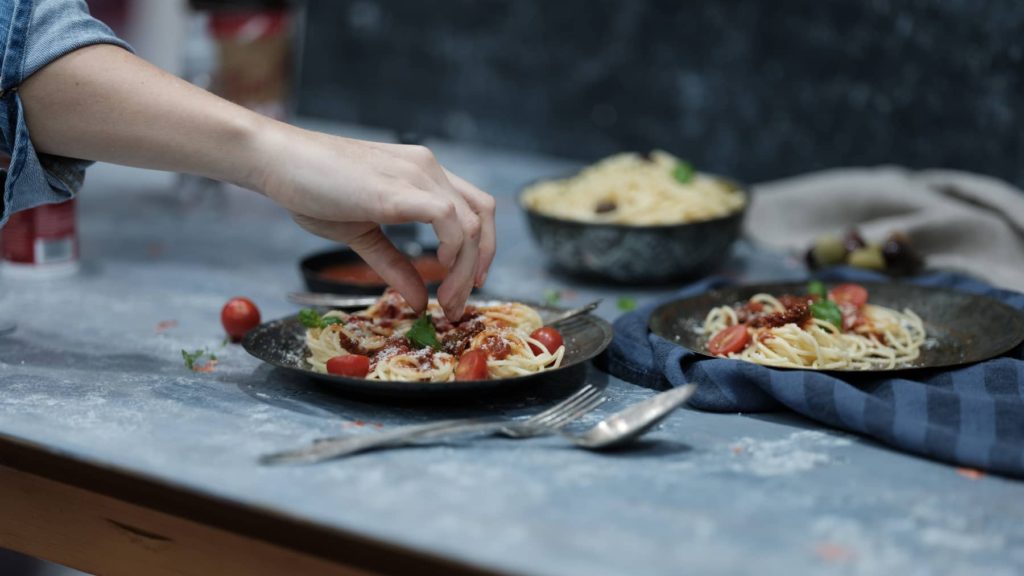 The first time I ever heard about it was from the family practice doctor in Wisconsin who delivered my son, Salem. The doctor—old enough to be my father—became a man I grew to love and appreciate and would soon call friend. He once told me that he ate a taco salad every day for lunch.
The next time I encountered the phenomenon, a few years later, was with a friend at his parents' house. He walked me into their basement pantry loaded with shelves of canned tuna—solid white albacore. He told me that his dad, a professional fisherman, ate a tuna fish sandwich every day for lunch.
Two men, both well respected in the community, ate the same lunch every single day. I didn't give the idea much thought after that, other than occasionally being jealous that my doctor friend got to eat a taco salad every day for lunch. Mmm.
Life continued, ten years passed, and I picked up a copy of Tim Ferris's book The 4-Hour Body.
In his chapter on "Rapid Fat Loss," he offered a passing sentence when asked about boredom with the limited food options in his prescribed diet: "Most people vastly overestimate the variety of their meals."
My mind immediately raced back to my role models in Wisconsin from so many years ago, both of whom had chosen to eat the same meal every day for lunch. They had discovered a routine that worked well for them.
Rather than fighting against routine in their diet, they had embraced the practice. Few could argue with the results—both were healthy and successful.
It got me thinking…
What if there is nothing wrong with eating the same meal over and over again?
In fact, what if repetition is a good thing? Why not embrace it?
You Could Already Be There
As a blogger and overall promoter of the benefits of minimalism, I have seen countless times how people overestimate the number of material possessions they need. So when I read the sentence in Tim's book that "most people vastly overestimate the variety of their meals," I almost instinctively knew it was true.
I have seen "overestimating variety" to be true in clothing, entertainment, books, linens, and any number of other examples. Why not food?
The Pareto principle is proven true over and over again—roughly 80% of the effects come from 20% of the causes. We wear 20% of our clothes 80% of the time. We use 20% of our kitchen gadgets 80% of the time. We watch 20% of the same channels 80% of the time. And, generally speaking, we eat 20% of the same food 80% of the time.
Just think about what you have had to eat for breakfast over the past week. Most likely, you've eaten the same couple meals. Or how about lunch?
My breakfast these days, when I eat it, is two eggs and four strips of turkey bacon. My lunch consists of rotisserie chicken (with Frank's buffalo sauce) or a salad (with chicken).
And I know I'm far from alone in these kinds of habits. According to one study conducted in Great Britain by Whole Foods Market, almost 33% of us eat the same lunch every day.
Here's the reality: We tend to eat many of the same foods over and over again, but for some reason, we want to deny this truth. We contend that variety is the spice of life. Or we remember our mom telling us, "But you just ate pizza yesterday. You can't eat it again today."
We think it reflects poorly on our cultured-self or creativity or palate or commitment to health to eat the same foods over and over again. So we quickly convince ourselves that we need to think up something new every day for breakfast or lunch or to feed our family in the evening.
But as I've thought more about it, I've realized there really is much benefit to be found in leaning in to the reality that we crave stability in our meal patterns.
We eat less variety than we think—and there are good reasons to realize that and accept it.
Why You Should Say Yes to Meal Routine
Speaking at a conference several years ago, I was asked by a mother of three for advice on how to keep down food waste and costs in her home.
By this time I was a convert to meal repetition. I answered, "Accept the fact that you eat less variety of foods than you think. Don't fight against it. Don't believe society's pressure that you need to be dreaming up something new for every meal. Find your family's favorite meals and serve them often. You'll lower your monthly food costs, waste, and time spent in preparation."
Consider the benefits to us (and our families) of establishing a regular meal rotation:
1. Money savings. When you begin to establish a weekly routine of your family's favorite meals, you save money by wasting less, learning the correct portion size, recognizing sales and good prices, and knowing which spices or condiments to purchase.
2. Time savings. Not only does a weekly routine of meals save time hunting for recipes or new ideas, but we become more and more efficient at preparing each of the meals that we do enjoy.
This "time saved" may be more precious during specific seasons of life (when you have young children at home, for example), but extra time in the day can be appreciated by everyone.
3. Better health. A thought-out and intentional routine of meals offers greater opportunity to align our diets with nutritional recommendations.
4. Less food waste. About 150,000 tons of food is tossed out in US households each day, equivalent to about a third of the daily calories that each American consumes. Not only does this waste take a toll on our household budget (as mentioned above), but there is also an environmental toll from that much waste.
5. Weight control. Many people who eat the same lunch every day attest that the practice is helpful in weight control, contending they eat less because of it. It's called "school cafeteria syndrome," and according to researchers, it really works in reducing the amount of food we eat.
6. Fewer failed recipes. As I will mention in a moment, there is still room for trying new foods and recipes, and I recommend it with young kids at home. But establishing a stable routine of meals each week and experimenting with fewer new recipes means fewer failed meals.
As I can attest, there are few things in life more disheartening than spending hours preparing a meal, only to have it flop at the dinner table.
7. Benefits for kids. The more children see specific foods in front of them, the more likely they are to learn to enjoy them. Creating a routine certainly doesn't eliminate all "eat your vegetables" negotiations at the dinner table, but they do make them easier, as the expectations have already been established.
8. Greater simplicity. Embracing a meal routine (whether daily or weekly) promotes simplicity in our home and life. It reduces stress and anxiety, removes decision fatigue, and frees us to pursue more important things than answering "What's for dinner?"
How to Implement a Meal Rotation
How do we go about this in our own unique families? Here are some thoughts to get you started:
1. Meals on your own are a great place to start.
If you eat lunch every day at the office, it's easy to choose your one or two favorite meals and repeat them each day. The same is true for breakfast if you eat it alone. As mentioned above, breakfast and lunch are where I embrace the most routine.
2. Determine your family's favorite meals.
Take each person into account. Are there specific meals that everybody likes? If so, those are obvious places to start establishing a routine. I'd recommend identifying five or six family favorites.
If you can't get that much agreement in your family, be sure to think about those with pickier palettes and what accommodations can be made.
3. Write out a weekly schedule that can be repeated each week.
Take into account your weekly commitments. Does someone have volleyball practice on Tuesday night? Youth group on Wednesday? Or a business meeting on Monday? Factor in both the time you have to prepare and the time to sit down and eat.
My family loves tacos on Tuesdays. And we serve pizza on Sunday evenings because my son typically works late and my wife and I take my daughter to church that night.
4. Don't sacrifice health.
Eating foods you enjoy doesn't mean sacrificing healthy nutrition habits along the way. If you're serving pizza or pasta, pick a vegetable to go with it. Or look for healthy options of pizza.
I actually find it easier to eat healthy when a routine has been established, because we are intentional about including fruits and vegetables every evening.
5. Don't think you need to sacrifice all variety for this to work.
Rare is the family for whom a week's schedule doesn't vary from time to time, so some variety in meals is almost inevitable. But it can also be scheduled. You can decide that every Monday is new-recipe day, or you can choose variety when you eat out.
Establishing a meal routine five nights of the week still leaves room for plenty of variety.
6. Proceed with trial, error, and adjustments.
If you discover that one meal takes longer to prepare than you want, change it. If one meal is no longer enjoyed by your family, pick a new one. Or if you discover that a routine works well for one month and then you want to make a new one, go for it!
The goal is to find something that works for your family and saves you time and money.
Eat. Repeat.
One of the greatest things I have discovered about minimalism is that removing unneeded things from my life means I am left with only my favorites. Another benefit is that removing distraction brings money, time, energy, and peace into my life.
I have found the same benefits by leaning in to the reality that we eat less variety of foods than we think. We all have our favorite foods to eat. Accept it and embrace the idea of eating the same foods over and over again. You'll be excited every time you sit down to eat…and you'll save money and time along the way.