Editor's Note: This is a guest post from Erica Layne of Let Why Lead.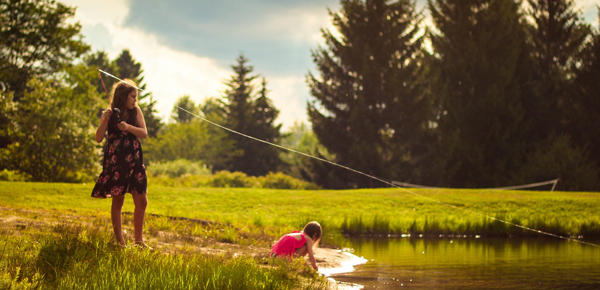 We sat in a circle, criss-cross applesauce, with our knees touching, making a pen out of our bodies—a pen that contained two of the fluffiest, most silky-smooth bunnies you've ever seen.
The kids and I stroked their fur until the one named Lily (a boy bunny who was clearly named by the little girls who own him) hopped over our legs and made a break for the rose bushes, his favorite hiding place.
It was a chilly but sunny afternoon, a break in back-to-back storms, and it happened to be one of those rare but invaluable instances where I paused and thought—
THIS. In thirty years, I may not remember the details of our Disney trip or what toys the kids received at Christmas, but I might just remember THIS.
Laughing with my kids in the grass, snapping photos of their smiles, trying not to get pricked by the rose thorns when it was time to round up the rabbits.
What We Miss
Simple living is about clearing the excess (the stuff, the obligations, the self-imposed expectations) so we have room to notice and settle into the moments that make up our lives. But sometimes, even with the excess in check, we still manage to miss the moments that give our lives real color and purpose.
I mean, sure, we experience the moments, but too often we pass through them as if life is on fast forward. Because of this, we derive only a fraction of the joy that we could have experienced had we just moved a little slower—had we just recognized the moment in the first place.
Why?
We miss them for a dozen reasons. Maybe we're preoccupied with planning for better moments, like the time I sat at my laptop booking an epic weekend campout for the family while my daughter tried to show me her newly mastered somersault three times before she finally caught my attention. (The irony, right?)
Maybe we're busy chasing the ideal life we have in our heads. A career that is both respectable and fulfilling, a capsule wardrobe that lets you look put-together in less than five minutes, children who turn their homework in on time. (Getting everything right takes a lot of brainpower.)
Or maybe we just never trained ourselves to look for the moments in the first place.
How Can I Change?
1. Accept how little control you have over the moments you'll really remember and cherish.
It's not necessarily the Caribbean vacation; it might be as simple as playing with the neighbors' bunnies on the front lawn. For me, accepting this helps me stay more in the present, instead of always looking toward the future for the next best thing.
2. Open your eyes to beauty.
I believe beauty is a gateway to a more satisfying life. Being attuned to beauty in your physical environment, whether it's a flowering tree or a well-designed room or the subtle pinks of a sunset, opens you up to other kinds of beauty—the pride of a hard day's work, the joy of an open day on your calendar, the feeling of a small hand in yours.
The moments feel twice as golden when you're awake to beauty.
3. Embrace play.
The pressures of adulthood tend to take the playfulness out of us, but if you want to recognize the moments of your life, a sense of humor and playful attitude toward life will take you far.
"A little nonsense now and then, is cherished by the wisest men." Roald Dahl
4. Develop a solid, consistent "noticing practice."
Think: a gratitude practice, but more specific. At the end of each day, can you take even one minute to mentally run back over your day and bring into focus a few small, easy-to-miss moments that meant something to you?
The smile you heard in your mom's voice when you called to ask if you could stop by. The dampness at your son's hairline and the redness of his cheeks when he came in from playing outside. The sound of your spouse pulling in the trash bins so you didn't have to.
Jot them down in a journal, put a voice to them when you pray, or post a photo on Instagram. Do it regularly and this will becoming your noticing practice.
5. Protect yourself from burnout.
I can distinctly remember a time when I took care of everyone at the expense of taking care of myself. I thought my stage of life demanded it. I was working from home, tending to small children, and running the household while my husband clocked what felt like a million hours at the office. Where would I fit in time for me? It wasn't happening.
Eventually I learned that taking care of myself was as much a way of thinking as it was a way of living. And I learned that operating on empty completely blinded me to the beauty around me.
We're meant to live from a place of fulness.
6. Keep a handle on excess.
Commitments to keep, expectations to uphold, belongings to manage… Unless they're in line with your values, they're distracting you from what's happening right in front of your eyes. Living an edited life takes continual effort and recalibration (because no two seasons are the same), but it's worth it when it means living your with your heart and eyes wide open.
7. Change your story; dwell in the positive.
Even more than anything above, I think it's often the script in our heads that keeps us from settling down into the present. If you're discontent with where you are or if you're down on yourself for who you are, how will you ever cut through that to see the good? Especially on a consistent basis.
Watch the thoughts that are running through your head, acknowledge them, and begin to craft a new script.
Here's to fewer distractions, less self-doubt, and more awareness of the moments that make you think, THIS.
***
Erica Layne writes about the freeing power of living by your WHY.