Note: This is a guest post by Julie B. Rose.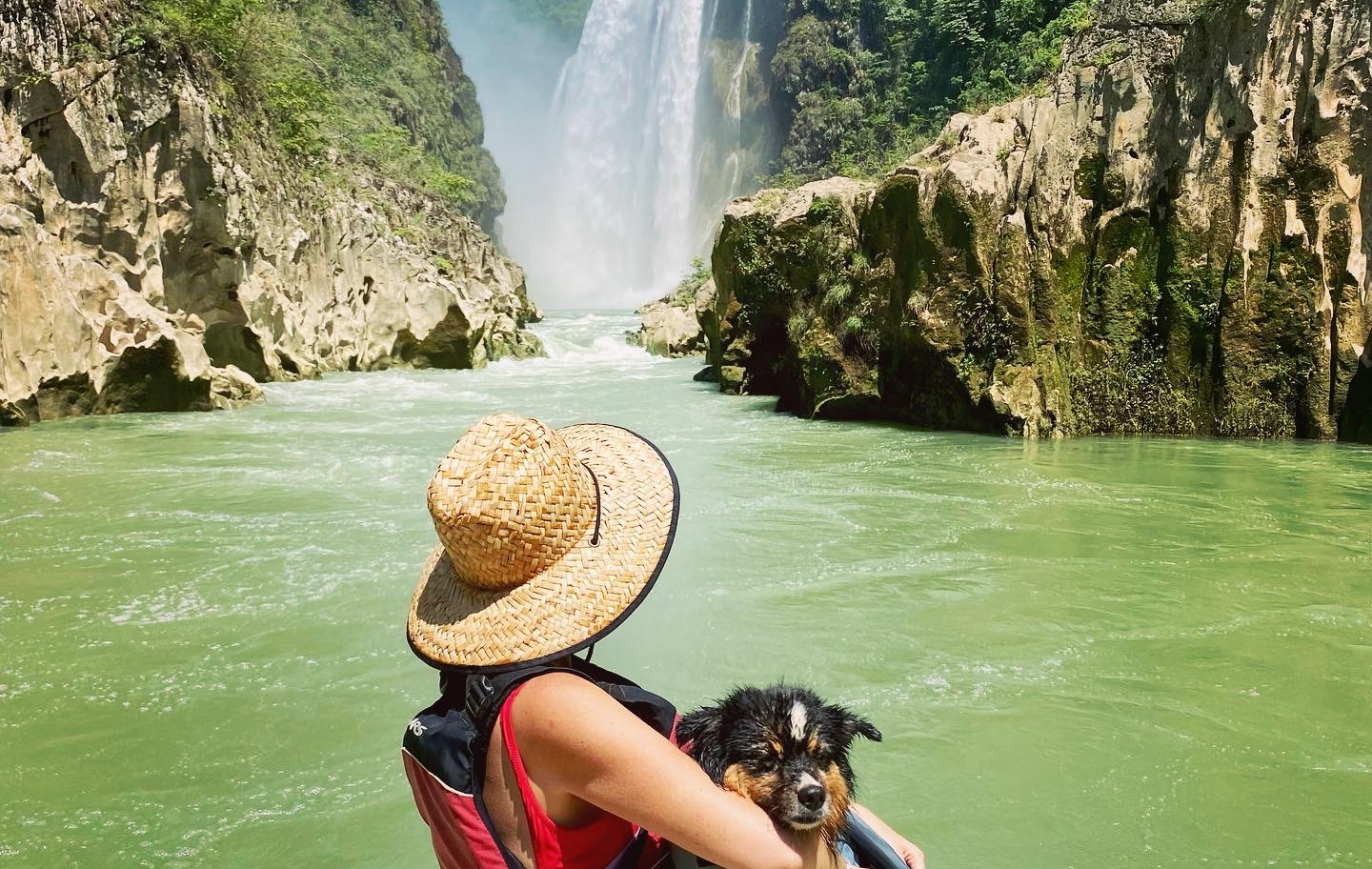 It was July 24, 2020, my 35th birthday. My realtor called me at 9 a.m. with an offer from a couple that wanted to buy my 1,600 square foot house in Phoenix. It was the first showing of the day. Did I want to accept it?
In that moment, I had to decide: was I really leaving home ownership and stability behind? Was I really going to purge all my life's possessions… in exchange for a life on the road, living nomadically and traveling North America with my dog – the opposite of what a single, never-been-married woman was "supposed" to be doing?
I accepted, and thus began the process of liquidating 35 years of belongings and items accumulated during 15 years of living on my own.
I kept only the things that I could fit in my SUV that I would need for the foreseeable future on my perpetual road trip.
I deposited a few things I didn't have time to deal with or couldn't sell in a closet-sized storage unit.
And everything else — 98% of my former life — was sold, consigned, bestowed, or donated in the weeks before I started my new life.
I've been traveling ever since, in the U.S., Canada, and Mexico, never staying in one place longer than a month. Here are some things I've learned in that time.
1. I had to be mindful of all my belongings; space was a luxury.
When you're living out of an SUV, you learn real fast what you like and need, and I used even less than I thought I would.
There was clothing I never wore, or wore so infrequently, it wasn't worth bringing with me. I wore the same three pairs of shoes all the time, despite having a dozen pairs with me for different occasions or climates. I couldn't collect new items on a whim because I didn't have room for boundless additions. Everything I owned was being stored, organized, and carried as I traveled from place to place, so it all had to serve a true purpose.
2. Living nomadically and traveling actually cost me less than when I lived a traditional life.
Finances is probably the #1 excuse for a lot of people who say they could never live nomadically. But in checking my records, and comparing 12 months of spending while I owned my house and 12 months of spending while I was traveling all across the U.S. staying in hotels and Airbnbs — I actually spent less traveling. And when I think about it, this makes sense — when I stayed in hotels and Airbnbs, utilities were bundled in and household items like dish soap and paper towels were included. When I was a homeowner, I was responsible for not only my mortgage, but electricity, internet, real estate taxes, household items, and maintenance and upkeep. Those costs are steep. And naturally, I bought less because I didn't have a house to fill up.
3. I never missed the things I gave up.
Once in a while I look back at photos of my former home or where I'm wearing certain clothing and I think, "I wonder where that actually ended up!" but it's a fleeting curiosity, not a wistfulness — and it feels like a lifetime ago. Out of sight out of mind is real, and I am much happier having given it all up than I would be paying to store it or dragging it around with me. Anyway, no decision is truly irreversible — sure, I gave up my citrus juicer, but it's not like I can't buy another one if I really need it (and as much as I like lemon in my hot water, the verdict is still out on whether it's an essential purchase).
4. I truly embodied the experiences > possessions mindset.
My spending shifted in a big way. I had some incredible meals. I went hiking and sailing and wine-tasting and horseback riding. I didn't want to collect things, I wanted to collect memories. And that meant I had to have some hard conversations with my family in advance of Christmases and birthdays where I told them: "Please don't buy me anything. I don't have the space nor do I want to be weighed down by anything else I did not consciously choose." This took the wind out of the sails for some of my loved ones who really relished the act of gift-giving. My family had to get used to the new me.
5. I don't relate to everybody, or rather, not everybody can relate to me.
On that note, some people did not understand. My pursuit of happiness looks much, much different than theirs, and it's counter to the programming we've all received during our lifetimes living in a capitalist, commercialist Western nation. Some even took my journey to downsize, minimize, and to live simply and travel as a personal affront to their consumerist habits!
I'm single, and a lot of single men I meet can't relate to me either. They are locked into the traditional life, the endless make-money-spend-money-and-collect-stuff cycle. They admire me, but they don't want to be with me. I'm a wild card.
Still, even if I'm an anomaly, I like being a shining example to people out there — that material things, appearances, and status — do not automatically equal success and happiness. There is another path besides the one we've all been told to follow, and it starts with being true to yourself.
6. The material things may be gone, but I held on tight to my memories.
There were sentimental items that I tossed. There were items with meaning and history that I gave away or donated. There were things that I loved but simply had no use for or place for. But what cannot be taken from me is my memories. And the fact that the physical, tangible item is gone doesn't mean the meaning and the memory went with it.
Summary
I cleaned out my storage unit in November 2021, and sold and gave away a lot more of what I had stored. I took a photo of the contents of that storage unit, now stacked inside my SUV, and posted it with the caption: "This is my life… my life reduced." A follower commented, "Don't you mean… your life maximized?"
That commenter was right. Having less has made my life bigger. Having less has allowed me to travel full-time, visit my 50th U.S. state, spend six months exploring Mexico, and late summer, I'll travel to Eastern Europe. I may wear the same three pairs of shoes, but I have seen and lived more in two years than many people live in their lifetimes.
I am pretty detached from the material world, but closer than ever to knowing myself and living in the moment. I relish my days, which are filled with doing things that I love. I feel like I am a child again, connected to the earth, to playtime. I'm curious and I love to learn, and I am lighter, looser, freer than ever. My life is big, and I'm grateful.
***
Julie B. Rose is a full-time nomad and minimalist who travels the world with her dog Penny. She shares her experiences at juliedevivre.com, where she aims to inspire and empower positive lifestyle change. You can also find her on Youtube and Instagram.