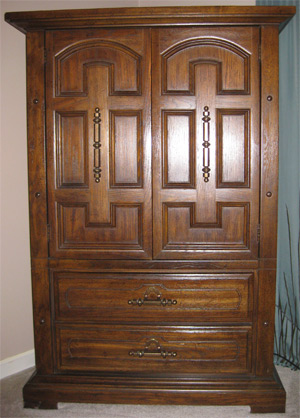 i would like to take this opportunity to introduce you to my old armoire.  for ten years it stood next to our bedroom dresser and housed my pants, shorts, sweaters, and gym clothing.  but because of the extra space that has been created in my closet due to the reduction of our wardrobe over the past year, yesterday i was able to relocate all of my belongings to other places:
the pants, shorts, sweaters, and gym clothing fit nicely in my closet and dresser drawer. 
one box full of pants and sweaters has been packed for goodwill.
my "yardwork" clothing has been moved to the laundry room (near the back door).
the armoire has been removed from our bedroom and has freed up roughly 15 square feet of floor space.  i found a special joy in removing this armoire because it symbolizes how far we have come over the past year. 
one year ago, this armoire, our dresser, and closet was stuffed full of clothing (and rarely worn clothing at that).  the task of removing a large piece of storage furniture seemed impossible – there was just no open space to put the clothes that were in it.  but over the past year, because we have minimalized our closets and purchased less clothing, room has been created.  relocating the clothes in the armoire was not a difficult task. 
and removing the old clunky furniture from our bedroom was a joyful task!  the minimalism process continues…