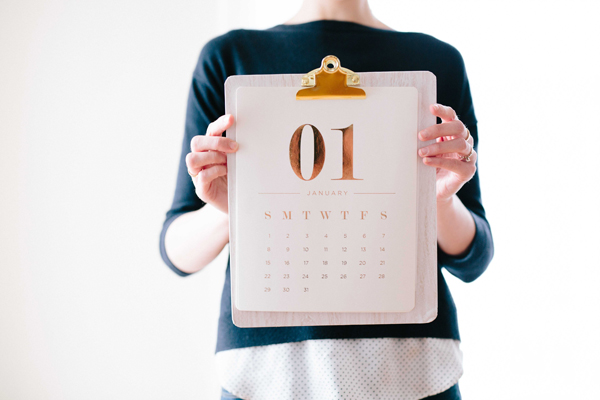 There is a wonderful freedom in owning less.
The beginning of every new year brings excitement, anticipation, and opportunity. It also brings resolution.
People around the world will use January 1 as motivation to make changes in their lives. They will decide to lose weight, eat healthy, quit smoking, or declutter their home.
Some resolutions will last. Most will fade away within the first ten days.
This website reaches a large community of people from every walk of life. But we are united in our belief that life is too valuable to waste chasing possessions. Some readers have already decluttered their homes and return here for continued inspiration.
Some are in the midst of their journey toward owning less. And others will be introduced for the first time this week.
My hope is that your resolution to declutter will not fade away. But instead, that you and your family will enjoy all the benefits of owning less.
To those who are just beginning, welcome. Here are 7 helpful tips for your decluttering resolution.
1. Start easy. Your first step in the right direction does not have to be a big one. Our personal journey began by removing the clutter from our cars. Literally. The first things we minimized were ketchup packets, Happy Meal toys, old receipts, and rarely used music CDs. It wasn't big, but it got us moving in the right direction.
Our next projects included the living room, the bedroom, and our wardrobe. Each room or closet was a little bit harder than the previous. But we found important momentum in the early steps to help carry us through the difficult ones down the road. Use this Declutter Your Home Checklist to really make it easy.
2. Choose a lived-in area to begin. When you first begin to declutter your home, choose an area that is often used. There are many benefits to owning less—clear, open spaces with fewer distractions is one of the best. As you begin to remove clutter, you will quickly experience them.
And the best way to fully understand these benefits is to begin decluttering a room that is used often. This could be a living room, a bedroom, an office, or a bathroom. Start decluttering in an easy, lived-in area. You'll love it. And find increased motivation.
3. Touch every item. Your decluttering journey is not a race. It took years to accumulate all the clutter in your home and it will take more than an afternoon or weekend to remove it. My own family of four took 9 months. You won't regret taking your time. And you won't regret taking the extra effort to physically touch every item in your home.
Physically handling each thing forces our minds to make intentional decisions about them. After touching each item, place it in 1 of 3 piles: keep, relocate, or remove. From there, handle immediately. And then repeat.
4. Prefer donating over selling. You can make more money by selling your unneeded clutter. And if you legitimately need the money, go for it. There are countless websites that can help. But be aware that trying to sell your clutter is time-consuming, cumbersome, and often adds to the stress of decluttering.
If money is not an immediate concern for your family, sell your valuable items on Ebay or Craigslist, but donate everything else to a local charity. You will find joy and fulfillment in generosity—and that experience will be important going forward as you seek to overcome the trap of consumerism.
5. Read a book. The first book I read on decluttering was Clear Your Clutter with Feng Shui by Karen Kingston. While feng shui never became a guiding principle in my home, the thoughts in the book were helpful for our journey. It is important to be reminded that others struggle with the same problem. And it is beneficial to hear new solutions to these problems.
The book was good, I still recommend it. But I also recommend The Minimalist Home, The More of Less, The Joy of Less, and The Life-Changing Magic of Tidying Up. Any one of them will be helpful and motivating.
6. Tell a friend. Joy is most fulfilling when it is shared with others. Tell your story about your resolution to declutter. You will find people are excited to try it themselves. They will cheer you on. They will motivate you by holding you accountable and ask you how things are going the next time you see them.
As an additional benefit, when you share your story, you will be reminded again of the reasons you decided to declutter in the first place.
7. Be okay with imperfection. Don't let perfect become the enemy of better. The first time you go through your home, you won't remove all the clutter. You'll keep stuff that didn't need to be kept. You'll find it too difficult to part with some items. You may even remove a thing or two you'll end up wishing you had kept.
But you will make progress. In just a few short weeks (or even days), you will begin to feel different about your home. You will enjoy it more—as if a burden has been lifted from your shoulders. It won't be perfect, but it will be better. And that's the best any of us can hope for in this life.
The journey to clutterfree can be difficult at times. But it is always worth the effort. Trust me, you'll be happier owning less.