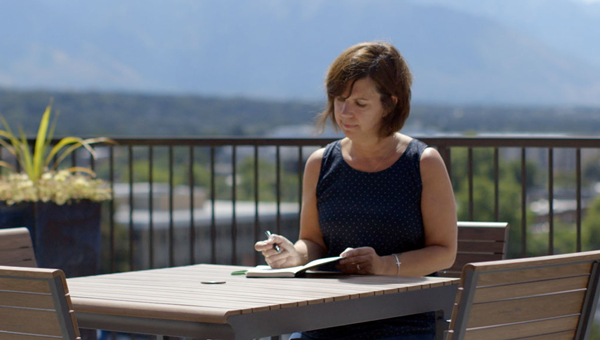 If I recall correctly, I first met Courtney Carver almost seven years ago. I started Becoming Minimalist back in 2008, she started Be More with Less in 2010. Our first conversation happened over Skype. Almost immediately, we became friends as both our values and passions aligned so significantly.
Since then, I have talked to Courtney countless times. We have shared the same stage multiple times. Our families have dined together. We have shared our blogs and our writing with one other. And we've gotten together to talk and catch up on life whenever geography permits. I couldn't possibly be a bigger fan.
For that reason, when I heard her book, Soulful Simplicity: How Living with Less Can Lead to So Much More would be releasing this Christmas season, I couldn't wait to share it with each of you. I've read the book and thoroughly enjoyed it—even learning more about Courtney's journey to simplicity than I knew before.
I talked to Courtney last week and asked her to tell us a little more about the book. Here's the interview:
1. I'd like to start with this question. After blogging for more than seven years, can you tell me why you decided to write a book? After writing on your blog for so long, what does the book format provide?
For starters, the book gave me space to share things I wouldn't have shared on the blog. The way people read a book is more intimate and personal than scrolling through a blog post on a phone or other device. While I am open and personal on the blog in some posts, the book felt like a better place to share more of my story. The blog isn't really in any order either. The book has 4 clear sections; making me, making space, making time, and making love. My hope is that this will help people see all of the different angles of simplicity and know that it's so much more than being more organized.
2. When you wrote Soulful Simplicity, did you have a certain type of reader in mind? Or, maybe I should ask it this way, "Who do you think will benefit most from reading it?"
While I was writing it, I was thinking about people who are busy, overwhelmed, feeling distracted and the people, especially women, who are starting to consider the idea that "enough is enough." By sharing my health journey, I hope to reach others who may be struggling with their own health crisis. At the core though, I wrote the book for myself, for the person I was when I was struggling with debt, for the person I was when I realized I was drowning in stuff, and the person I was when I was sick and completely burnt out.
3. Is there any portion of this book you are particularly proud to have written?
I don't know if proud is the right word, but I'm very happy I wrote the section on making love. I adore that section of the book (and it's really hard to say that about your own writing). For me, simplicity has been my way back to love, so to put that into words was very meaningful.
4. Courtney, Soulful Simplicity is a very vulnerable and authentic book. You are open and honest about your life, both the good and bad—even before the first chapter starts. Is that the approach to this book you knew you were going to take before starting? Or did the process of writing pull out more vulnerabilities that you imagined going in?
I knew I would get a little vulnerable, but not this vulnerable. Once I started writing though, one thing connected to another and it didn't feel complete to leave things out.
5. As you share in the book, you embraced simplicity after a diagnosis of multiple sclerosis caused you to evaluate what your body needed and what your heart wanted. You write how the lifestyle changes began to impact your life in positive ways. Are there many universal benefits to simplifying life you have seen? That almost anyone who chooses to embrace a soulful-approach to simplicity can expect? Or do you find these benefits vary greatly from one person to another?
While we may each embrace the benefits differently, I think the benefits themselves are similar. Living with less, and figuring out how you want to spend your resources like time, energy, money and emotion provides an open invitation to be more mindful, less stressed, enjoy more clarity, better relationships … and the list goes on and on. It's up to each of us, though, to accept the invitation.
6. Soulful Simplicity is not a passive-reading book. By that I mean, it actively engages the reader providing them with opportunities throughout to question and evaluate the direction of their own life. Why did you think this was important to include in the book?
We are faced with so much information, so many choices, and have gotten used to reading something and moving on. I wanted to engage people with the opportunity to take immediate action and to close the gap between inspiration and action. It's been my experience that one small step leads to another and another and that all of those small steps can lead to life changing results.
—
Soulful Simplicity: How Living with Less Can Lead to So Much More will be released on Tuesday, December 26. But it is available now for pre-order on Amazon, B&N, and elsewhere.
Here's the endorsement I wrote for it: "With humility, honesty and authenticity, Courtney Carver invites each of us to find greater simplicity in life–and provides a practical roadmap for us to find it in our own unique way."
I hope you'll take a minute or two to check it out.