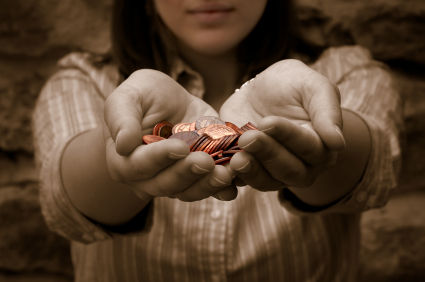 "The wise man does not lay up his own treasures. The more he gives to others, the more he has for his own." – Lao Tzu
I have never seen a study on positive qualities that people would like to have, but I bet if we asked ten people if they wanted to be considered generous, ten would say "yes." Yet, we know that not ten out of ten people are generous.
For many, the idea of being generous appears attractive, but the demands of life and unpaid bills on the kitchen table make the ideal appear unattainable. Let me assure you that the path to generosity is not as difficult as you might think. Once we open the gate to the ideal in our life, we begin to see that the path is actually completely achievable regardless of how high the stack of bills may be. Consider these simple steps to get you started:
Consider the benefits. Generosity benefits the person who receives the gifts, but there are also numerous benefits for the giver. Studies have shown that generous people are generally happier, healthier, more satisfied with life, and have deeper relationships with other people.
Realize that it's not about your income. Many people get caught into the thinking that once they make more money they will become more generous. In fact, the opposite is true. Consider that the US Bureau of Labor found that the poorest fifth of America's households contributed an average of 4.3 percent of their incomes to charitable organizations in 2007 while the richest fifth gave at less than half that rate, 2.1 percent. The best time to start being generous is not when you get that raise, it's today!
Open your eyes and heart to the needs around you. There is no shortage of people who need your help. The problem is not that we can't find others to help. The problem is that we are just too busy to notice. Slow down, take a look around your neighborhood, your community, your workplace, or your school. And you'll begin noticing a surplus of opportunities for generosity.
Stop viewing stuff as your own. We're all sharing this planet together and the resources are finite. Let's be clear: I'm not against private property. But I am against the richest 20% consuming 76.6% of the world's resources, while the world's poorest 20% consume only 1.5%. It's time to start thinking beyond our four walls and two-car garages and start realizing that we're all in this together.
Dream bigger dreams for your money. Your income can be used to improve the quality of life for others. It can be used to make your community a better place to live. It can be used to deliver clean water and fresh food to a young child. Or you can use it to buy a newer car, a bigger television, or a trendier coat. Dream bigger dreams for your money than the sale rack in the department store. Find a cause that you believe in and use your finances to make a real difference in our world.
Put it in your budget and give first. Make "charitable donations" an item in your budget and follow through. Plan to spend it. And whenever possible, start there.
Spend time with generous people / Find a role model. We tend to take on the characteristics of the people that we spend the most time with. Therefore, begin to spend time with generous people. Observe them. Ask them questions. As you begin to find their lifestyle attractive, you will begin to adopt it.
Trust others. One of the greatest obstacles to generosity can be distrust of others. For some, a deep distrust of charities, religious organizations, or government inhibit their ability to give. For others, a more specific distrust of humans inhibit their ability to give. This distrust exhibits itself in thoughts such as, "I would give that man some money except how do I know what he is going to do with it," or "If we just give it to them, they will just become dependent on us." Trusting people are happy people. So learn to trust others and give a helping hand whenever possible.
Think beyond your dollar bills. You have so much more to offer this world than just your savings account. You have talents, experiences, and wisdom. Think beyond money and begin to invest your life into others. This step is, of course, more difficult than signing a check… it is also far more valuable.
Find a step, then take a step. The path to generosity is completely achievable. The only thing missing may be you.