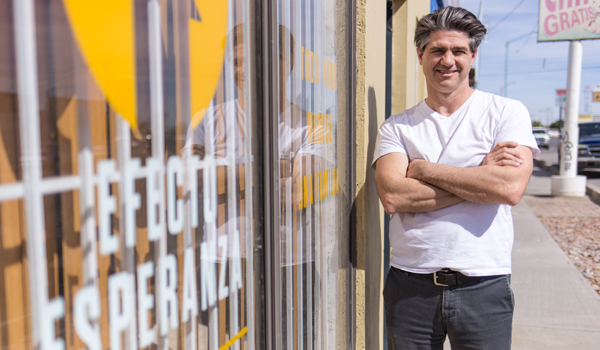 In a few short months, we'll celebrate the three-year anniversary of The Hope Effect—the nonprofit organization we launched in November 2015 with the help of the Becoming Minimalist community.
The Hope Effect's mission is to change how the world cares for orphans.
My wife Kim and I, along with a few other individuals, founded this organization because we're passionate about orphan care. As a newborn, my wife was left by her birth mother at a hospital in South Dakota. She was immediately adopted by a young couple and experienced firsthand the importance of being raised in a loving, supportive family.
Here is more of her story:
Unfortunately, not all orphaned children around the world are raised in a loving family. In fact, less than 1% of orphans are ever adopted. Something needs to be done—The Hope Effect is making a difference.
The Hope Effect is improving orphan care solutions in developing countries around the world. Traditional, institutional orphan care often has damaging effects on children, such as stunted development and delayed learning abilities. Many orphanages simply aren't aware of the negative impact institutional care has on kids. But there is a better way.
The Hope Effect is changing how the world cares for orphans by providing family-based solutions that offer opportunities for children to flourish and thrive.
Instead of placing children in institutional group homes (orphanages), we build smaller homes, each made up of two parents and 6-8 children. Children get more individual care and attention, along with stability and security, setting them up for future success.
Because this community has been so supportive of our cause, we'd like to update you on what we've accomplished and what we're working on now. Since our founding in 2015, we've raised more than $550,000 for orphan care. We built a family-style home in Siguatepeque, Honduras, and recently formed a new partnership in Santa Rosa, Honduras—we look forward to bringing our innovative orphan care solutions to a new city.
For much of the last year, we've been working in San Luis Río Colorado, Mexico, located on the U.S.-Mexico border. The Hope Effect opened its first international office in San Luis last summer, and we are the first organization to seek government approval for family-based care in the State of Sonora, Mexico.
During the long approval process, we've been building strategic relationships with organizations and individuals in the city of San Luis. We've worked closely with the San Luis DIF (Mexico's version of Child Protective Services) and have been showing love to the children currently in government care.
Last December, The Hope Effect hosted a Christmas party for the children in the DIF facility.
Thanks to your generosity, more than 89 kids received gifts of new shoes, socks, underwear, and other essential items. A few months later, we built beds for the children after finding out many of them were sleeping on the cold floors. We've continued to visit and interact with those children since then, showing care and meeting needs as they arise.
Once we receive approval from the Mexican government, we will immediately begin the process of constructing homes for family-based care in San Luis. Once this project is initiated, we can begin looking forward to additional locations, continuing to influence the orphan care community with this sustainable model.
I am incredibly grateful that the Becoming Minimalist community has embraced this important work. If you'd like to make a difference in the lives of orphaned children around the world, you can so do with a one-time gift or a recurring monthly donation—each gift has such a tremendous impact.
One thing that is unique about The Hope Effect is that 100% of donations received are used directly for orphan care work around the world.
The Hope Effect is a 501(c)(3) organization, so your donation is tax-deductible within the U.S. And if you have additional questions about the organization, send us an email. We're happy to answer them for you.
Together, we are changing how the world cares for orphans.