"The More of Less, by Joshua Becker, is not at all what I expected when I first picked it up." —Christina Butcher
The More of Less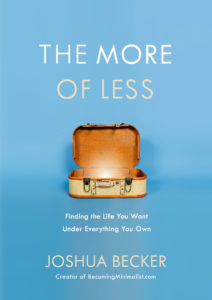 I am very excited to have released a new book, The More of Less: Finding the Life You Want Under Everything You Own.
I'm really proud of it—it's easily the best thing I have ever written. The people who worked on the project both believed in me and pushed me. I am grateful for that.
The book is written "to introduce the world to minimalism." It articulates in a highly inspirational way the benefits of owning less. But it's about more than that—it's also about intentionality and generosity and living your best life.
The More of Less pushes into places I have not published previously. It studies the history of consumerism and the generational differences that explain our attachments to stuff. It calls the reader to look inward to better understand the extent of consumerism's appeal (it doesn't blame everything on marketers and advertisements). It provides significant thoughts on not just decluttering, but overcoming consumerism.
On every page, it paints minimalism as an opportunity to live a better life—the life you always wanted.
It can be found everywhere in both hardcover and digital formats.
Where to Get the Book
Starting today, the book can be found everywhere.
Hardcover: Amazon | B&N | Books A Million | CBD | IndieBound | Lifeway
Special Limited Autographed Edition: B&N
Digital: Kindle | Nook | iBooks | KOBO
Audio: Amazon
—
Bonus Offer: 3 Ways to Meet the Author
The online, pre-order sales for The More of Less have been unbelievable—over 10,000 copies sold already! But since this is my first book carried by every major bookstore in the country, I'd love to see the Becoming Minimalist community show up in-person to buy the book as well. 
To help promote in-store sales, I'm offering three distinct ways to meet me and talk about the book:
I will randomly select one reader (and a guest) for dinner. To qualify, purchase a hardcover edition from your local bookstore before Sunday, May 8, and leave a comment on this Facebook post (you will need to provide proof of purchase if selected). A drawing will be held on Sunday at 10am ET. I'll make arrangements to travel to the hometown of the winner, pick them up, and enjoy the finest dining their hometown has to offer (I'm really quite excited about it). This prize is limited to residents of the continental US.
I will randomly select 10 readers to receive a 60-minute Skype conversation with me. Again, to qualify for the drawing, purchase a hardcover edition from your local bookstore before Sunday, May 8, and leave a comment on this Facebook post (you'll be required to provide proof of purchase if selected). I'll arrange a Skype call with ten winners, where we can talk about minimalism, decluttering, writing, the state of American politics… or whatever may be on your mind that day. You set the entire agenda.
In June, my family is heading out on a 10-City, West Coast Book Tour (Tucson, AZ to Victoria, BC and a whole bunch of cities in-between). I'd love for you to join us. Tickets are free and over 700 people have already RSVP'd. To see if we're coming to your city or to grab a ticket, check out the Tour Schedule.
Bookstores are important. I encourage you to support yours.
I've been writing about minimalism for eight years. The More of Less contains everything I have learned during that time.
It is, by far, my best writing ever and you're really going to love it. So grab a copy today—and grab one for a friend too.