Registration for the May Edition of Uncluttered is now open!
Uncluttered is a 12-week online course designed by me to help you own less, live more, and discover the life you've always wanted. If you want to own less, but need a little help getting there, Uncluttered is for you.
I offer the course only three times each year.
But decluttering, it seems to me, is more important now than ever.
Our world is responding in many different ways to the uncertainty surrounding us. Some are responding to the crisis by hoarding as many things as possible—holding tighter to their possessions, looking for security.
But there are countless others responding in a different way. They are taking back control of their homes, their lives, and their schedules. They are seeing their clutter with new eyes—and are choosing intentionality instead. I hope that's you.
Removing unneeded possessions from our home promotes calm, peace, and control. It fosters flexibility, freedom, and financial stability—in a time when each are desperately needed.
I expect this edition of the Uncluttered Course to be one of the largest I've ever offered. And I can't wait to help people own less.
Now, if you're anything like me, maintaining momentum once you've started something challenging (like minimizing all your possessions) is tough. And it always helps to have support and accountability around getting our priorities straightened out and sticking to them.
So it can be really helpful to be in a group where other people are solving the same kinds of problems in real time:
"I have a family of 6 and so sometimes spaces get a little cluttered when you have three kids in a room. I love seeing how other families declutter things, maximize storage, and organize spaces to create that clean, open look with families." —Tami C.
The private Facebook Group for the Uncluttered Course is literally active 24 hours/day with lovely people encouraging each other along the way to own less.
—
If you're considering Uncluttered, it could be a great fit for you if:
You started decluttering but need help staying motivated so that you can get uncluttered for more than a couple of weeks here and there…
You've started and decluttered a room or two but have stopped working at it…
Your stuff has you feeling trapped and you're ready to examine why you own the things you do…
You find yourself 'tidying up' the same spaces repeatedly without progressing much (especially with kids)…
You desire a simpler lifestyle—one where you don't get swallowed up by the overwhelm…
Your home feels like a place of work, not a place of rest…
You're ready to own less so you can live more.
—
Uncluttered is an online course created for you, to help you own less and live more.
You'll get lifetime access to 12 weeks' worth of lessons, live Q&As, a committed community, interviews, and more. Take the course and bring calm to your home at your own pace, and in your own time.
Over 60,000 people, from all around the world, have taken the course to find how they can create the home they've always wanted.
Here's the kind of transformation you can achieve. Meet Elke:
BEFORE:
AFTER: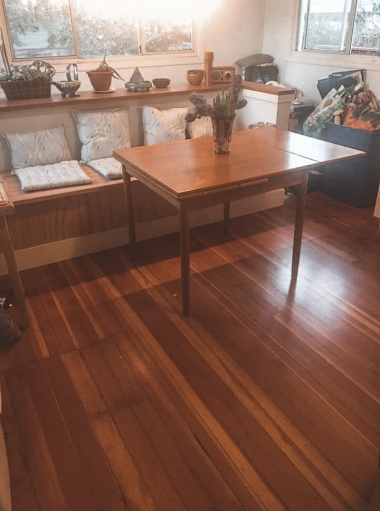 What an incredible difference!
If you want to make real, positive changes like Elke, join Uncluttered today.
Registration closes on Sunday, May 2nd, so don't wait.
I'll help (and cheer you along every step of the way) while you discover the more of owning less. You'll clear the clutter, focus on what matters most in your life, and enjoy a renewed sense of clarity in a difficult time.
Ready to bring about new peace and calm in your home?
Sign up for Uncluttered now, and make this the season you discover the home and life you've always wanted!
The cost is $89 (USD) for this upcoming edition of the course.
Also, you can find a 25% off discount code in the back of The Minimalist Home. The book is not required—but it's cheaper to buy the book and use the discount code than it is to pay full price—the option is yours.