Note: This is a guest post by Charlie Brown of Simple and Straightforward.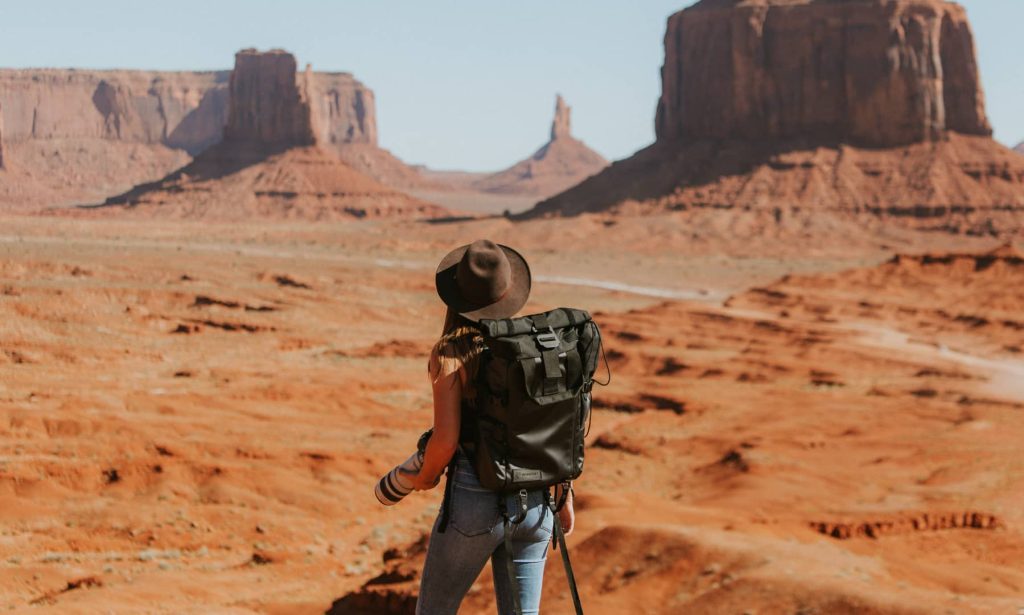 The average American household owns 300,000 possessions.
I own 0.05% of that number. In other words, 134 items.
It was never my intention to live with so little. But back in 2020 my husband and I had the opportunity to sell our wine business, house and most of what we own in order to travel the world indefinitely, working online as we go.
All I had room for was what would fit in my suitcase, plus a box or two to be stored in my family home.
People will tell you it's unrealistic to live with so little, that it's deprivation under the guise of "minimalism".
After nearly two years of this lifestyle, I can say with absolute conviction that it's neither of those things. In fact, more and more people are choosing to live like this, and finding freedom like they've never experienced before.
Here's what it's really like to live with fewer than 150 possessions.
You miss less than you expect
It's the number one question I get asked – don't you miss all your stuff?
I went into this new traveling phase of my life with very little expectation as to whether I would miss anything or not. I figured that if I did, I could always stop traveling and settle again. (Hey, it's always an option).
As it turns out, I miss very little indeed. The only two I can think of are the guarantee of a good mattress and bedding, (not a given when you live out of short term accommodation,) and a choice few pieces of cooking equipment.
But even these I miss less than I thought I would. I used to sleep terribly at home – despite an exceptionally comfortable bed – because I was stressed and burnt out. When I started to travel, I worked hard to eliminate many of the big stresses in my life and to recover from the burnout. The result is I'm sleeping much better, despite the occasional bad bed.
And the kitchen equipment? As a self-confessed foodie, I've made it my mission to become super flexible with my cooking, getting creative with what my short term accommodation provides me. It's been a real education, one that I might not have had if I had the opportunity to keep my prefered kitchen setup.
We're taught that possessions are of the utmost importance in life, that they should be prioritized above everything else, including travel, sustainable living and even our mental health.
It's only once you shed the excess that you realize how we've been duped. Because like me, you'll probably find you miss many, many fewer items than you expect.
It's not about the number of items
The question isn't how many possessions should you live with, rather how does what you live with make you feel?
Life is about balance. Deprivation has no place at the minimalist table and is just as unwelcome as too much clutter. And in order to find that balance, you need to discover how many possessions is the optimum for you and you only.
In my case, I wasn't trying to live with an arbitrary number. It was simply about what would fit into my desired lifestyle. Or indeed, my suitcase.
My number happened to be 134. Yours might be much more and that's cool.
Minimalism is all about living with intentionality which can be found in thousands of items just as much as 100.
You can always rent what you don't own
You don't have to own everything in order to make use of it. In fact, almost everything in life is available to rent, from accommodation filled with kitchen equipment, bedding and furniture, to cars to bicycles to, well, pretty much anything.
Unless you're happy sleeping on the floor and eating out everyday, the only way one can live with so few possessions is to make full use of this sharing economy.
I really enjoy renting what I need. It gives me full flexibility and is often a cheaper and more sustainable way of living.
And you don't have to be a permanent traveler in order to make use of the sharing economy. In fact, if you've ever taken an Uber, ordered from Just Eat, even looked something up on Wikipedia, then you have already utilized it.
Renting is underrated. Sometimes it's the best option in life.
This isn't an unrealistic lifestyle
After "what do you miss?" the next question I get asked is "when are you coming home and settling down again?"
Traveling with just over 100 items is not thought of as a realistic, sustainable lifestyle. Most people assume it's just a phase, one you'll grow out of.
But the longer I spend on the road, the more people I see making this lifestyle work long term.
In many countries, renting a fully furnished apartment, complete with bedding, furniture and a fully equipped kitchen, is pretty standard. I even have friends in their 50s – with a couple of kids in tow – who have rented like this for years, sometimes staying still, sometimes traveling.
Predictions say there will be up to a billion nomads in the world by 2035. That's 13% of the world who will be, by design, living with fewer possessions.
There will likely come a time where I will own more possessions than I currently do.
But now I know how little I can happily live with, I will probably never own much more. And just because I might live with more stuff in the future doesn't make what I live with now "unrealistic." This has been my life for the last 20 months, and is going to continue to be so.
Minimalism isn't an unfeasible lifestyle. It's gaining popularity across the world as more and more people realize they're overburdening themselves – and the world – with excess stuff. That's not unrealistic – it's just different.
So, do you want to know what the 134 items are?
Here's my latest inventory: 
Clothes and accessories – 61 items 
Electronics – 7 items 
Kitchen equipment – 12 items 
Toiletries – 16 items 
Books and stationery – 12 items 
Home furnishings (kept at my parent's house as I travel) – 26 items 
---
I won't go as far as the old cliché: the best things in life are free, but I will say that not everything good in the world has to be a physical possession. Far from it. 
People. Sleep. Tranquility. Nature. Free time.
All good things. The best, in fact.
Possessions are essential, but as every minimalist in the world will tell you, garnering too many of them can stop us from finding meaning and purpose. Thinking that possessions will make us content and whole is like trying to find the happiness crab under the wrong rock.
For now, I'll stick with my 134 possessions. They give me what I want – nay, need – in life right now. Freedom. The opportunity to travel, make connections and engage in experiences.
Life.
I'll take that over the occasional inconvenience of running out of socks, any day of the week.
***
Charlie Brown is a British writer and full-time traveler. She is founder of Simple and Straightforward, a weekly mail-out focusing on simple living, minimalism, and living life on your own terms.