Note: This is a guest post from Joel at Joel Zaslofsky.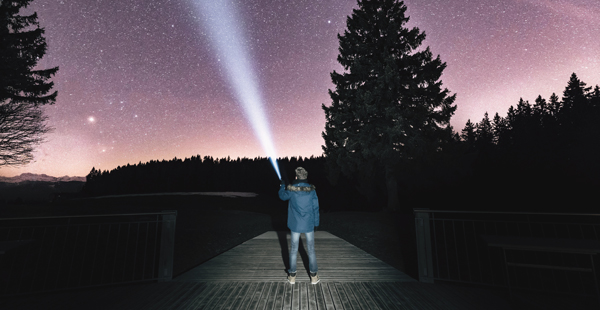 "The invariable mark of wisdom is to see the miraculous in the common." —Ralph Waldo Emerson
Who comes to mind when you think of someone who's easily amused?
For me, it's Stew – a great friend I met in college and still admire. Just about anything you say can be worth a genuine chuckle or hearty belly laugh to him.
As you might imagine, people love Stew. He constantly exudes self-confidence… and he can explain some mysteries of the universe (he's a physicist after all).
Now, who's the first person you think about that's easily frustrated?
I'm imagining another friend of mine, we'll call him Gary. Gary has a different approach to life than Stew. Gary quickly gets frustrated when things don't work out the way he wants them to—at work, in sports, or in relationships. I still think Gary's a great guy… there are just some things that really get him fuming.
Here's one more question: Between Stew and Gary, who would you rather spend time with?
Probably Stew, right? People who seem to constantly find joy in us and the world around us are almost always more enjoyable to be with.
For that reason, early in my life, I made a conscious decision to live "easily-fascinated."
Over the years, I've seen this decision pay out countless dividends in my life and the people around me. Just as Stew makes others feel self-confident, I've tried to do the same. And personally, because of that decision, I am more generous, more grateful, and more valuable to others.
If you're like most people, you've never even heard the term "easily-fascinated," much less ever considered how the approach to life might benefit you.
Fascinated with Life
Many folks I know are like me, deeply and regularly grateful for their lives. But have you ever wondered where that bubbling spring of gratitude comes from? It often springs from noticing the miraculous all around us.
For starters, consider your existence.
According to this fascinating infographic from Dr. Ali Binazir, the odds that you were uniquely born to your parents at this time (given everything we know about human interaction and reproduction) are basically 1 in 400 quadrillion. Talk about all the stars aligning just right! The series of events that had to unfold for you to even exist are the very definition of a miracle.
I mean, isn't that fascinating?!
And that's just the beginning. What about that light switch on the wall next to you? How amazing is it that you can touch a tiny button and the entire room instantly fills with light?! Or clean water flows from your faucet every time you turn it on?! Or planes filled with people are flying over your head right now?! I mean think about… for just a moment… how amazing is the world around us?
And that's just the manmade stuff! What about giant trees that grow from seeds? Humongous balls of gas (or rock) floating in place in the Universe? Or the wonderful, refreshing flavor of a strawberry? It's almost too much to behold when you think about it!
Isn't it too bad that so often we don't?
Of course, the opportunity of being easily-fascinated extends far beyond the material things around us. This all-too-rare attribute can quickly spread to better appreciate the people around us too.
Because practically speaking, fascination represents a desire to connect, a willingness to embrace discomfort, and the motivation to learn how things like relationships (or physics) work.
We can more meaningfully connect with people when we become absorbed in who they are, why they do what they do, and how they go about their lives. When we get fascinated with others, we become generous with our time, our attentiveness, and become intensely intrigued with how we can help others.
We display our fascination in both conversation and learning.
Being easily fascinated is an important key to increase generosity and embrace your authentic self. But how do we begin to embrace it?
4 Steps to Brighten Life's Luster
These steps aren't sequential or in order of importance. So just experiment with one first and move on to another if you get curious:
1. Be fully present in conversation. The first rule of fascination is that it only happens when you pay attention. So put your active listening ears on and ignore the digital or social buzz around you.
I can almost guarantee the person or people you're talking to are more likely to be awe-worthy than the Internet in your pocket or those other people over there.
2. Embrace your inner multipotentialite. Owning my identity as a multipotentialite (someone with a diversity of interests, passions, and skills) gives me permission to let curiosity blossom into fascination. For example, I allow myself to marvel at (and then experiment with) all the various ways to run my podcasting workflow.
Emilie Wapnick, explains more about this concept in her popular TED Talk that's been eye-opening for millions of people.
3. Practice saying "How does that work?" and "Tell me more." This is a rather simple trick. All you do after someone is done talking is either say "How does that work?!" or "Tell me more!" and then let the person keep talking. Your job is to grab on to something intriguing until your series of questions lead to fascination.
4. Experience an idea like it's the first time. For example: remember your school days when you learned that our bodies are made up of these things called molecules and that those molecules had these things called protons, neutrons, or electrons in them? And that there are quadrillions of these things in and around you at any given moment?
Holy smokes! Wait a minute. How does that work?
It's Your Turn
It only takes a moment to decide to be present. It costs nothing to embrace fascination and yet it means everything to a friend or loved one to hear "Tell me more about that."
We'd all benefit from a little more wonder.
***
Joel Zaslofsky is the multi-passionate podcaster behind the popular Smart and Simple Matters show and gives away his best resources at JoelZaslofsky.com. He would also love to help you have simplicity your way, at your speed, and with your people through SimpleREV Local – a movement at the crossroads of simple-living and community-building.