Get my book Simplify, free of charge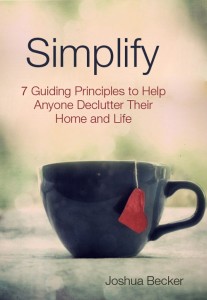 Simplify has inspired hundreds of thousands of people around the world to get started on the journey of minimalism. It is a celebration of living more by owning less.
Through personal stories, practical tips, and powerful inspiration, it provides motivation for readers to live more life by owning fewer possessions.
Get it for free today.

Read my most popular blog posts
If you are looking for a good place to start at Becoming Minimalist, try some of our most popular posts. They will give you a good feel for what we are trying to accomplish here.