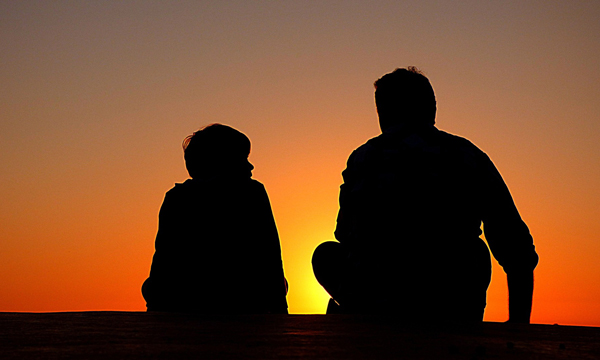 Jim Rohn once famously said, "We are the average of the five people we spend the most time with." There is wisdom in this statement. It is true that the people we spend time with influence who we are and who we become. And it is important to choose wisely the community we keep.
But in my case (and I'd guess in countless others), I have never found his statement to be entirely accurate. My friends influence me and my choices—no doubt. But my life is not a reflection of the five people I spend the most time with.
My life is a reflection of the men and women who shaped me from a young age. They have had the greatest and most significant impact on the man I have become.
So I thought I'd take a moment today to tell you about some of them. Specifically, the men who made me.
There are three:
Roy Becker, Father
My dad is a banker with a mind for numbers, a heart for loyalty, and a disciplined spirit. He grew up on a family farm in South Dakota, received a Finance Degree in Agricultural Lending from Northern State University in Aberdeen, SD where he met my mom. My parents, my siblings, and their kids all live there still.
Through hard work, determination, honesty, character, and a knack for ag-lending, he has worked his way up the banking ladder position-by-position—always remaining true to his passion for the farmer and their livelihood.
My father taught me about work and career, but also community and volunteering. From the moment I was old enough to notice, he has always found opportunity to serve—School Board, Church Treasurer, Kiwanis, just to name a few. He served the community and he served our family.
I have vivid memories of my father sitting on a stool at our kitchen counter, working on a project for the bank or the church. I learned to appreciate the value of a hard day's work from him, no doubt.
But equally important, I have countless memories of being in the backyard playing catch, on the street learning to ride my bike, or being together watching the Minnesota Twins on television. He always found time for us.
My father has always been faithful to my mother and faithful to God. He has always been, and continues to be, a positive role model of giving, loving, and serving.
Harold Salem, Maternal Grandfather
I named my son after my grandpa. Not Harold (his first name wasn't even in the running), but we named him Salem—taken from my grandfather's last name.
My grandpa is 97 years old. He still works 50+ hours/week as a pastor on radio and television all over the world. He preaches from the Bible and answers countless letters from his desk. His love for people knows no bounds. For that heritage, I am eternally grateful.
He and his wife Beulah were married for 59 years before she passed away on Christmas Eve, 2005. All these years later, and there is not a day that goes by that my grandfather doesn't think about my grandmother. He has told me this, and as often as he speaks of her, I know it to be true.
My grandfather came to age during the Great Depression—on a farm eventually foreclosed upon during troubled times. He knows of history and change and may be one of the most intelligent men I have ever met. His understanding of people, the world, and evolving decades has resulted in wisdom. Wisdom I have leaned on heavily in forming my own worldview.
My grandfather, on more than one occasion, gave his last dollar to another in need. And yet, he faithfully provided for his family—my mother and three siblings. He taught me that work is fulfilling, and the best work is one that improves the lives of others.
A documentary about his life, The Heart of a Shepherd, was completed in 2018.
Arnold Becker, Paternal Grandfather
My eyes well up with tears whenever I happen to hear Paul Harvey's So God Made a Farmer. Because I know, firsthand, how well it accurately describes the life of those who feed us.
My grandpa farmed his entire life—on a family farm in South Dakota that has since passed to his son (my uncle) and will soon pass to his son (my cousin).
Paul Harvey describes the life of a farmer this way during the speech:
God said, "I need somebody strong enough to clear trees and heave bails, yet gentle enough to tame lambs and wean pigs and tend the pink-combed pullets, who will stop his mower for an hour to splint the broken leg of a meadow lark. It had to be somebody who'd plow deep and straight and not cut corners. Somebody to seed, weed, feed, breed and rake and disc and plow and plant and tie the fleece and strain the milk and replenish the self-feeder and finish a hard week's work with a five-mile drive to church." So God made a farmer.
If you have a farmer in your family tree, you know as well as I do, truer words have rarely been spoken. That was my grandfather. Up at dawn, work all morning, lunch in the small farmhouse with his wife, before heading back out to tend to the fields and animals in the afternoon.
My grandfather taught me the importance of farming and a steady hand—that the hardest working hands in America are often the dirtiest, and sometimes the poorest. My maternal grandfather worked behind a desk, my paternal grandfather behind the steering wheel of a tractor.
From beginning to end, and in all aspects of his life, he lived with uncompromisable integrity. He was faithful to his wife. He was committed to his children. I never knew him to sacrifice his character for an easy dollar or a worldly pleasure. He hid no secrets. He valued his integrity above everything else. And he lived in such a way that should never go overlooked or unnoticed.
In a world that has seen far too many lives disgraced and families destroyed by the sins of the father… I am eternally grateful and infinitely blessed to have a grandfather who taught my father those same life lessons.
—
I am, by no means, a self-made man. None of us are, really. We all stand on the shoulders of generations past. It is their accomplishments, sacrifice, and legacy that have laid the foundation for our lives today.
I am grateful today for the men who made me. It is my hope that my life will be as honorable as theirs.