This article is an excerpt from The Minimalist Home: A Room-by-Room Guide to a Decluttered, Refocused Life.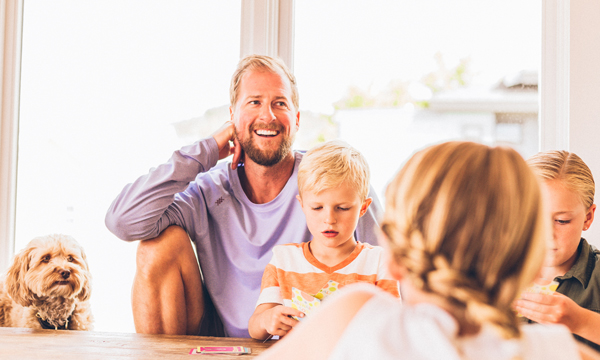 There's something I hate when the term minimalism crops up in conversation. What I hate is the misperception that so many people have about it.
Many people think of minimalism as a "style" of home, on a par with Colonial homes, Victorian homes, or Southwest adobe homes. A minimalist home, to them, is a boxy white house with almost nothing in it, and if you do happen to find a chair or sofa somewhere, it's going to be really expensive—and good luck feeling comfortable sitting on it!
A minimalist home, in this sense, is for people who don't care much about coziness or comfort and definitely don't have kids or pets or hobbies. Such a house might look good in a magazine photo spread, but who wants to live there?
Creating a minimalist home doesn't mean you have to sacrifice your favorite design style—or even your "no-design style" or "frugal living style"—to accomplish it. In my home, for example, we still use my wife's grandparents' old bedroom set. It's anything but modern in design, but it works for us. My wife, Kim, our two kids, and I got rid of a lot of things when we were transforming our home, but we didn't get rid of everything, and we didn't feel every room needed a different look or style than it had before.
What's widely known as minimalism in architecture and interior decoration today is fine as a design style, if you happen to like it, but that's not at all what I'm talk about here. I'm promoting an approach to owning less that you can take regardless of the style of your home. It's not about making an artistic statement or glorifying emptiness. Instead, it's about transforming your home so that you can transform your life.
Minimalism, as I'm referring to it, is not about taking something away from you; it's about giving something to you. My definition of minimalism is "the intentional promotion of things we most value and the removal of anything that distracts us from them." As I sometimes like to say, minimizing is actually optimizing—reducing the number of your possessions until you get to the best possible level for you and your family.
It's individual, freeing, and life promoting. It's a makeover that you can do on your own, in your current house, just by getting rid of stuff.
In battling against misperceptions about minimalism, I sometimes feel like Henry Ford when he was trying to convince the masses that automobiles didn't have to be just for the rich. Except what's available to everybody now—in our affluent age when it is sometimes said we've reached "peak stuff"—is a radical and amazing home makeover courtesy of minimalism.
This is an idea whose time has come.
Minimalism isn't just for the few who happen to have some spartan quirk in their personalities; it's for everyone. Homes everywhere would benefit from a thoughtful and deliberate reduction of their possessions load.
So that's how I wrote The Minimalist Home—with everybody in mind.
This book is for you if you're single or married.
It's for you if you are childless, have one or more kids at home, or have an empty nest where your kids and grandkids come back to visit you from time to time.
It's for you if you have an apartment, condo, town house, duplex, detached single-family dwelling, cottage, trailer home, cabin, farmhouse, houseboat, or mobile home.
It's for you if you live in the United States, Australia, England, Japan, Canada, South Africa, Brazil, or anyplace else and your home is overcrowded with stuff.
I'm not trying to make you into someone you're not or turn you into some kind of doing-without extremist. You don't have to live in a tiny home or wander the world living out of a backpack. (My family and I don't.) Now, after minimizing, you may want to downsize to a smaller place, but you certainly don't have to move in order to enjoy the benefits of home minimalism. You can change your environment and change your life right where you are.
You bought or rented the home you've got for a reason, right? To some extent, you must have liked it, or at least liked what you imagined it would look like after you were done making it your own. Most likely, it's the overaccumulation of goods since then that's keeping it from being what you wanted. So let's address your "stuff problem."
Give yourself the house you've always wished you had. You've already got it! It's hidden underneath all your stuff.
—
This article is an excerpt from Chapter 1 of my book, The Minimalist Home.