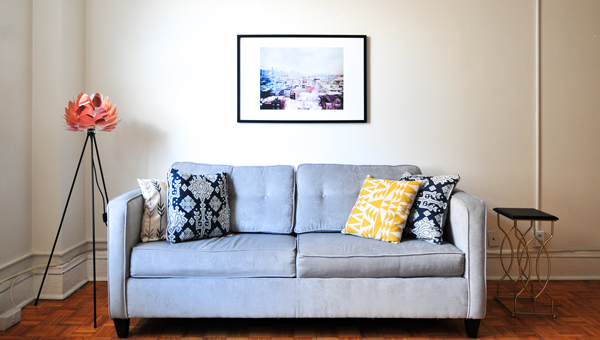 From the outdated kitchen to the pastel-colored walls in the downstairs bedrooms, walking into my grandparents' house was like entering a time machine. It was a world of midcentury furniture (not the kind from special art dealers or collectors; these were the default options, purchased mostly in the 50's).
There was a desk in the hallway, reading chairs in the living room, classic rugs, houseplants, and a grandfather clock in the entryway. The sectional was minimal and left room for plenty of guests. My grandmother would always read on the couch, and stacks of magazines filled many of the nearby cabinets.
They never identified as minimalists when I was growing up—frankly, the term hadn't been popularized yet—but everything had its purpose and place. The home felt complete with pieces that fit together like the perfect puzzle.
Growing up, I looked in their home with awe. I have countless fond memories of summer vacations and family holidays in their loving home. They seemed to have it all together. I wanted that.
When I was older, I felt this social pressure to make a complete home from day one. To leave anything incomplete seemed somehow against a cultural norm.
It wasn't until adulthood that a simple realization clicked: my grandparents took years to purchase a household of goods. They had decades together to acquire their belongings. And their home wasn't always like this; they consciously acquired things when needed.
Stuff was expensive, too. This was all before the cheap labor and overseas manufacturing of the Walmarts of the world (heck, they didn't even exist back then).
My grandparents lived within their means every step of the way, depending on what was in their wallets. They carefully analyzed every purchase, and reused everything they could. Maybe that's the consequence of being a product of the Great Depression? Who knows.
What we do know is that our world has changed dramatically since then. The rise of easy credit has allowed for ballooning consumer debt—from about $2,000 in the 1950s to $16,000 in 2016.
Now, we are instant gratification generations—swiping now and paying over time.
We expect to have everything at once, but we're going broke in the process. Our credit cards have larger limits, products are cheaper, and buying is as easy as a click online.
We make pilgrimages to furniture stores, fantasize about spaces before we've set foot in a place, and browse websites that give idealized examples of carefully crafted rooms. The world is primed and expecting our consumption.
Each represents a radical departure from the lifestyles of the Greatest Generation.
I can't help but think our ancestors knew something about minimalism that society downplays now.
When my wife and I first got married, we moved into a two-bedroom apartment and purchased only a table set for $99. Oh, and a bed—we needed that (for a number of reasons). Our living room furniture and bedroom set were hand-me-downs from her family.
We received a television set as a wedding gift. Our next purchase, months later, was a computer and desk.
We replaced the living room furniture 18 months later during a cross-country move. We used the $99 kitchen table and chairs for 13 years. And still use the bedroom set handed down to us from her grandparents.
Our home took years to make whole. And I don't think I'd change a single thing about the process. It is a story of slow acquisition.
But outfitting a home slowly and intentionally carries a number of benefits:
1. It prevents debt. Buying home furnishings and decorations is a costly endeavor. Accumulating slowly helps prevent the danger of starting out with costly consumer debt—it can take years to overcome financial mismanagement.
2. It spurs intentionality and thoughtfulness. When we accumulate slowly, we are more likely to thoughtfully weigh the significance of our purchases. Is this really needed? If so, what is the best option and avenue for purchase? The more deliberate we are in our timeline, the more intentional we become in the process.
3. It slows the accumulation of clutter and excess. The slower we purchase, the slower we accumulate life-draining clutter.
4. It grants freedom in lifestyle. Consumer purchases inhibit freedom. They require money, time, and energy to acquire and maintain.
Therein laid my grandparents' powerful lesson: to make our home ours, we couldn't buy stuff immediately to recreate or mimic another's space. Instead, we thoughtfully considered what we needed and budgeted carefully for each addition.
Despite living in a world of accessibility and easy consumption, we all need to find ways to slow down. The "perfect" item will remain or can be recreated, if necessary. Sales come and go. And your favorite big-box retailer probably won't be going out of business any time soon.
Give yourself the opportunity to make your space yours. But as you do, don't forget to consider the merits of acquiring pieces slowly.
Never be in a hurry to spend money you don't have.