This article is an excerpt from The Minimalist Home: A Room-by-Room Guide to a Decluttered, Refocused Life.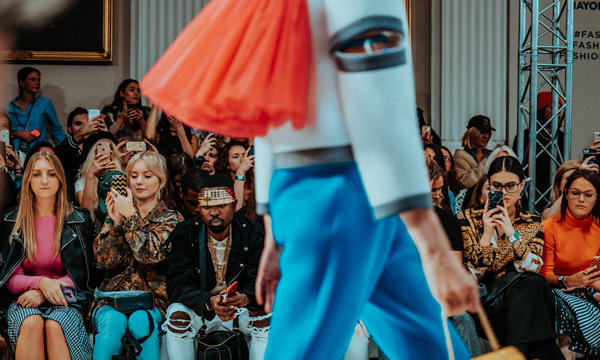 A few months after I started my minimalism journey, a headline on my computer caught my attention: "Top 10 Colors Define a Season of Change."
According to the article, "the Fall '08 palette is best described as a season of change and is defined by rich, elegant hues that offer a vibrant selection. New York's fashion designers emphasize cooler blues, greens and purples in the top five tones used in their collections, followed by variations of warm red, orange and yellow."
I wondered, Who gets to decide what the must-have colors are going to be for fall 2008? I mean, is there a committee somewhere that makes these kinds of decisions? Does it just so happen that a large number of people are enthusiastically drawn to the same colors at the same time? Or is there something else happening here? Is this an orchestrated effort?
It occurred to me that, if I were running the fashion industry, it would be helpful for me to change the in-fashion colors and styles often. This way, people would have to buy new clothes to keep up with the trends, which would result in more money flowing into my industry. All parts of the supply chain would benefit: designers, manufacturers, retailers, and anyone else who makes a living off the selling of clothes.
This is just what's happening. If the fashion industry wasn't intentionally telling us that our old clothes were out of style, we'd probably stop buying their product. After all, we already have enough clothes in our closet to last quite some time.
The US apparel industry today is a $12 billion business, and the average American family spends $1,700 on clothes annually. On average, that's 3.5 percent of a family's expenses—arguably not much—but what's more significant is whether that money is spent on need or waste. The answer, largely, is waste. Americans throw away 13 million tons of textiles each year, accounting for 9 percent of total nonrecycled waste.
It hasn't always been like that. Our appetite for clothing is demonstrably growing. According to Forbes, "In 1930, the average American woman owned nine outfits. In 2015 that figure was 30 outfits—one for every day of the month." The same trend is occurring in Britain, where in 2006 "women bought twice as many clothes as they had just ten years earlier." The Daily Mail reports that the average woman in the United Kingdom has twenty-two items in her closet that she will never wear but refuses to throw out.
Among its other drawbacks, the practice of overbuying clothes is expensive. About half of US women have between $1,000 and $5,000 worth of clothing and shoes in their closets. The fashion magazine that reported these numbers also said, "A lucky 9 percent report having apparel and accessories that total over $10,000." Lucky? Well, that's one way to look at it. These same women also have over $10,000 less in their savings accounts.
Incredibly to me, one study revealed "women have fashion on the brain 91 times in a given day—that's more than four times the amount that men think about sex."
I don't mean to pick on women. Men make too much of fashion and hang on to too many clothes as well. (I should know, because when I became a minimalist, I got rid of an embarrassing number of my own items of clothing.) Ties dating back to the previous decade, if not century. Dress clothes that we might wear if we have the right sort of business meeting. Shoes for more occasions than we'll ever actually encounter. Men can be clothes hoarders just as much as women.
So I have to ask:
"Is all this clothes buying and storing benefiting our lives in any way?"
In his well-known book The Paradox of Choice, Barry Schwartz argued that it is not. He said, "Freedom and autonomy are critical to our well-being, and choice is critical to freedom and autonomy. Nonetheless, though modern Americans have more choice than any group of people ever has had before, and thus, presumably, more freedom and autonomy, we don't seem to be benefiting from it psychologically."
His argument, stated throughout the book and reproduced in studies, is that more choice does not mean better living.
As choice increases, so does paralysis of decision. Ever stare into a full closet of clothes and still have no idea what to wear? As options increase, so does the sense of bewilderment and frustration. Additionally, an abundance of choice often results in less satisfaction and sometimes poorer decisions.
It would seem from everything we've been told that more clothes hanging in our closets would lead to a happier life. But psychologically and scientifically, that is simply not the case. In fact, often, more choice leads to less happiness—the paradox of choice. Not to mention the unending frustration of having to keep up with ever-changing trends.
Maybe getting our money makes the leaders of the fashion industry happy. But buying excessive quantities of their products isn't doing the same for us.
—
This article is an excerpt from Chapter 5 of The Minimalist Home.