Editor's Note: This is a guest post from Kalen Bruce of Freedom Sprout.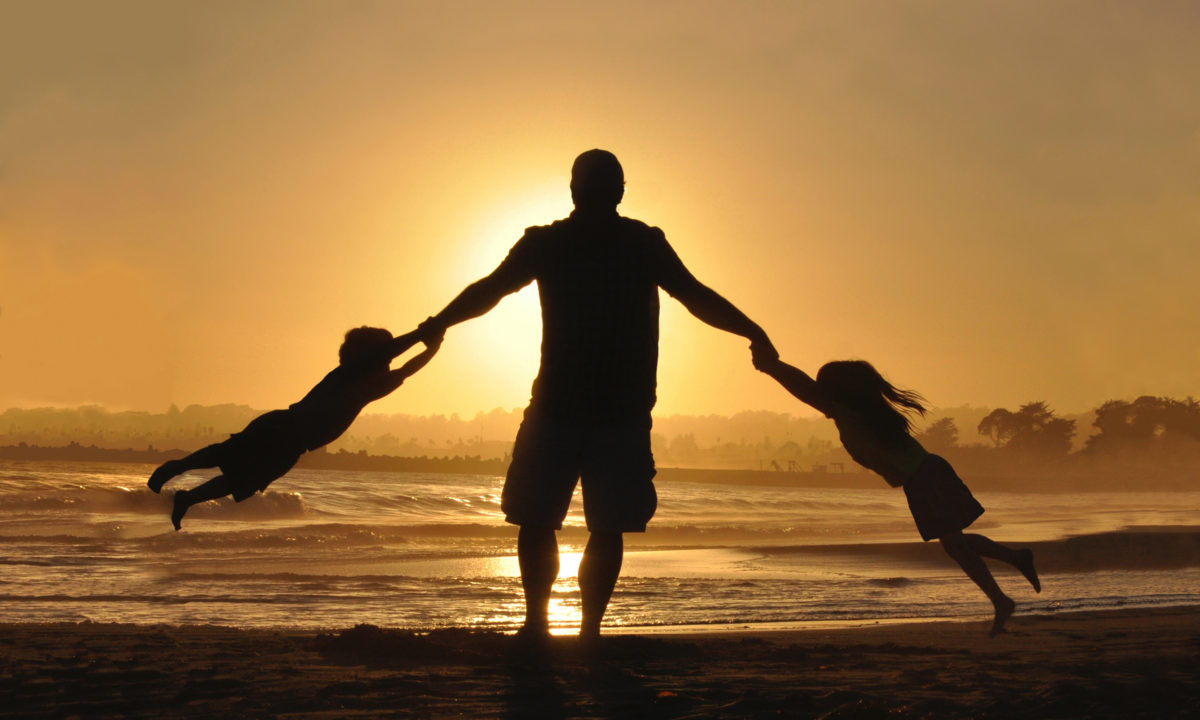 We didn't begin as a minimalist family. Few families do. There's typically an awakening, or a moment when you realize your possessions are controlling your life.
It happens when you realize you're sacrificing time with your family for a higher paying job, because you want to provide them with a good life. And yet, you're sacrificing those hours with family so you can provide them with a bigger house and a nicer car… that you rarely all enjoy together.
Minimalism helps us re-prioritize what's important, and it forces us to ask deep questions we likely never asked when we first started our family or career. (tweet that)
I'm not trying to make this sound weird by using words like "awakening," but the deep questions make us uncomfortable and the answers cause radical change in our lives.
It's always easier to not change, but there's always something we could change to make our lives better.
Take my story for example:
We are a large family on a journey to become a minimalist family. I hope our story will be insightful for you, whether you consider your family a minimalist family or not. It is possible to own fewer things even if you have a bunch of kids. Just ask Leo Babauta.
My wife and I got married in 2005. We had our first child almost immediately. We spent the next few years accumulating more stuff than anyone should ever own (sound familiar?).
Between family and friends, six different people lived with us at one point or another over our first few married years. Every time one of those people moved out, they left some (often a lot) of their stuff behind. Once we were sure they either didn't want it, or didn't plan to come pick it up, we'd move it into the shed behind our house.
It wasn't long before we forgot which things were actually our things and which things were left by others.
This continued until we moved out of state. With my wife's full support, we decided to fulfill my dream of joining the United States Air Force. The only problem was that we had to pay off $24k in consumer debt to do so. I also had to lose 50lbs, but the financial part proved to be more difficult.
We decided to rent out our 2,400 sq ft home for more income. We put our life into a storage unit and moved into a 600 sq ft mobile home. But ironically, this isn't when we decided to become minimalist. Not yet. We spent the next two years working insane hours, paying off all our debt.
After two years, we were free of all consumer debt, but still full of consumer things. Remember that storage unit?
The Air Force eventually took us from Arkansas to Oklahoma… with all 9,000lbs of our stuff! Our lives changed a lot over the next few years. We made the decision to adopt two children (a sibling group), and as life would have it, immediately upon adopting, my wife was pregnant. We went from a family of three to a family of six in one year. That's when we got military orders to Italy.
The fact that we brought 12,000lbs of stuff to Italy was definitely the first sign we needed to downsize, but the main sign came a few months into living there. Italian homes don't exactly have a ton of storage. Europeans in general don't keep as much junk as Americans do, so the homes aren't always ready for us Americans.
And as life would have it, again, we realized my wife was pregnant immediately upon arriving in Italy. We were excited, and happy to welcome another child into our home, but I can't lie, it was stressful.
I was stationed at one of the busiest jet fighter bases in the world, and I'm a War Planner, so I was working early mornings and late nights. As our family grew, we started to acquire more things and less time.
We wanted to travel Europe, and show the world to our kids, but it seemed like we were spending more time on the weekends sorting through our stuff than playing with our kids. That's when we decided to embark on the minimalist journey and begin intentionally removing all the things we did not need.
Since we started minimizing, we've progressively cared less and less about stuff, and more about life experiences. We're teaching these ideas to our kids, and now they care more about traveling, and spending time together, than they do about owning more toys and things. Our kids understand that we are able to take mini vacations all over the world, because we care more about experiences than things.
For us, the worst part about minimizing is the amount of work involved in it. Regardless of how you do it, it takes work and time. The good news is that, in the end, you'll have so much more time. We began to understand that no time spent minimizing possessions is ever wasted.
We ran into some obstacles. Living in Italy is amazing in so many ways, but it's not so amazing when it comes to options for donating things. This has made our journey more difficult. Thrift stores aren't common in Italy, and sometimes it costs money to give your things away. There's no service that comes and picks up your donations. It takes work to get rid of stuff in Italy.
Minimalism hasn't been easy for us, but we have learned a lot about how to make it easier. Here are some key lessons we've learned:
1. Don't think too much into where your stuff goes. We've donated things to church, charities, clothing donation bins, and free-sales (like a yard sale, but free). We've also sold some of our stuff. But what we've realized is that it really doesn't matter how you get rid of your stuff, just get rid of it. You won't spend sleepless nights worrying about whether you gave it to the right person, but you will sleep better with less stuff.
2. Make minimizing a family effort. Not only will you be spending your weekends together when you minimize together, but your kids will see how you don't overvalue material items when you're freely giving so much away. It will help your kids break the hoarding mentality, and it gets them into the habit of giving. It will also show them that they never want to have that much stuff in their life.
3. Don't focus on appearance, focus on letting go. When we started our minimalism journey, we had an image of a clean slate of a house in our minds. We envisioned the pictures in modern magazines where there's only five things in the entire living room. Don't focus on that. The visual piece will come. Focus first on letting go of things. It doesn't matter if your house looks like a minimalist's home, as long as you have a minimalist's mindset.
4. Pay attention to what's coming in. You don't want to get rid of 1,000 things only to realize you've brought 2,000 into your home. When we first started downsizing, we didn't keep track of the things we kept bringing in, and it showed. Minimalism is all about intentional ownership. It's more about what you buy, than what you get rid of. Keep an eye on both.
5. Ride the motivation wave. We discovered that motivation occurs in the beginning, but initial motivation doesn't always last. More often, motivation follows action. Start minimizing, and the motivation will come as you see your progress. Dr. B.J. Fogg, founder of the "Tiny Habits" movement, refers to this as a motivation wave.
Becoming minimalist is a journey. It's typically a slow journey, and that's especially true for a large family.
I suggest a journey of becoming minimalist, rather than some attempt at instant minimalism. The latter has the same vibe as our modern, instant-gratification-driven culture. If you haven't started yet, start a slow journey today. If you have started, keep moving forward at a reasonable pace. Minimalism is not a race.
***
Kalen Bruce is the founder of Freedom Sprout where he helps parents raise money-smart, non-materialistic kids.